These Wedding Shoe Hacks Make For Amazing Photos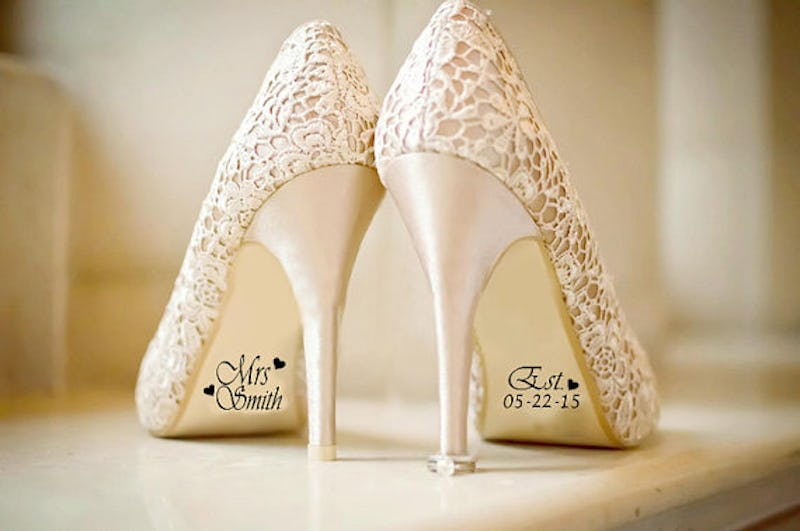 Finding a unique, fabulous pair of wedding shoes can be like searching for a needle in a haystack. They often need to match the wedding dress, be comfortable, and look great in the close-up "shoe shot." It's a small wedding day detail, but definitely one that comes with a tall order to fill. That's where these wedding shoe hacks come into play.
When I was planning my own wedding, my shoes were the one detail that I became obsessed with. I searched for hours and hours looking for shoes online and in brick-and-mortar stores, and it felt like finding shoes was becoming harder than actually finding a life-long partner (I'm joking, of course — well, kind of).
Though I eventually found the perfect pair of wedding shoes online, I've since learned a lot of brides run into this issue when looking for shoes. For people like me who enjoy having options and looking at all the gorgeous wedding shoes out there, searching for shoes can quickly become a classic case of analysis paralysis.
What I didn't know when I was planning my wedding is that there are a lot of ways to jazz up shoes to put that finishing touch on them, so the shoe itself doesn't have to be perfect right off the bat.
How so, you ask? These hacks will make your wedding day shoes look awesome, and help you avoid embarking down the common rabbit hole of searching for wedding shoes.
1. Flower Clip
Make any average pair of shoes look stunning with a flower clip for your wedding shoes. Elegant, classic, and just straight up beautiful.
2. Feather Clip
Do you want something more bold than flowers on your shoes? Try this fashionable feather clip for your wedding shoes. Again, simple shoes — amazing clip.
3. Booties
Another bolder option is to forgo the traditional wedding shoe completely, and go with a pair of wedding day booties. These ones from David's Bridal are designed Betsey Johnson, and are totally appropriate for your honeymoon, too.
4. Barefoot Sandals
Getting married on the beach? In a park? These barefoot wedding sandals definitely make for a one-of-a-kind shoe shot.
5. Leg Warmers
I've yet to see too many people wear leg warmers on their wedding day, and as a person who loves to wear a good pair of leg warmers in winter, I imagine it's the coziest of ways to spend your wedding day.
6. Painted Shoes
How sweet are these customized slip-ons with your love story? YoursTrulyShoes on Etsy will take your love story and paint it right on your footwear. You get really comfortable shoes to wear on your wedding day, and a great keepsake to enjoy long after the wedding is over.
7. Sneakers
Dreaming of wearing sneakers for your wedding, but looking for something a bit fancier? These rose gold Keds designed by Kate Spade certainly take the wedding sneaker up a notch, while making for lots of super cute pictures.
8. Custom Decals
Found great shoes but just want to give them that extra personal touch? Add a custom wedding shoe decal to the soles. It's inexpensive, easy, and can turn any pair of shoes into something special.
9. Vintage Shoes
Vintage wedding shoes can be incredibly romantic and whimsical, and these vintage-inspired wedding shoes have all sorts of photo shoot potential.
10. Boot Bands
And for all the down-home gals out there who really just want to rock their favorite pair of boots on their wedding day, here's a great way to doll them right up. Boot bands are a real thing, and they make your favorite boots totally wedding appropriate.
For more wedding inspiration and ideas, check out Bustle on YouTube.
Images: GadaByBrace/Etsy; ShoeClipsOnly/Etsy; David's Bridal; ByVIVIENN/Etsy; YoYoVintageLife/Etsy; YoursTrulyShoes/Etsy; Poshmark.com; DinkiDs/Etsy; BellaBelleShoe/Etsy; smelltheroseboutique/Etsy