The First Look At 'Bridget Jones's Baby' Is Here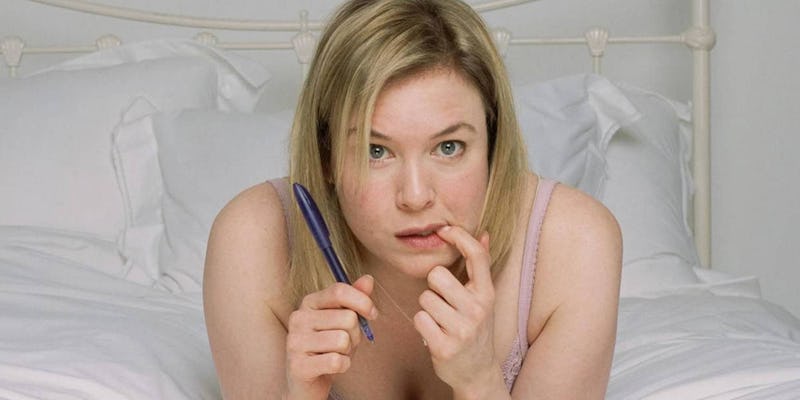 BRIDGET JONES IS BACK! For months, only tiny snippets of news have been released about the new Bridget Jones film. We knew that Renee Zellweger will be returning as everyone's favorite rom-com heroine, that Colin Firth would reprise his role as the dreamy Mr. Darcy, that McDreamy himself, Patrick Dempsey, would star, and that the film would be titled Bridget Jones's Baby — but, apart from that, nothing, despite the fact that production for the film began in September. But, hallelujah, dreams do come true — the film's production company, Working Title, has made my day by releasing the first picture from Bridget Jones's Baby .
I was already pretty jazzed about the new film but this still has sent my neurons into hyperdrive. Further details about the plot apart from the title — I assume Bridget is having a baby?! — remain under lock and key, but the film is set to take place after the film Bridget Jones: The Edge of Reason and before the book Mad About The Boy.
It's so exciting to see where our "little Bridget" is now. It has been over a decade since the last film, and it seems like a lot has changed for the ultimate single gal. From the newly released photo, it appears she's traded in her worn red diary for a new iPad. Her hair is longer, and she looks more mature as well:
This got me thinking. What other things will have changed or been updated in the new film?
#PinterestFail
In the first film, Bridget fails terribly at making soup. In the new film, though, I could see her using Pinterest to find step-by-step instructions for an easy-to-make meal. Bridget's food will probably still be awful and inedible despite this, but that's why we love her.
New Cast
Out with Daniel Cleaver and in with the McDreamy: As aformentioned, the new film will feature Dempsey in a starring role. It is unclear who his character is but this is certainly an update for the new film.
Caller ID
Gone are the days when you picked up the phone without knowing who's calling. Sadly, this day came too late to save Bridget from doling out TMI about her sex life to her mother — I mean, yes, caller ID did exist in 2001, but lovable Bridget was always primed to make things awkward. I'm hoping the 2015 Bridget has learned her lesson, and possibly invested in an iPhone.
Going Viral
When Bridget accidentally broadcast her butt on national television, her bosses were mad. Today, when Bridget does something embarrassing on camera, she'll go viral.
More Body Positivity
In the 14 years since the original was released, the world has realized that no body type is a bad body type. I'm hoping the new film shows Bridget as more self-accepting person. #BodyPositiveBridget
But This Will Always Be Relevant
This does not need updating — I'm hoping for a repeat performance in Bridget Jones's Baby.
Fourteen years later, two films, and countless life lessons — Bridget Jones remains one of the most relatable female characters in cinematic history. Technology and circumstances may have changed, but family brunches are still awkward, Mr. Darcy remains gorgeous, and we all still love Bridget just the way she is.
Images: Miramax; Giphy (3); letsgotothemovies/ Tumblr