'Harry Potter' Apparel Items You Need ASAP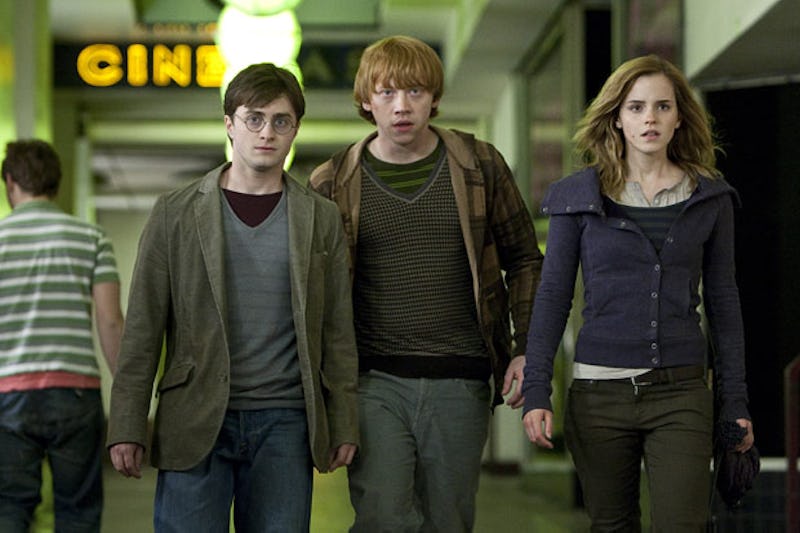 I am a complete Harry Potter fanatic. Yes, I have read every book and seen every movie but trust me — that's child's play. I like to take my fandom to a deeper level of adoration and reverence: I am consistent visitor to MuggleNet, aka, the world's number one Harry Potter site. I named my dog Muggles. I have even made the pilgrimage to The Wizarding World of Harry Potter at Universal Studios Florida. But, the greatest way I show my devotion is through must-have Harry Potter apparel.
I have not gone so far as to incorporated Hogwarts robes into my daily attire (maybe one day), but I do wear Harry Potter-themed jewelry on the reg. My nightly routine often includes donning my favorite Harry Potter T-shirt, and crawling into bed with my Ravenclaw fleece blanket. I rock some pretty cool snitch socks in colder weather, and I often find myself scouring the Internet looking for new ways to display my Potter devotion.
It would appear that I am not alone in my Harry Potter apparel obsession. The Internet is bursting like the Weasley's burrow with delightful ways to incorporate more magic into my life.
Need proof (or, like, shopping recommendations)? Here are the most must-have Harry Potter apparel items on the Internet (no floo powder needed):
Harry Potter/Disney Mashup
The only thing better than a Harry Potter sweatshirt is a Harry Potter and Disney-themed sweatshirt. Luckily, MuggleMart on Etsy has got you covered with this Comfy Hogwarts Sweatshirt.
Fun and Flirty Illustrated Skirt
I can't think of a more gorgeous way to show your Harry Potter love than with this amazing Harry Potter illustrations skirt. It strikes the perfect note of being whimsy and wearable.
Hogwarts Meets Preppy
Muggles aren't the only ones who can rock the preppy look. Show your love of Qudditch and pastels with this Hogwarts Alumni Long Sleeve Pocket Tee.
Hogwarts Forever
Hogwarts isn't just for seven years — it's for life. Show your Hogwarts pride with this adorable Hogwarts Alumni Tank. Go Hogwarts!
Workout With HP
Working out can be kinda boring — but it's a lot less boring if you pretend you are training for the Tri-Wizard Tournament. Let the games commence with this spell-binding workout tank.
Namaste Harry
Make your next yoga session even more zen with some Harry Potter-inspired fitness pants. Be careful not to start mumbling incantations during class, though, as this might disturb your fellow yogis.
Harry Potter Socks
Nothing says cozy quite like curling up with a good book (i.e., Harry Potter) while wearing warm socks. These Gold and Black Harry Potter socks do the trick, while being both stylish and functional.
Ravenclaw Love
I'm a Ravenclaw at heart, and am always hard-pressed to find apparel celebrating Hogwart's wittiest house. This tee shows my Ravenclaw love while displaying how smart and stylish I am.
Deathly Stylish
This stylish black and white tank pays homage to the Deathly Hallows and Harry's patronus — a winning combination.
Thank you, Harry Potter fandom for being so devoted and creating such enviable apparel.
Images: Warner Bros; MuggleMart/Etsy; lynnsrags/Etsy; PerksOfBeingaWeasley/Etsy (2); MyChiClothing/Etsy; SoEffingCute/Etsy; LoveAliceLouise/Etsy; topsfreeday/Etsy; Teegethershop/Etsy