Drake Brings Back That Epic Duet With Beyoncé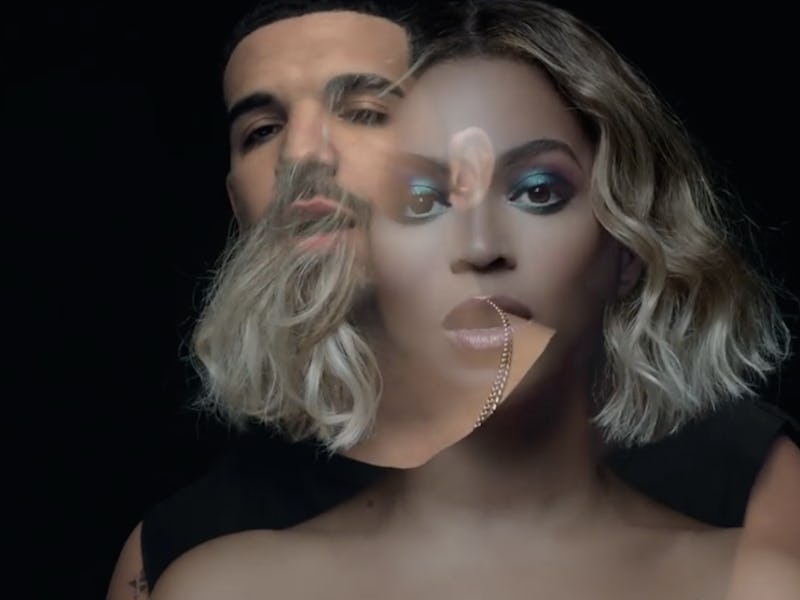 Nothing cures a case of the Mondays better than new Beyoncé music. Except maybe new Drake music. Or, hey, why should we even have to choose? Do you see what I'm driving at yet? Because the rapper is always thinking of us and has access to an official OVO Sound radio show, on Saturday, Drake and Beyoncé's duet "Can I" was released to the world in a more polished form than the leak that delighted the Internet in May 2015. The song is everything that it was five months ago, except it sounds a lot better, and a lot more like an official release. And, as with any official release, comes the question: when will Drake and Beyoncé's "Can I" be on Spotify?
Before you go rushing off to the app, slow your roll, guys. "Can I" isn't there yet, and it might be a while before it makes its way to Spotify. Why? Because the song still technically counts as unreleased. Even worse, according to Rolling Stone, it "arrived on the first episode of OVO Sound to air following the expiration of Apple Music's free three-month trial." Which means that only users who turn their free trial into a permanent trial will get to listen to the song whenever they want, laptop or no laptop. The odds of an Apple Music-exclusive song finding its way to Spotify, especially one that isn't even attached to a specific album, seems pretty low to me.
Then again, I, like everyone else, am still waiting for Drake's upcoming album Views From The 6 to finally, finally drop after an endless parade of mixtapes and shattered dreams. (OK, two mixtapes that were very, very good and almost totally distracted me from the fact that they were not stupid albums, but whatever.) Perhaps "Can I" will be one of the tracks on the album, and will become available to stream on Spotify when the entire album comes out. I'll hang on to that as a possibility — that the polished version of "Can I" is an indication that Views From The 6 is right around the corner — because I can't think of any other reason why Drake would do me like this.
Of course, I'm also personally hoping that the polished version of "Can I" is our first and early indication that Drake is planning to release a mixtape with Beyoncé, who is also overdue to put out new music. I mean, she didn't think that her collaboration with Naughty Boy would be enough to satisfy the Beyhive when her last album technically came out in 2013, did she? Whether "Can I" is here to fan the flames of anticipation for an upcoming album, or just a huge tease meant to have us all screaming and crying in the night with every second that passes between us and the release date to Views From The 6, it continues to be an amazing collaboration that needs to come to Spotify ASAP. I'm waiting, Internet.
Image: beyonceVEVO/YouTube