Lindsay Arnold Has An Adorable Romance Off 'DWTS'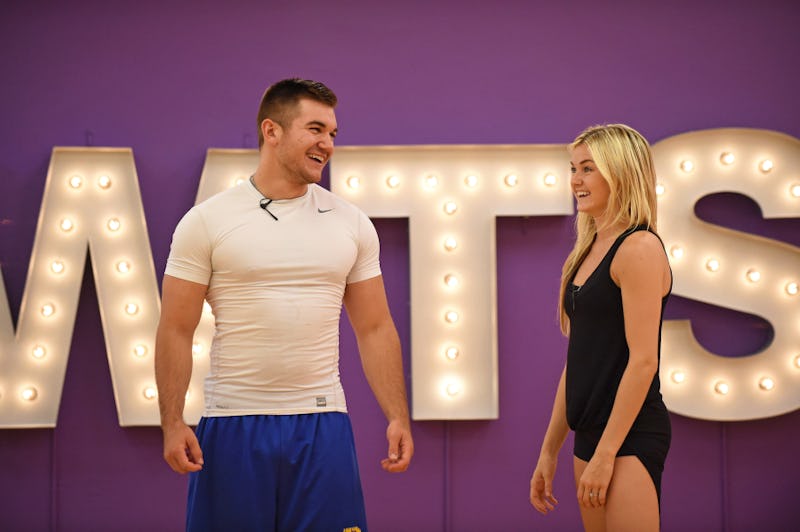 I don't know about you, but I tend to root for the underdog in reality competitions — or, at least, the middle-dog. This year, my go-to couple on Dancing with the Stars is Alek Skarlatos and Lindsay Arnold. Sure, they haven't gotten the highest scores (so far), but how could you not root for them? He saved people's lives, after all, and she was eliminated too soon on So You Think You Can Dance, so her underdog status is permanent to me. Still, as cute as a couple as they are on the show, they're not a couple in real life. In fact, Arnold got married to someone else this past summer. So, who is Lindsay Arnold's husband?
The lucky guy is Samuel Lightner Cusick, and, no, he's not a fellow professional dancer. (And he's not a member of the National Guard, either— sorry to any Arnold/Skarlatos shippers that might be out there.) The two have known each other for a long time, and they finally tied the knot this past August. Here's what we know about Cusick and his summer wedding to Arnold, which I'm going to bet had a super hot dance floor.
He Is Her High School Sweetheart
You'd think the glamorous world of TV ballroom dance competitions might make someone want to start dating celebrities, but Arnold only had eyes for her high school boyfriend. "I've loved Sam since I was 16 years old and today I officially get to spend the rest of my life with him — through giggles and tears, and every moment in between!" she told Us Weekly about her wedding. Awww.
Their Wedding Sounds Super Sweet
The couple got married in what seems like a picture-perfect setting. "[They] exchanged vows in a small, private Mormon ceremony at the Salt Lake Temple around 10:30 am," Brides reported. "After their intimate vow exchange in the temple, the couple, who got engaged during a trip to Africa last December, exchanged rings in front of approximately 150 guests at the enchanting Sleepy Ridge estate outside of Salt Lake City." I don't know about you, but I love low-key weddings.
And, She Wasn't The Only Dancer There
You'd think the bride would want to shine on the dance floor on her wedding day, but Arnold was happy to share the spotlight. According to People, "In addition to the wedding party — which included DWTS' Witney Carson, Emma Slater, Jenna Johnson and Brittany Cherry as well as former So You Think You Can Dance contestant Brooklyn Fullmer — the festivities were attended by Mark Ballas' mother Shirley Ballas and DWTS pro Sasha Farber."
So, if you were just, like, a normal person at that wedding without a pro dance background, you probably stood off to the side with a drink.
What Does He Do When Not Rooting For Arnold?
Cusick is a college student at Utah Valley University. Since Arnold has been a professional since the 16th season of Dancing with the Stars, it's easy to forget how young she is — her high-school-sweetheart boyfriend isn't even out of college yet! They were both just 21 when they got married.
And They Don't Age
Clearly. Look at the above photo, which was taken four years ago. Do they look exactly the same, or what? It's actually kind of eerie.
He Also Founded A Business
According to Cusick's LinkedIn page, he's one of the founders of FlyNyx, a business that strives "to give young companies an avenue to realize their dreams." If you feel like shopping, it has some cute, Etsy-like things for sale. But, if I were Cusick and I really wanted to make the site take off, I'd sell whatever anti-aging elixir they have — the potion that he and Arnold are apparently drinking to keep them looking the same long after Dancing with the Stars is off the air.
Images: Matt Petit/ABC