Guy's Virtual Reality Proposal Just Outdid Us All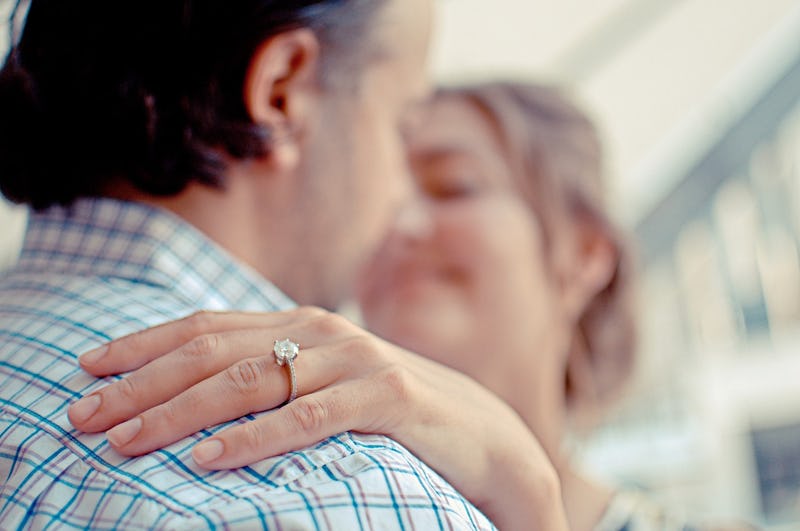 In the age of the internet, people have been setting impossibly high standards for each other when it comes to proposals — prime example being virtual reality proposal. If you think that a good proposal has to involve a glass of champagne over dinner, think again, and then take notes from Chandler Murch. Luring his then-girlfriend Kelly Tortorice​ to his workplace at Valve Software, Murch had her under the impression that she was only going to be testing out a new Virtual Reality headset.
So there I was, typical day...on a sunken ship deck; fixing robots; painting three-dimensional fire; walking through the Alps; and then suddenly, a virtual engagement ring started floating my way.
First, best pre-engagement activities ever. Second, Tortorice clearly had no idea that her boyfriend was going to propose, which is what made this whole situation amazing. When she was finally instructed to take off her headset, Murch was on his knees holding a real ring. Take that, flash mob proposals! Here are the images of Murch's proposal to Tortorice below — and yes, you're going to have to settle for the two-dimensional version of the lovebirds, but even on a flat screen they easily can become all of our new #RelationshipGoals:
Of course this is just one of the amazing proposals we have seen blow up the internet with originality and anger from thousands of people unable to match the level of awesome. I'm guessing that the original Chandler, Chandler Bing, would approve. His own proposal was one of the most epic ones I've seen on television. To honor the original, I've created a list of my favorite Chandler and Monica moments:
The Proposal One, Because Duh
We all cried when we thought the producers of the show would break this couple up. Thankfully, we didn't get another Ross and Rachel will they/won't they situation. Instead we got this beautiful proposal.
The Boob Slap One
I don't want to blow my own horn, but something about this episode made me believe that Chandler had it in for Monica. Just look at that body language.
The Thanksgiving One
It was amazing to see Mr. Comitmentphobe finally say the magic words. hat made it even better was that Monica had her head up a birds ass.
The Smile One
This entire story line had me in stitches. Just look at his face. Just. OK, I can't.
The Best Episode
One of my favorite episodes of the series, ever. The One Where Everyone Finds Out. Best moment being, when Chandler and Monica finally say they love each other out loud.
So go forth, Chandler Murch and Kelly Tortorice​, and live out your Friends-destined bliss in 2015.
Images: Pixabay; Giphy