15 Ready To Wear Plus Size Halloween Costumes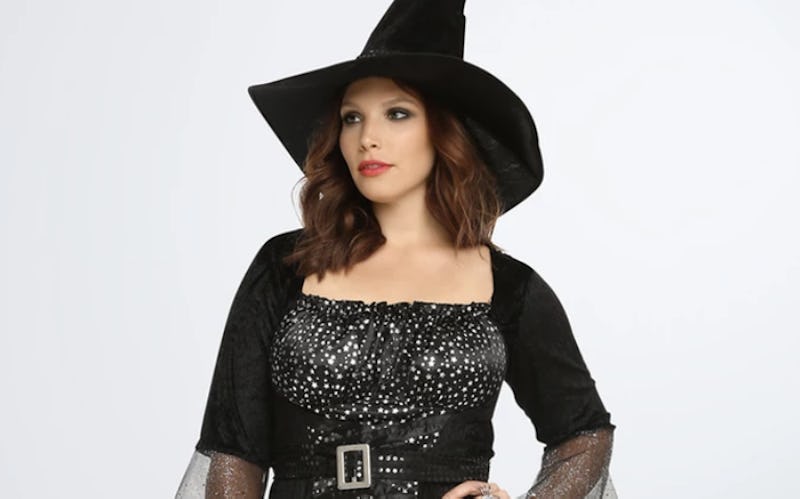 While some folks may get creative with their Oct. 31 ensembles — visiting thrift stores and surfing the Net for bits and pieces — the rest of us prefer the simple method of choosing from ready to wear plus size Halloween costumes. Halloween is just around the corner, after all, so rather than scrambling around frantically trying to figure out a costume idea, why not opt for something that's already been made for you? It's a lazy girl life, y'all.
Growing up as a plus size girl pre-body positivity frenzy, there weren't many (if any) "plus size" options when it came to ready to wear costumes. While my girlfriends would be ooh-ing and ahh-ing over a vast selection of cute or sexy outfits at the mall, I would be walking around, glancing at all the costumes I couldn't fit in, and forcing me to get creative using random pieces of clothing and accessories.
Of course, that wasn't a terrible thing when you think about it. It allowed me to get crafty and use my imagination, and I found I had quite a talent for randomly putting together fantastic costumes. At the same time, however, not having the option to choose a ready to wear one always made me feel excluded. Thankfully, times often change for the better, and many plus size women are feeling freer to wear whatever they so desire. So you can guess at my delight when, browsing around my usual plus size e-shops this season, I found these 15 amazing RTW costume options for fuller-figured babes.
1. Queen Of Hearts
Two Piece Velvet Corset And Skirt Set, $80, Hips and Curves
If you're wanting to go the "sexy" route this year, then you can't go wrong with a red corset and black bustle skirt. Throw on a crown, paint a heart on your face, and this outfit will make a perfect Queen of Hearts costume. Get it in sizes 1X to 6X!
2. Minnie Mouse
Halloween Polka Dot Skater Dress, $33, Torrid
This adorable polka dot corset skater dress is a Minnie Mouse dream. Just add ears and you're good to go. It also comes in sizes 12 to 28.
3. Maleficent
Adult Maleficent Costume Plus Size, $29, Party City
This is a great ready to wear plus size costume. Not only is it affordable, but it will easily fit a lot of different plus size bodies since the ensemble mainly consists of a horned headpiece and an oversized draped black robe. Plus, Maleficent is one of the most fabulous Disney villains of all time, let's be real.
4. Classic Witch
Black Magic Mistress Costume Dress, $26, Torrid
Whether you're attending a Halloween party at Hogwarts or bringing out your own inner Sanderson sister with some black magic, this ready to wear witch costume is sure to cast a spell on your evening. Get it in sizes 1X to 4X.
5. Sally
The Nightmare Before Christmas Sally Women Plus Size Costume, $38, Wonder Costumes
Bring back everyone's favorite rag doll from The Nightmare Before Christmas. This one's available in sizes 18 to 24.
6. Dorothy
Dorothy Costume Dress, $23, Torrid
Whether you're off to see the wizard or to a kick ass Halloween party, this adorable Dorothy from The Wizard Of Oz costume will likely have you thinking, "There's no place like home," after a long night of partying. Get it in 1X to 4X.
7. Dark Alice
Adult Dark Alice Plus Size, $30, Party City
Who wouldn't want to be Alice in Wonderland after having one dark fall down the rabbit hole? This lovely, dark version of an Alice costume gives the traditional look a little gothic flare while still maintaining a storybook-like charm. It comes in sizes 16 to 20.
8. White Rabbit
White Rabbit Costume Dress, $28, Torrid
You could be Alice, sure, or you could be the white rabbit she follows down the hole. Really, being anything that involves a red dress and fuzzy ears is going to be a good time. Get this one in sizes 1X to 4X.
9. Harley Quinn
Harlequin Clown Costume Dress, $31, Torrid
Gotham's crazy, sexy villian now has a place in your wardrobe. This one can be purchased in sizes 1X to 4X.
10. Red Riding Hood
California Costumes Women's Plus Size Dark Red Riding Hood, $36, Amazon
This one's for the girl who loves goodies, danger, and the great outdoors. Buy it in sizes 1X to 3X.
11. Glinda
Deluxe Plus Size Pink Witch Costume, $45, Halloween Costumes
Are you a good witch or a bad one? While I don't agree with the notion that "bad witches are ugly," I do agree that this lovely costume will make a gorgeous Glinda The Good Witch out of you. What's even better are the available sizes, ranging from 1X to 8X.
12. Furry Bat
Leg Avenue Women's Plus Size Cozy Bat Costume, $31, Amazon
So, this is a furry bat costume that manages to be cute, charming, and a little bit sexy all at once. Plus, this costume is sure to keep you warm and cozy on a cold All Hallow's Eve. Buy it in sizes 1X to 3X.
13. Snow White
Leg Avenue Plus-Size Classic Snow White Dress and Bow Head Piece, $68, Amazon
Who wouldn't love being Disney's first princess? Whether you're avoiding wicked witches or eating poison apples, this flirty version of a Snow White costume will have your love kissing you awake after an all-night candy induced coma. Plus, it's available in sizes 1X to 4X.
14. Grumpy Bear
Leg Avenue Women's Plus Size Grumpy Bear, $40, Amazon
People are going to Care-Bear-Stare at you in this absolutely adorable and sexy version of "Grumpy Bear" from your favorite '80s cartoon. This one can be purchased in sizes 1X to 4X.
15. Darth Vader
Adult Darth Vader Costume Plus Size Deluxe — Star Wars, $50, Party City
For those of you plus sizers looking for a more masculine or androgynous ready to wear costume, do not fret. There's nothing greater than the power of The Dark Side (and the coolness factor of this amazing plus size Darth Vader costume). Vader was a big guy, after all.
Oh, the bliss of not having to scramble into madness when looking for a plus size Halloween costume.
Want more Halloween inspiration? Check out the video below, and be sure to subscribe to Bustle's YouTube page for more excitement!
Images: Courtesy Brands