How To Dress Like A No Make-Up Selfie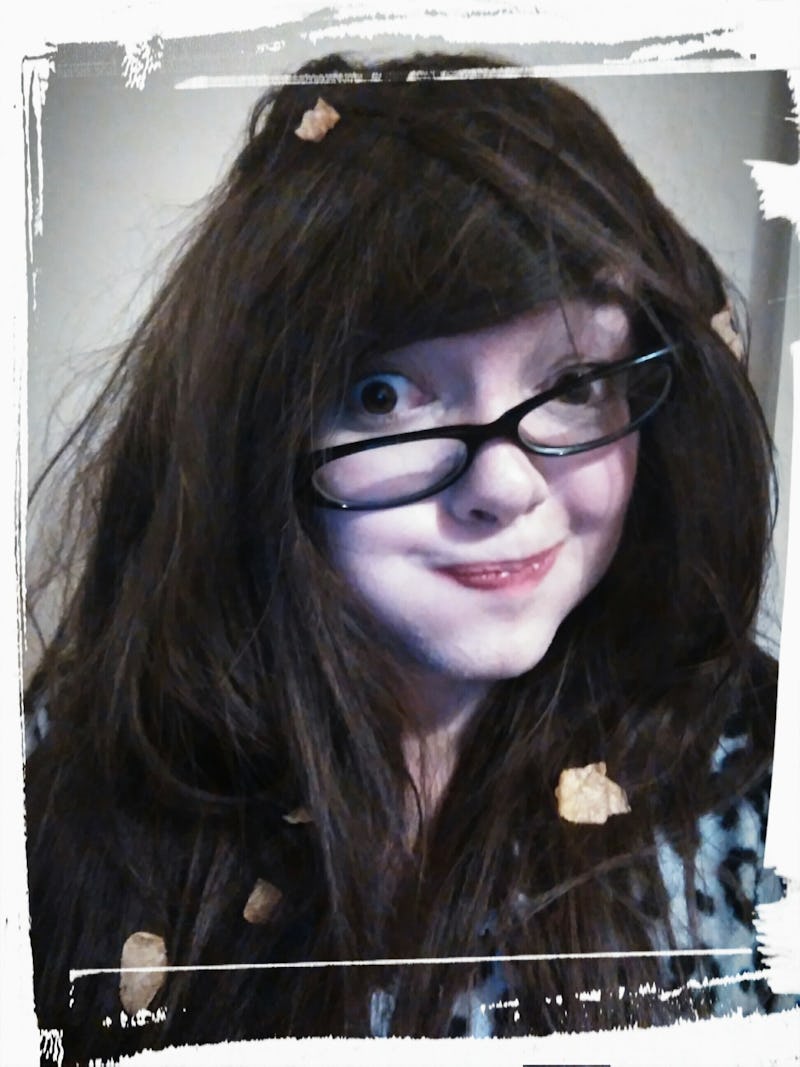 As the nights get darker, the tights get thicker, and the pumpkin spice lattes get more plentiful, one thing is usually at the forefront of any autumn lover's mind: Hunting for a perfect Halloween costume. Whether you intend to buy one or make your own, there are plenty of unusual Halloween costume ideas out there to ensure you look scarily striking come Oct. 31 — including a no makeup selfie costume, of course.
In recent years, many intrepid costumers have given wearing the world of social media a whirl, from a cheeky YouTube-inspired costume entitled "Drunk Guy Makes Out With Hottest Chick At Party" to slick and simple Words With Friends to a cute, colorful take on Instagram. Beyoncé herself even wore the humble selfie costume in 2013, arguably sparking a trend for selfie-inspired Halloween costumes all over the world. Technology is clearly a go-to source for Halloween inspo.
But how can the simple selfie costume be adapted to create a quirky, humorous take on the no makeup selfie? Well, roll up your sleeves, stick on your crafting clothes, and get comfortable, because that's exactly what I'm going to show you how to do. Plus tips on how to give yourself an even more Halloween-y "no makeup" look (you know, so you can channel the undead and all).
What You Will Need
Craft Supplies
A large piece of poster board/cardboard (it can be an old sign, box, or anything similar) around 24 x 16 inches
Several sheets of sturdy blue and white paper (ideally printer paper size since this will make things so much easier when it comes to the cutting and sticking part)
Dark Gray Cardboard
Sticky Tape/Adhesive Labels/Adhesive Letters
Scissors
Glue
Marker Pens
Pencil (with an eraser because c'mon, we're only human)
Glue Stick
Mug
Cornflakes (optional)
Cosmetic Supplies
Salt Spray (Umberto Giannini Glam Hair Grunge Glamour Tousled Salt Spray, $9.18, boots.com)
Dry Shampoo/Styling Powder (Batiste Dry Styling XXL Plumping Powder, $8.99, drugstore.com)
Hangover-enhancing makeup, to act as your still-drunk selfie filter (Rimmel London Radiance BB Cream in Very Light, $6.47, walmart.com; Collection 2000 Blush and Go in Tickled Pink, $6.10, superdrug.com, Collection 2000 Color Pout Lipstain in Tease, $6.10, superdrug.com; Technic Natural Lashes Conditioning Clear Mascara, $2.13, mixmatchmakeup.com; Collection Work The Color Eye Palette, $6.13, boots.com)
Comfy clothes to finish off your look (e.g. gym clothes, PJs, onesie)
For Your Frame
Step 1
First up, take your poster/cardboard, and divide it into four horizontal sections the width of the board, using a pencil and ruler. The first section should be around 4.5 inches long, the second 2.5 inches long, the third 11.5 inches long, and the bottom section again 4.5 inches long.
Next, you're going to need to draw a border of around 2.5 inches wide down either side of your third section, to create a frame shape. Make sure you keep a record of your measurements.
Use a craft knife to cut out the bordered square in the mid-section of your cardboard, leaving you with a large square frame, as above.
Step 2
Using your initial measurements, cut and measure a rectangular piece of blue cardboard 4.5 inches long to fit the top section of your poster board, then glue into place.
Do the same with white card for the second and bottom sections and borders (if you started off with a white poster board, you can probably skip this step and save yourself a ridiculous amount of time).
Step 3
Next up, you're going to be creating your "like" and "comment" icons. Simply grab your gray card, draw heart and speech bubble shapes, then carefully cut around them using your craft knife. Glue them one above the other in the bottom left hand corner of your frame.
Step 4
For your time icon, keep your gray card at hand, then grab a pencil and a large mug. Place the mug on the corner of the cardboard cutout, then outline around it. Divide your circle into quarter and three-quarter pie shapes, but first, remember to draw a thick 90 degree angle, about quarter of an inch thick, in the center of the circle, to represent your clock hands.
Next, draw "1" and "h" icons to represent the age of your post (or whatever time frame you'd like to include). Cut your icons out, then paste them onto the top right corner of your white frame.
Step 5
You know those dodgy old passport photos you have lurking at the back of your desk drawers? Well, now they'll finally come in handy. Just grab your photo, cut to size (mine was 2 inches long and 1.5 inches wide), then paste in the top left corner of your white frame to create your profile picture.
Step 6
Take some blue cardboard and use it to create the letters to make up your profile name (but please make sure you measure the space between your profile pic and time stamp first... my first attempt left me with annoyingly over large lettering).
If you're a craft shop aficionado, you may be able to find some ready-made adhesive letters, which again, will save you heaps of time. As a leftie with a severe lack of cutting options, I'm terrible with scissors. If you share my pain, use the craft knife instead.
Keep the cut-out leftovers as a stencil, then glue your letters to the right of your profile picture.
Step 7
Use the stencil to create a second set of lettering for below your picture frame, then glue in place.
Next, grab your gray card again, and create four small strips — around 2 inches long and half an inch thick. Stick in a criss-cross pattern to form your hashtag, then glue to the right of your lettering.
Then grab a black marker, and write your hashtags. I went with "no makeup" because it's the name of the game, but feel free to tag lyrical to your heart's content. At this point, you're welcome to place your head in the frame and go trick or treating. Conversely, you can apply some pale, zombie-like makeup to your face instead.
For Your Face
Step 1
To achieve that "I woke up like this" glow, I began by applying Rimmel London Radiance BB Cream in Light. Enhancing the ghostly morning-after pallor brought on by my lack of sleep combined with a subtle touch of the hungover sweats, this cream offers you that highly sought after, still-slightly-drunk look.
Step 2
After looking in the mirror, I realized I looked too presentable for an undead gal, so it was time for my eyes to discover some cosmetically enhanced dark circles. Using Collection's Work The Color Eye Palette, I lightly applied the pale gray shadow in the palette's bottom left corner under my eye and around the general eye socket area, for sleepless style.
Next, I added a touch of red wine-rimmed lips by applying Collection 2000 Color Pout Lipstain in Tease to the center of my lips, then smearing it outwards.
I topped the look off with Collection 2000 Blush And Go in Tickled Pink on the apple of my cheeks, the bridge of my nose, and chin, for that hungover flush.
Step 3
My reflection still made me feel like an upstanding member of society, so next it was time to tackle my mop. This look is best achieved when your hair already looks untamed and frizz-full.
If you've been out in the rain/are in need of washing your hair/are craving some heat styling magic, stop right there. Put down the hairdryer, step away from the straighteners, and reach for some salt spray and dry styling powder. I chose Umberto Giannini Glam Hair Grunge Glamour Tousled Salt Spray and Batiste Dry Styling XXL Plumping Powder.
Step 4
Apply your dry styling product to your hairline, then finger brush and smudge through your roots to add some slept-in volume. Next, apply your salt spray to the lengths and tips of your hair to dull down your hair's shine and add some much-needed frizz. If your hair is quite thick, you can apply to the top of your head, too. Just try not to lose your volume.
Step 5
Flip your head upside down and take out all your week's frustrations on messing up those follicles. The look you're going for is lost-my-hairbrush-three-days-ago chic. You could even visit here for extra backcombing inspiration. Don't worry about knotting your locks. Worst case scenario, you can always use Knotty Boy Emergency Dreadlock Removal Kit to restore it to health.
Step 6
At this point, I felt like my morning á la mode was almost complete. But then I remembered how the undead/ghoulish Halloween costumes are probably pretty messy eaters. So arose my final hair accessory: Cornflakes.
With the help of some extra-sticky clear mascara (I used Essence Clear Mascara), I sprinkled cornflakes through random sections of my hair, using the clear mascara to hold them in place.
Step 7
For the finishing touches, I dressed myself in a snow leopard onesie (complete with ears) to eradicate any suggestion of productive adult-ing. Then, because my no makeup look couldn't be complete without ditching the contacts, I added an old pair of glasses.
Upon grabbing my selfie frame, I felt Halloween-ready and refreshingly honest. Screw fancy filters and carefully crafted lighting angles: When it comes to my no makeup selfies, #iwokeuplikethis. Sort of.
Want more Halloween fun? Check out the video below, and be sure to subscribe to Bustle's YouTube page for more inspo!
Images: Raffy Marie Parker