Disney Has A Good History With Actresses Of Color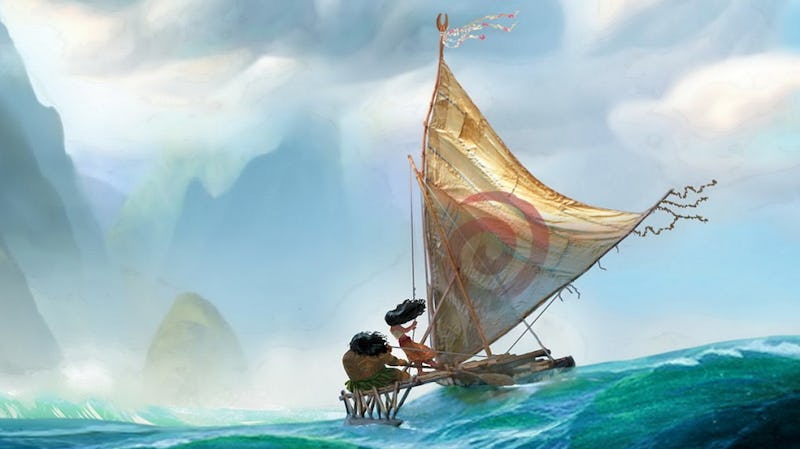 Hawaii native and high school glee club soprano Auli'i Cravalho has been cast as Moana, the title role in Disney's upcoming animated musical... which means she's getting to literally live her dream of being a Disney princess. Moana will tell the story of a young Polynesian girl who sets off on a quest 2,000 years ago. Cravalho may not be from Polynesia, but at least she is of South Pacific heritage; it would have been a travesty to see Disney cast a Caucasian actress as the voice of a minority character — but it actually wouldn't have been the first time. In fact, Disney's previous Hawaiian heroine, Lilo & Stitch's Lilo, was voiced by white actress Daveigh Chase (Big Love).
To be fair, the animation studio actually has a pretty good track record when it comes to casting non-white actors to voice non-white characters; and, like with most social issues, it has gotten even better over time. Say what you will about the questionable life lessons of early Disney films, but at least the studio has been putting female characters front and center for young audiences since their very first feature film, 1937's Snow White And The Seven Dwarfs.
The Disney Renaissance (largely agreed upon to be the 10 years between 1989's The Little Mermaid and 1999's Tarzan) saw the studio drift away from the fairy tales of Western European origin that had come to typify its films (Snow White, Sleeping Beauty, Cinderella) and embrace a wider diversity of story, location, and character. Movies like Aladdin, Pocahontas, and Mulan finally added some racial variance to the roster of Disney Princesses — but how many of them were voiced by actual non-white actresses? Let's investigate.
Jasmine (Aladdin, 1992)
The first POC to be added to the official list of Disney Princesses was Jasmine, daughter of the Sultan of Agrabah. Unfortunately, the Middle Eastern character was voiced by Caucasian actress Linda Larkin, who was born in Alaska and grew up in Minnesota. However, Disney often employs different actors for a character's speaking and singing parts, as was the case with Jasmine. In this instance, the princess's song — the iconic A Whole New World — was sung by famous Filipina actress Lea Salonga (above), the Tony Award-winning star of Miss Saigon. She's not from the Middle East, but at least Disney made an effort to include some racial diversity in the film's cast.
Nala (The Lion King, 1994)
Nala isn't included in the official "Disney Princess" brand due to, you know, not being human — but I was curious how the studio cast this African-set film. It turns out that Nala was voiced by four separate actresses in the course of the 88-minute movie: one speaking and one singing for both Nala as a cub and Nala as a full-grown lion. The younger version of the character was voiced by African-American actresses Niketa Calame (above, back row, left), who spoke the part, and Laura Williams, who sang. Strangely, Nala somehow became Caucasian when she grew up, voiced by Moira Kelly (above, back row, right) and Sally Dworsky in the film's second half.
Pocahontas (Pocahontas, 1995)
Like Jasmine, this Native American princess was spoke and sung by two different actresses, one white and one non-white. But, unlike Jasmine, it was the non-white actress who actually spoke the character's lines: Irene Bedard (above, left), who is of mixed Native heritage including Inuit and Cree. However, all of the songs — including the Oscar-winning "Colors Of The Wind" — were all sung by NYC actress Judy Kuhn, who is currently starring on Broadway in the Tony-winning musical Fun Home.
Esmeralda (The Hunchback Of Notre Dame, 1996)
Like Nala, Esmeralda isn't an official member of the Disney Princess clique, not being royalty and all, but as a prominent non-white female character of the Disney Renaissance, I chose to include her. (As a "gypsy," her exact heritage is not readily apparent, although most Romani originated in India or western Asia, and she's depicted as decidedly darker-skinned.) Unfortunately, Esmeralda's inclusion on this list doesn't do much for the ratio of minority Disney star, since both her speaking and singing were performed by white actresses: Demi Moore (above) and NYC singer Heidi Mollenhauer.
Mulan (Mulan, 1998)
I already loved Mulan for its kickass feminist heroine, and now I love it even more. Mulan's speaking voice belongs to Agents Of S.H.I.E.L.D. actress Ming-Na Wen (above), while her singing is performed — once again — by Lea Salonga. Except for the "Reflection" music video; that was Christina Aguilera, obvi. Who knew Jasmine and Mulan had so much in common?
Tiana (The Princess And The Frog, 2009)
The most recent addition of a minority character to the ranks of Disney Princesses came from this post-Renaissance film, which also has the distinction of being the only one on this list voiced by a single person. Tony-winning Broadway actress Anika Noni Rose — who you may also recognize as the third Dreamette alongside Beyoncé and Jennifer Hudson in 2006's Dreamgirls, or from her recurring role on CBS's The Good Wife as prosecutor Wendy Scott-Carr.
So despite some hiccups along the way, Disney has been fairly good about not whitewashing its minority characters behind-the-scenes; and with Cravalho's casting in Moana, it appears they're continuing this positive trend.
And now here, for nostalgia's sake, is Christina Aguilera's music video for "Reflection" in all its midriff-baring, dove-tossing '90s glory.
Image: Walt Disney Studios Motion Pictures