This "Bad Blood" Costume Will Suit Your Squad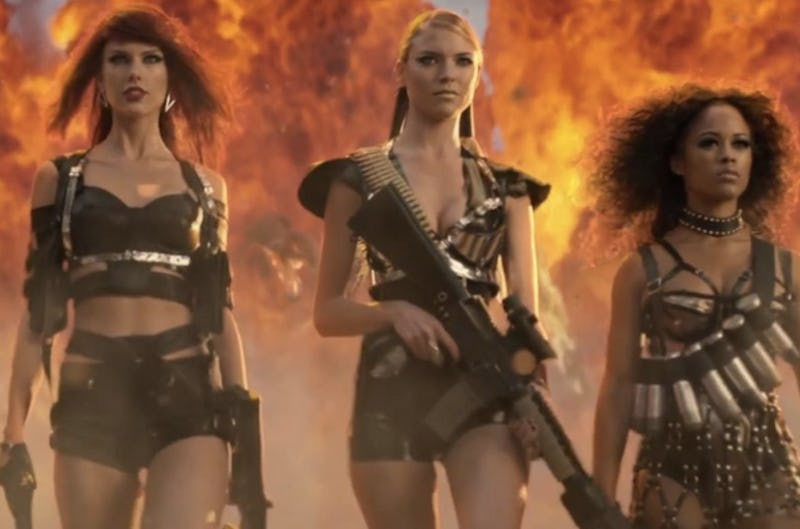 Forget the couple costume this October, because a group Halloween costume is the way to go. Not only will you and your friends look like badasses, but to spend the scary holiday dressed alike or following a certain theme with your closest friends has fun written all over it. Plus, can you imagine the photos you can take as a group? Yeah, you, your friends, and those pictures are going to look so good on Instagram — and make everyone jealous. Well, if you're in need of any ideas, then how about trying a "Bad Blood" group Halloween costume and follow in the footsteps of Taylor Swift and her "squad"? If you ever wanted to achieve #SquadGoals, now you can.
As Swifties know, pretty much everyone starred in the "Bad Blood" music video, which means if you have a huge group of friends, you can all channel your inner Taylor, Gigi Hadid, Zendaya, Ellen Pompeo, Serayah, or anyone else. Whoever you want to be, there are a ton of options. Also, there is no need to argue if more than one person wants to dress up as T. Swift. Remember, there is always room to overlap. Plus, do you really want to have "Bad Blood" of your own on Halloween? I don't think so. This really is the perfect group costume, because it brings women of all ages together and no one has to feel left out, because as Swift's proven time and time again, a "squad" can be as big as you want — there are no limits on friends.
First, let's get into the "Bad Blood" spirit by watching the music video:
Now that that's done, here are some tips to help you plan a flawless "Bad Blood" group Halloween costume.
Tip: You don't need to follow each character in the music video exactly, which is why this group costume is so great. If you just have the essentials and make the costume your own, it'll be badass. Plus, I'm sure Swift would want you to be your own person, so why not become your own "Bad Blood" alter ego?
Black Leather Anything Is A Must
You can't have a "Bad Blood" group costume without everyone in leather. Obviously, leather can be expensive, BUT I've found some great options. Check it out.
A classic black leather jacket is needed, like this one for $37.90 from Forever 21.
Or, these pants for $15 sold at H&M. Don't they look both sexy and comfy?
These $16 Jeggings from Target will also do the trick.
Finally, this leather jumpsuit from Charlotte Russe for $34.99 is amazing.
Black Jumpsuits & Cute Tops Will Also Work
If you're not feeling the leather, here are some great black jumpsuits and cute tops that will still do the trick.
This jumpsuit from Charlotte Russe for $15 (originally $32.99) is business in the front and party in the back.
This mesh top for $9.90 from Forever 21 provides coverage, but is also that sexy "Bad Blood" vibe.
Or, if you want something that's leather a bit sexier, this crop top from Charlotte Russe only costs $28.99.
Tip: you can pair these cute tops with any of the above pants or jeggings.
Wigs, Accessories, & Anything Else
To complete the look, you most definitely need fun accessories, including a wig if you really to play someone else for the night.
Party City has a couple pairs of studded gloves that only cost $5.99 and $6.99, respectively.
As for wigs, here are few bold and spunky looks from Party City. First, this Cleopatra-inspired wig costs only $19.99 and will make you resemble Selena Gomez's look.
Or, if you really want to show off your Taylor Swift-side, then try this auburn wig for $29.99.
Dark & Grungy Makeup Is Needed
If you need help with your makeup, here is a Taylor Swift-inspired tutorial from NikkieTutorials.
Now, go channel your alter ego and make this the greatest "Bad Blood" Halloween group costume ever.
Images: TaylorSwiftVEVO/YouTube; Forever 21; H&M; Target; Charlotte Russe; Party City;