'AHS: Hotel' Is Full Of Symbolism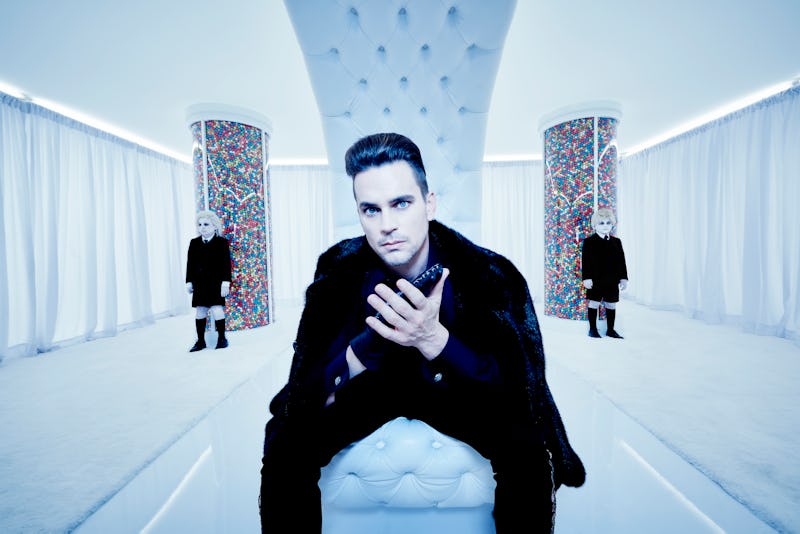 You might have been too preoccupied by the seduction happening on American Horror Story: Hotel to notice, but Lady Gaga and Matt Bomer's AHS: Hotel characters saw a pretty fitting movie during their jaunt outside the creepy Cortez. OK, so they weren't really paying attention to the screen, but I was, and their film choice reveals a lot. The movie Countess Elizabeth and Donovan saw was Nosferatu. It's a silent horror film from 1922 about, what else, a vampire. Perhaps if the ill-fated AHS couple had paid more attention to the screen than Elizabeth and Donovan they would have seen the warning signs and steered clear.
Just like with the song in the orgy scene, the AHS team knew what they were doing when they chose to feature this film. It's highly representative of the content of the show itself. Based on Dracula, the plot of Nosferatu is as follows:
In this highly influential silent horror film, the mysterious Count Orlok (Max Schreck) summons Thomas Hutter (Gustav von Wangenheim) to his remote Transylvanian castle in the mountains. The eerie Orlok seeks to buy a house near Hutter and his wife, Ellen (Greta Schroeder). After Orlok reveals his vampire nature, Hutter struggles to escape the castle, knowing that Ellen is in grave danger. Meanwhile Orlok's servant, Knock (Alexander Granach), prepares for his master to arrive at his new home.
Hmm... a castle you can't escape where a vampire lives? Sounds a lot like Hotel Cortez and Countess Elizabeth and Donovan. Sure, they may not be a vampires in the traditional sense, but they do have a habit of drinking blood, and they certainly don't let people escape their living quarters alive.
Although the movie was only shown for a brief moment on AHS, it's really a microcosm for the show as a whole, and it definitely doesn't bode well for any of Elizabeth and Donovan's guests. But, it's hilarious that two (kinda) vampires picked up their prey at a vampire film. I'm going to maybe steer clear of those for awhile...
Image: Frank Ockenfels/FX; bryanbarnesart/Tumblr