10 Book Festivals Every Bookworm Will Love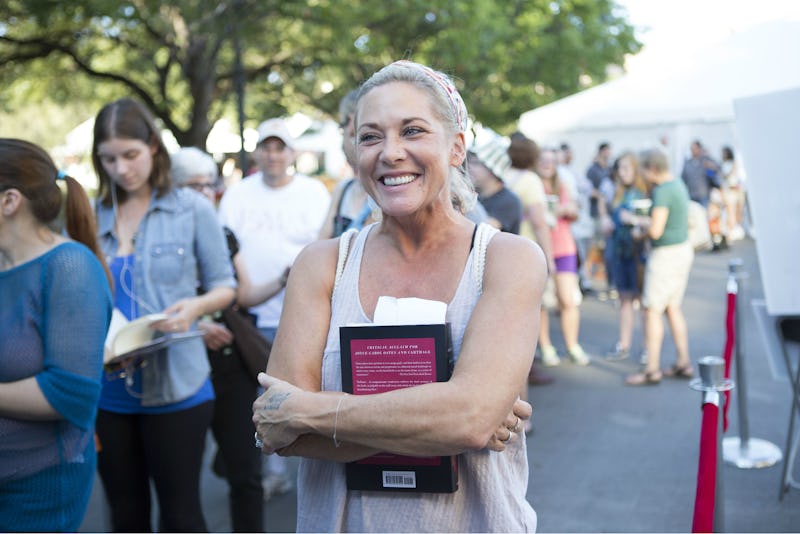 Reading is often a solitary activity, but expressing your love for books doesn't have to be. All around the U.S., there are incredible book festivals where literary aficionados can — and do — gather to geek out over books, learn from (plus fawn over) favorite authors, participate in writing workshops, and so much more. They're the perfect way to connect with book creators and fellow bookworms alike.
Although books are always at the heart of these events (hence the title "book festival"), food and drink, music, and live performances are also often key features. On top of that, book fests typically offer activities for readers of all genres and ages, so it's easy for those with little ones to bring them along. Let's not forget the fact that they're usually free, either; that certainly makes them all the more tempting to attend.
Many festivals across the country share similar types of activities (i.e. book panels, workshops, and signings), but each puts together a unique lineup of presenters and speakers; no two events are the same, both from city to city and year to year. Festivals are also always coming up with new and exciting ways for attendees to mingle with authors, from biking tours to dinner or drinks. Basically, they're a bookworm's dream come true.
Here are ten of the United States' best book festivals, so you can start planning your next literary vacation.
Texas Book Festival
Everything's said to be bigger in the Lone Star State, so it's fitting that the Texas Book Festival is pretty darn massive. The event, which will be held October 17-18 this year, features over 250 nationally and critically acclaimed authors, plus more than 80 exhibitors across over 20 venues. In true Austin style, there are live music, food trucks, family activities, and even opportunities to engage with authors in unique ways, like going on a biking or kayaking excursion.
Books By The Banks: Cincinnati USA Book Festival
Now in its ninth year, Books by the Banks is a day-long festival that takes place every October in Cincinnati. Local, regional, and national authors attend, and there are book signings, panel discussions, and activities for all ages — all meant to promote literacy and lifelong learning. This year, the festival is set for October 17.
Wordstock: Portland's Book Festival
When it comes to festival names, Wordstock: Portland's Book Festival gets an A+. In spite of it being a one-day event, Wordstock manages to cram in tons of activities for readers of all ages. Along with an extensive book fair, the festival includes a series of writing workshops, author events, a beer tent, concerts, pop-up readings and concerts, and more. Wordstock 2015 is scheduled for November 7.
New Orleans Book Festival
It's not quite Mardi Gras, but the New Orleans Book Festival is still an amazing celebration. The two-day festival, set for November 6-7, takes place along Big Lake at City Park and is full of family-friendly entertainment. Between musical performances, readings, panel discussions, and activities for kids, it's ideal for all ages. Best of all? Every child who attends receives free books.
Los Angeles Times Festival Of Books
The Los Angeles Times Festival of Books has been running since 1996 and aims to connect book lovers with the people behind their favorite stories. It's no small event, either. This festival boasts 150,000 attendees each year and focuses on music, food, culture, art, and, of course, books. You'll find no shortage of entertainment, ranging from artists creating work on-site to chef demos. Mark your calendar for April 9-10, 2016, because this festival is not to be missed.
Bay Area Book Festival
Berkeley, Calif., is home of the Bay Area Book Festival. The "literary extravaganza" gathers bookworms and offers them a wealth of reading-related activities, from shopping for new and used books to taking classes to attending author presentations. Food is a big part of the event too. At the 2015 festival, held on June 6-7, there were food trucks and stalls, plus even an organic beer and wine garden. (That's the Bay Area for you.) Another incredible feature was Lacuna, an all-book library displayed over the weekend.
Library Of Congress National Book Festival
Set in our nation's capital, the annual Library of Congress National Book Festival brings together roughly 175 authors, illustrators, and poets each year to present on book genres from nearly every book genre under the sun. The most recent edition took place on Sept. 5, gathering book lovers together for a poetry slam, thematic programs, and signings.
Mid-South Book Festival
If you're looking for variety, the Mid-South Book Festival has it. In addition to author panel discussions and presentations featuring 75 authors from around the country, the festival includes a reception, a literacy summit for educators and nonprofit leaders, a writing conference, and even a street fair. It's too late to go this year, as it took place from Sept. 9-13, but there's always the future.
Brooklyn Book Festival
The largest free literary event in New York City, the Brooklyn Book Festival has brings together a variety of well-known writers and publishers, as well as up-and-coming authors. The week-long festival is geared toward adults, but there's a children's day too. Held between Sept. 14 and 21 this year, the event celebrated its 10th anniversary.
Ann Arbor Book Festival
The Ann Arbor Book Festival will keep you busy all day and into the night. Not only is there interesting programming involving authors, publishers, artisans, and writers groups, there's also a street fair, a writer's conference, and a book crawl. The latter allows attendees to chat with authors over a drink or a meal in local restaurants, bars, and bookstores. With the 2015 festival behind us, we'll have to look forward to next year's event.
Images: Texas Book Festival (2); New Orleans Book Festival; Books by the Banks/Twitter; Mid-South Book Festival; Ann Arbor Book Festival