Natalie Dormer Talks Margaery's 'GoT' Fate At NYCC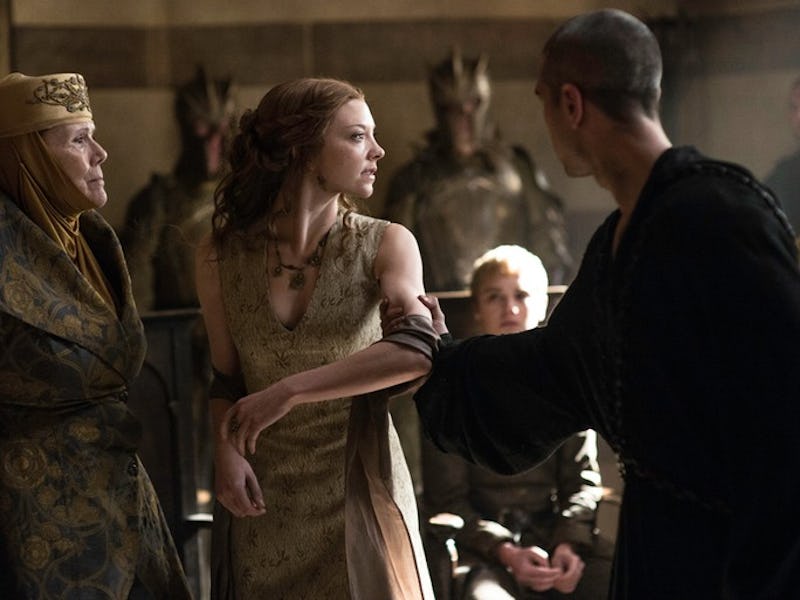 When you attend something like a Game of Thrones New York Comic Con panel, you never know what exactly will end up being revealed. Maybe there will be an accidental Jon Snow lives slip-up, or maybe — if you're lucky — there will be a few Game of Thrones spoilers about Season 6. And, fortunately, on Thursday fans were treated to both of these things. Shortly after those in the room were given yet another glimmer of hope that Jon Snow is alive and well, Natalie Dormer hinted at what may happen to Margaery Tyrell next season. During the Q&A portion of the panel, Dormer was asked whether or not she thought Margaery could've done the naked Walk of Shame that Cersei Lannister did at the end of last season, to which Dormer replied: "Oh, we're in dangerous territory for the next season if I talk to you about that."
As you would expect, the actress wasn't at liberty to go into any sort of detail about this little reveal, but could this actually mean that Margaery will also have to perform her own naked Walk of Shame as well? It certainly seems that way, especially considering that poor Margaery is still locked away in a prison cell and being held captive by the Faith. Will she perhaps hear about how Cersei was set free and decide to offer up the same sort of deal for herself? In light of Dormer's statement, I'd say that could very well be the fate GoT has in store for Tommen's bride.
In the books, Margaery is eventually released from her prison confines by the High Sparrow after it's decided that there isn't enough evidence to keep her there. (She's still put on trial, though, we won't know what the outcome of it was until The Winds Of Winter is released.) And, while there's still a chance that could still happen, the writers have been known to take a few liberties with the books in the past. They could switch things around and have the High Sparrow offer Margaery the "walk" option instead — one that I doubt she would refuse considering how miserable she looked since we last saw her.
Girl wants out of prison and I'm willing to bet she'd do almost anything to make that happen. Either that or Dormer is just totally messing with us right now. (It's amazing how saying something so small can inspire such big theories.) Either way, though, I'm now more intrigued than ever to learn about Margaery's fate. Is it time for Season 6 yet?
For more on this year's NYCC, check out Bustle's body positive cosplay video:
Images: Helen Sloan/HBO (2)