16 Songs For Your Killer Halloween Playlist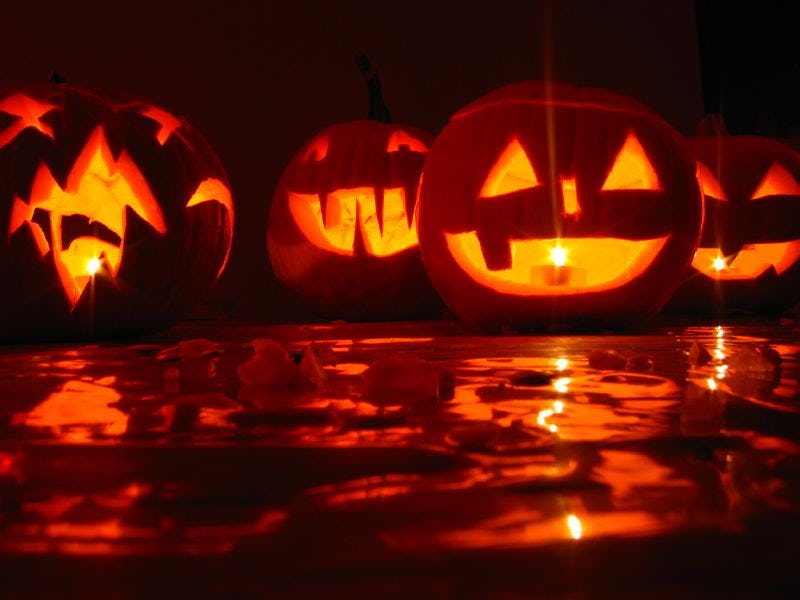 If you're having a Halloween party, you can go ahead and scratch music off of your to-do list, because I've put together a killer Halloween playlist that is the perfect mix of creepy and playful— like Dobby the House Elf, Furby, or a baby skunk. Like Freddy Krueger meets Casper the friendly ghost, these songs will give you chills and bring a sparkle to your eye, and magically, the more punch you drink, the better it gets.
October is in full swing, so that means two things — first, the weather is finally going to start cooperating with your fall wardrobe, and second, you'll need some jams to listen to while you do your pumpkin carving and your spider web hanging. On this playlist, you'll find songs about monsters, ghosts, and all things bewitching. We've got everything from tried and true Halloween classics to edgy, modern tunes that will bring out the ghoul in you.
These 16 songs, my little goblins, are Halloween candy for your ears. So, grab your high socks and sexy Ruth Bader Ginsburg costume, because there is some good judgment coming your way. You can just call me DJ Skellington, because I'm about to put a spell on you.
1. "Thriller" by Michael Jackson
This song is essential on any Halloween playlist. It's basically the theme song for Oct. 31.
2. "Dead Man's Party" by Oingo Boingo
If you recognize the singer's voice, it's because the lead singer of Oingo Boingo is none other than Danny Elfman, the pipes behind pumpkin king Jack Skellington from The Nightmare Before Christmas.
3. "Map Of The Problematique" by Muse
Enter, Muse— the band that makes you want to put on a heavy coat of eyeliner and write angsty poems.
4. "Ghostbusters" by Ray Parker, Jr.
Though the all-girls' reboot of Ghostbusters won't hit the big screen until next year, we can go ahead and start the dance party now.
5. "Theme From 'Friday The 13th'" by Orlando Pops
You can almost hear the slasher's knife in this classic horror movie theme. It's creepy and classic, and works as the perfect transition track.
6. "Dripping" by Blonde Redhead
Blonde Redhead really delivers the creep in this dark and brooding track.
7. "Weird Science" by Oingo Boingo
Oingo Boingo makes another appearance with this jam about a mad scientist.
8. "We Suck Young Blood" by Radiohead
I think this choice is pretty self-explanatory. If you want to maintain the mood after burning through this playlist, you can just turn on Radiohead's Hail To The Thief album, and keep it spooky.
9. "Bad Things" by Jace Everett
This southern gem was the theme song to HBO's swampy vampire-drama True Blood, which is totally reason enough to add it to your Halloween musical rotation.
10. "I Put A Spell On You" by Screamin' Jay Hawkins
Because, obviously.
11. "Satisfied" by Tom Waits
Tom Waits pretty much gives me nightmares in the middle of spring.
12. "London Calling" by The Clash
Here's a politically-charged punk song about a nuclear apocalypse, if Tom Waits doesn't scare you.
13. "Monster Mash" by Bobby "Boris" Pickett
Your party will be a graveyard smash once this classic Halloween diddy comes on.
14. "Uncertainty" by Jagwar Ma
When it's Halloween, howlin' looks so good to me.
15. "Song Of The Count" by The Count from Sesame Street
This innocent little medley, performed by the friendliest vampire from your childhood, is just a little spookier wedged in between tracks 14 and 16.
16. "Teeth" by Lady Gaga
Oh, were we talking about vampires? Enjoy the innuendo of this track from the golden age of Gaga, which, when it follows a song from Sesame Street, is just that much more delightfully inappropriate.
Here's the whole playlist, just in case you want to audition it on your drive home.
Happy Halloween!
Image: hanna_horwath/Flickr