Trick Or Treat In Style With Halloween Themed Bags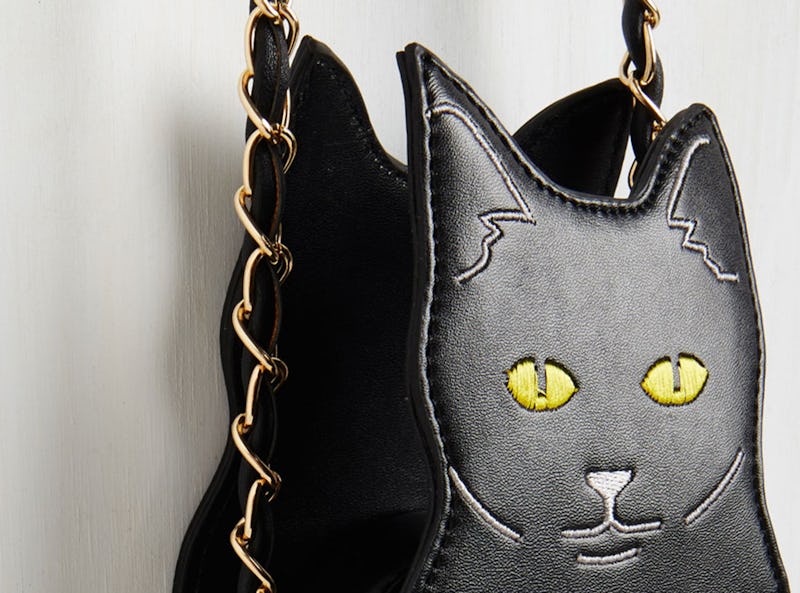 You may think that once you reach adolescence your trick-or-treating days are over, but this doesn't have to be the case. To relive your childhood, take your kids out (or borrow your friends' or relatives' offspring) and take a stylish Halloween themed bag with you to carry their candy around in. The joy in their little faces will be so worth walking around your neighborhood at night, possibly dressed in an embarrassing costume. Plus, they may even let you share their candy stash!
On the other hand, if you want your Halloween to be child-free, you're probably still going to need an awesome handbag to match your costume. Luckily, there are a ton of creepy cool bags out there that would be fitting for a frightening outfit. In the past we have seen Jun Takahashi's Brain Bag and Fendi's collection of monster inspired bags. A couple of years ago, designer bag fans took the Halloween handbag concept quite literally and dressed as Chanel handbags for Halloween.
Celebs are getting in on the Halloween handbag game too. Among the best dressed would have to be Katy Perry as a Cheeto with a matching Cheetos packet handbag and Lily Allen as an alien with a matching green Chanel handbag.
So finish off your costume with a creepy Halloween themed handbag — it's all in the details, after all!
1. The Orange & Black Clutch
If you're looking to keep it chic and simple this year, grab this quirky orange and black clutch bag. You'll be able to fit all your essentials for the evening in here such as your phone, lipstick, and fangs.
Leather Ponyhair Clutch Bag, $75, topshop.com
2. The Kooky Kitty Bag
Are you revamping your cat costume this year? Or perhaps dressing as '90s teen witch Sabrina Spellman? Fans of Salem Saberhagen and Thackery Binx should be sure to bring along this quirky, black cat bag for a spellbinding night.
Cat To The Chase Bag, $39.99, modcloth.com
3. The Monster Mash Bag
This versatile handbag would be a great accessory to go on a night out with Frankenstein's bride, Morticia Addams, or a vampire vixen. When "The Monster Mash" comes on you're sure to be the most fashionable spook in the room dancing around her handbag.
Rock Rebel Universal Monsters Collage Bag, $49.50, hottopic.com
4. The Sophisticated Spider Pouch
Decadent demons and glamorous ghouls rejoice! Here is a luxuriously lavish handbag worthy of only the most frighteningly fashionable femmes. Golden spiders crawl across this midnight black, sparkly bag which is fit for a vampire queen or an enchantress.
Spider Pouch, $495, charlotteolympia.com
5. The Coffin Bag
Come out of the coffin this Halloween as a lady of the night or a Fangbanger from True Blood. This studded handbag would even suit those who don't want to go all out in a hardcore Halloween costume but would rather dress like a glam goth girl.
Kreepsville Studded Coffin Bag, $59.50, hottopic.com
6. The Planet Purse
Come in peace wearing this eclectic planet themed bag which would look great worn by an intergalactic babe or even an astronaut. This sparkling handbag is extra-terrestrial elegance at its finest.
Skinnydip Planet Crossbody Bag, $51, asos.com
7. The Bat Bag
Every witch or vampire needs a familiar and this cute bat bag can act as yours for the evening. You could even be inspired by this friendly looking fellow and dress up as a bat yourself.
Baby Got Bat Bag, $29.99, modcloth.com
8. The Scary Eye Clutch
Halloween color scheme? Check. Spooky eyes? Check. Stylish design? Check. What more could a girl want from her Halloween bag?
Asos Halloween Co-ord Delaware Clutch Bag, $27, asos.com
9. The Phenomenal Pumpkin Pouch
Be the belle of the Halloween ball with this magical pumpkin handbag. Now you're an adult you don't even have to be home by midnight.
Pumpkin Pouch, $995, charlotteolympia.com
Complete your eerie ensemble with a festive Halloween themed handbag!
Images: Courtesy Brands