4 Seasons Of 'AHS' Costumes For Halloween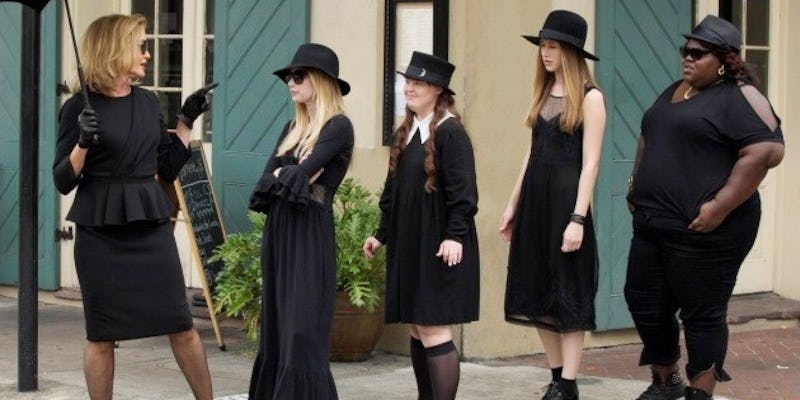 From witches to aliens, what could be more Halloween than doing an American Horror Story costume? I mean, considering that it's a show that has a Halloween episode every year and, you know, the word "horror" in the title. But, let's face it, as fun as it would be to go full Infatata this year, your level of commitment is probably a lot less fanatical (if it wasn't, you would be deep in prosthetics instead of looking up ideas online). So, good news: I have a slew of easy-as-pie American Horror Story costumes from every season, and for multiple situations.
Now just of note, I am a big advocate of thrifting all my Halloween costumes and/or applying wigs to things in my own avant-garde wardrobe. Everything I'm suggesting is merely a suggestion, and, with some sleuthing, you could easily find (or already own) top notch alternatives. However, everything outlined is also decidedly cheap, easy, and often available at your local mall. So that's a plus.
Of course, the options are limited when it comes to American Horror Story. Go and explore! But first, use this as a springing board whether you're doing Halloween with a group, a significant other, or your own fabulous self.
Violet And Tate: The "Cute" Couple's Costume
Oh, star-crossed lovers. Who doesn't want to root for these two crazy kids? Well, I mean, aside from the fact that Tate is a Grade A psychopath who knocks up Violet's mom and, beyond that, a dead Grade A psychopath who knocks up Violet's mom. But, hey, what a cute couple's costume for you and the BF, amirite? Here is how you nail it by only gently stepping outside of the parameters of an H&M.
Floral Print Dress, $10, H&M | Basic Cardigan, $18, Amazon | Black Hat, $10, H&M
Violet's look is pretty simple, you start with a pretty shapeless floral print dress and cover with a basic cardigan in a color like burgundy or mustard. Incidentally, this one comes in both. Then you basically just find a decent black hat like this one. Of all the black hats I was looking at, this had the appropriate brim ratio.
T-Shirt, $12, Green Turtle | Loose Fighting Jeans, $20, H&M
Then, you go across the store to the men's section to get your lazy boyfriend a pair of loose fitting jeans, because all he has is skinny. The worst. And, while I personally am pro-Tate's green-and-black sweater (very Kurt Cobain, TBH), you might do better off getting this "Normal People Scare Me" tee from Green Turtle.
And, finally, if your S.O. doesn't want to be a total drag, and you want to go HAM with some detail work, you can ask him to throw on a trench coat and go full skull face:
I'm gonna go on the record saying I don't know if the look will ultimately be in good taste given the context, but next to nothing is in good taste in this show, and fans will understand. Overall, you should have a fairly simple look that really screams, "I'm in a weird place in my relationship." But what if you want to do something for yourself?
Sister Mary Eunice: The Sexy-Something Alternative
Well, speaking of shameless costumes, I feel like a demon-possesed nun is a good pick... and the fun with Sister Mary Eunice is that there are layers to this costume. Let me break it down.
Nun Costume, $13, Amazon | Red Contacts, $23, Pinky Paradise | Red Slip, $14, Amazon | Black Stockings, $8, Amazon
If you don't have a floor length black gown, white turtle neck, and nun's habit just lying around (weirdo) go and buy a standard nun costume available at your everyday Halloween store."OK, Mary Grace, but won't people just mistake me for your everyday nun?" Au contraire, mon frere (or... souer, I'm not great with French).
First, you want to get some really baller red contacts, so people are fully aware you're no garden variety nun. And then you just put a red slip with black stockings on underneath. The goal is to throw off the nun cloak mid-festivities and break out into your best rendition of "You Don't Own Me." It'll be a big hit at the office Halloween party, rest assured.
Madison, Nan, Zoe, and Queenie: The #SquadGoals Costumes
Thing is, I would normally just tell you to go full Misty Day, but two Lily Rabe characters in one post being selfish. Also, if you're going to go full Stevie Nicks, just... go as Stevie Nicks. In any case, what better way to utilize your best girls than to go as the ladies of the Coven? This could get really expansive if you have a lot of friends, but I just focused on the core four in their first witch field trip... all with examples from Forever 21, because where else are you shopping? It's all about black dresses and hats, with different silhouettes.
Maxi Dress, $23, Amazon | Black Sunglasses, $15, Amazon | Hat, $14, Amazon
For Madison you want to get a floor length and relatively sexy maxi dress and big sunglasses. Her hat is a bit on the floppier side, so take this one out for a spin.
Peter Pan Collared Dress, $17, Amazon | Flat Top Hat, $18, Amazon | Knee Socks, $7, Amazon
Nan's sleeves are longer in this scene, but you'll definitely get the job done with a peter pan collared dress. Her hat is also decidedly more top-hatty, but this flat-top hat still gets the idea across. Basically, after that, you finish with some sheer knee-length socks.
Knee-Length Dress, $20, Amazon | Black Hat, $35, Amazon
Zoey is pretty simple: black sheer-ish, knee-length dress and a rounded black hat.
Black T-Shirt, $8, Hanes | Black Jeans, $10, Forever 21 | Black Sunglasses, $15, Amazon | Black Fedora, $14, Amazon
And Queen is even simpler. It's very plausible that you already have a black t-shirt and black jeans in your closet. After that, all you need is sunglasses and something that looks tragically fedora-ish in, you guessed it, black.
Then, I guess you have to just find someone's cool mom to play Fiona Goode, and you're set.
Ethel Darling: The Super "Freak" Costume
Not that I'm saying there's anything super freaky about ladies with facial hair. I'm half Greek, child plz. All I'm saying is a season like AHS: Freak Show makes it really hard to use PC terminology.
Beard, $14, My Costume Wig | Fringe Shawl, $16, Amazon | Orange Maxi Dress, $30, Amazon | Hippe Headband, $10, Etsy
So. the most important component to this costume is a beard, and, don't worry, ladies, it comes in auburn. Beyond that, though, the costume is fairly layered and alternative. You'll need one of those fringed shawl-kimonos the kids are all about these days and an orange dress. Admittedly, this one is not up to my standards, I'd prefer something satiny, but, you know, in a pinch. Then, you throw a hippie headband and garnish with an indecipherable accent, and you're golden, pony boy.
And there you have it! Collectively eight different American Horror Story looks ready in time for your next haunting.
Images: FX (1); Giphy (4); Forever 21 (14), H&M (4), Green Turtle (1); Halloweencostumes.com (1); Macys (1); Leg Avenue (1)