The 'Hail, Caesar!' Cast Is Huge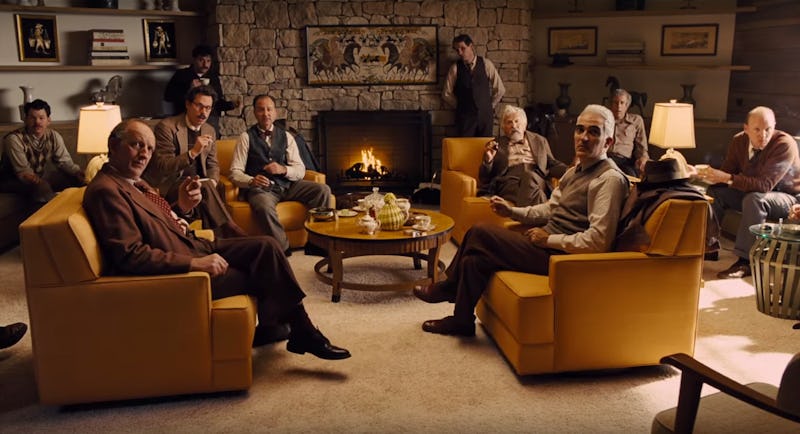 When it debuted on Friday, the first trailer for the Coen Brothers' upcoming comedy Hail, Caesar! packed a seemingly impossible volume of big screen favorites in what we're now certain are the roles they were born to play. Seriously the movie is filled with stars. Josh Brolin is a hardnosed Hollywood fixer, George Clooney is an A-list doofus who gets wrapped up in a kidnapping scheme, Frances McDormand chomps cigarettes in a projection booth, Scarlett Johansson balances East Coast moxie and mermaid costumes, and a dye-jobbed Channing Tatum goes full Gene Kelly with a sailor suit-clad dance number that promises to render Magic Mike XXL a faint memory. Believe it or not, that's not all the Hail, Caesar! cast has to offer.
I'm not even referring to the quick glimpses at Ralph Fiennes, Jonah Hill, and a braying Tilda Swinton. In fact, the Coens' new film boasts such a tremendous ensemble of time-tested favorites that most of them don't get more than a moment of screen time in this first trailer, if that. But, I'd be remiss to forget about some of the greats who've signed on to fill out the cast list of Hail, Caesar!, which is already one of the most anticipated pictures of 2016. So, who else should fans be excited to see come the Coen comedy's Feburary release?
Dolph Lundgren
The Rocky IV and Masters of the Universe star is spotted ever so briefly in the Hail, Caesar! trailer cradling a puppy at the head of a densely occupied rowboat. Such a sight is befitting of his IMDB credit as "Submarine Captain," though how such a role works into this showbiz picture is yet to be discovered.
Christopher Lambert
The Highlander himself makes a split-second appearance in the Hail, Caesar! trailer, playing (ostensibly) a directorial role on the film-within-a-film. IMDB credits Lambert as Arne Slessum, which is as directorish a name as you can get.
Fred Malamed
Coen Brothers fans will recognize Melamed, not seen in the trailer, as hug-happy Sy Ableman from the masterful comedy A Serious Man. Melamed's filmography also includes background parts in a handful of Woody Allen movies.
Peter Jason
Though not instantly recognizable by name, fans should recognize the prolific character actor and Deadwood star when he is spotted feeding lines to Clooney's dimwitted character early on in the trailer.
Alex Karpovsky
Alex Karpovsky is known best for his work on Girls, but is no newcomer to the Coens' filmography: He played a small part as nebbishy intellectual Marty Green in Inside Llewyn Davis, and returns to the scene as a character called Mr. Smitrovich in Hail, Caesar!
Clancy Brown
With more than 230 credits to his name since only 1983, Clancy Brown is the kind of character actor who has made a living filling out ensemble pieces like Hail, Caesar! You might know him best from Starship Troopers, Shawshank Redemption, and Highlander.
And The Rest
You can barely make out 10 Things I Hate About You and Numb3rs star David Krumholtz at the very back of the pictures shot, playing a role that IMDB credits as "Communist Writer." A bit clearer are the likes of Short Circuit star Fisher Stevens, seat just to the left of the fireplace, and Patrick Fischer — of Mulholland Drive fame, but also memorable for his stints on Mad Men — front and center.
What I'm basically saying is if this film doesn't deserve some sort of awards show nod for Best Ensemble Cast, no film does.
Images: Universal Pictures (6); Getty (2)