These Shows Will Chill You To The Bone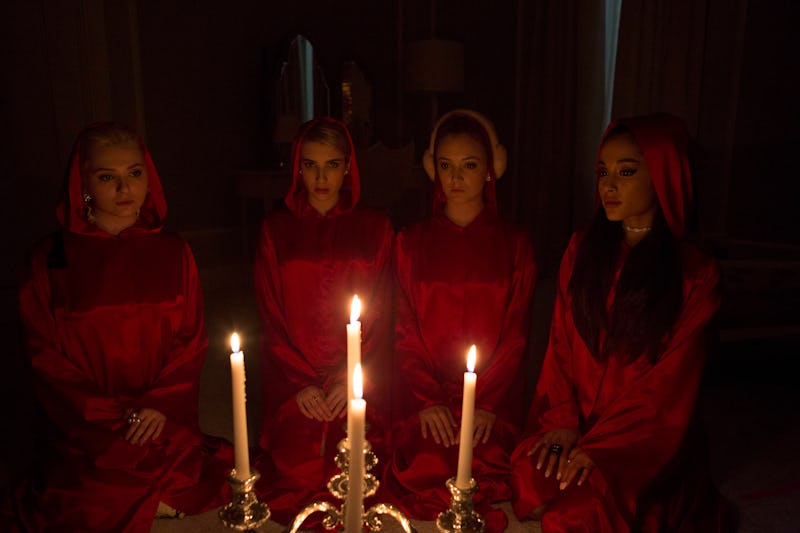 Get ready for a new show to keep you up at night: A new CBS murder mystery, American Gothic, was given a straight-to-series order, it was announced on Friday. According to Variety, the show is set to air in the summer of 2016, with the first 13 hour-long episodes revolving around a prominent Boston family. There isn't much info out about the series just yet, other than the fact that it is full of suspense and intrigue — which can be guessed by the title — but the series is clearly capitalizing on the trend in primetime television these days to scare the living bajeezus out its viewers.
Remember when murder and ghosts and all things terrifying were saved for big screen blockbusters? Welp, no longer is horror a trend for the movies. Now, it seems like everywhere you turn and every station you turn on is riddled with vampires of goblins or murderous school mascots (R.I.P. Coney).
Not that I'm complaining: I'm totally into the surge of terror being splashed about on my television screen, and I tune in weekly to some of the newest offerings. And, believe me, there are a lot of offerings.
So, just in case you can't wait until the summer of 2016 to get your goth on, there are still plenty of bone-chilling options to keep you up at night.
American Horror Story (Every Season, Because It's All Good)
With each season of this series being a self-contained miniseries, you'll never get sick of the haunts and horrors of this show.
Scream Queens
It's horror meets Mean Girls in this series about a murderer on the loose in a popular sorority. The scares are spot on, and the humor is just the right amount of camp. Trust me — if you're not watching this one yet, you'll totally love it.
The Walking Dead
Those zombies might be slow-movers, but they never get tired — and they never stop. With the whole world being overrun by zombies, the terror is never-ending.
Fear The Walking Dead
The prequel to The Walking Dead, this show details what led up to the world being overrun by zombies. Fun times! This show is just as well-scripted as its older sibling and has opened to rave reviews. Definitely check it out — unless you have apocalypse-induced anxiety like I do, in which case, you might want to stay far away from this series. (I speak from experience.)
Supernatural
This show is on Season 10 and still going strong. The show follows Sam and Dean as they deal with their parents' death, and all of the freaky stuff that happens to them along the way. The fact that it also stars Dean from Gilmore Girls (who is named Sam in this show, FYI) certainly doesn't hurt.
The Vampire Diaries
One of The CW's biggest hits, The Vampire Diaries is a supernatural drama that follows Elena Gilbert as she falls in and out of love with a vampire. Among other things. If you love pale skin and impossible love triangles, this is definitely the show for you.
The X-Files
Sure, The X-Files ended ages ago, but Fox is airing a six-episode reboot soon that should have all of you mystery lovers on the edge of your respective seats. The new episodes will begin airing in January of 2016, so get your popcorn and flashlights ready — and make sure to marathon the original series ASAP.
Hopefully these shows will keep you terrified until American Gothic premieres.
Image: FOX