NYCC Shares 6 Minutes Of 'Shadowhunters' Pilot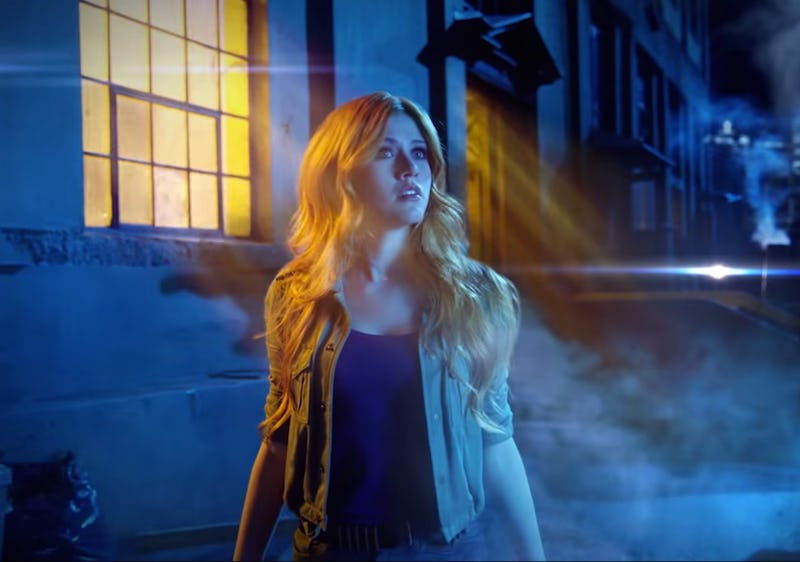 The whole point of New York Comic-Con is to provide fans with an exclusive look into their favorite upcoming shows and films, or exclusive insider info on their favorite celebrities and old works, so it comes as no surprise that there was an exclusive six minute clip from the Shadowhunters pilot that was played at the convention. The clip introduced Jace Wayland, Alec and Isabelle Lightwood, Clary Fray, Simon Lewis, and even Magnus Bane — literally, every single person that you already care about, alongside some new characters that you can't wait to start caring about. (For example, Clary's original group of friends now includes another girl.)
The clip opens with a seemingly ordinary man walking through the streets and being stalked by Alec, who leaps into the air and disappears when the man looks back. He is quickly joined by Isabelle and Jace, and the man reveals himself to be a demon. The group tracks him all the way to Pandemonium, where Jace runs into Clary Fray for the first time. When Clary's friends inform her that she is the only person who can see the boy that she was just arguing with, she decides to march in there and get some answers.
This television version of Clary Fray seems even more proactive than the Clary of the books or of the film adaptation. Before the end of the clip, she has a knife in her hand and becomes the one to dispatch the first demon in the brawl that quickly breaks out. (By accident, but still.) Of course, Jace, Alec, and Isabelle are no slouches either. Their fighting skills obviously, and quickly, outstrip Clary's, but that's only to be expected.
Did I mention that Magnus Bane was there? Because he's one of te most memorable parts of the clip, and of the pilot in general. Even before the Shadowhunters get a chance to show off their badassery, he's displaying his powerful magic and proving why he continues to be a fan favorite character no matter what the adaptation. If you weren't already excited for the upcoming show, then this clip is definitely going to change your mind.
Check it out below.
Image: ABC Family