Blind Joe Should Totally Win 'The Voice' Season 9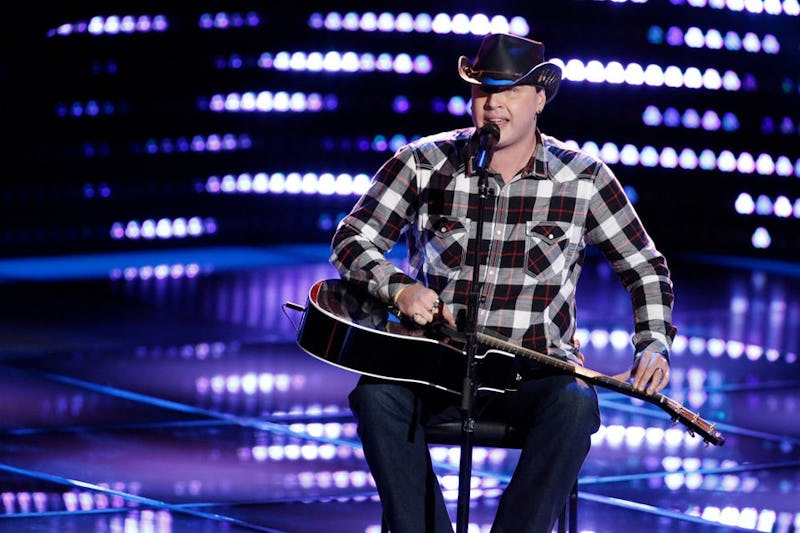 Even Blind Joe Bommersbach made the joke that his Blind Audition on The Voice was literally a blind audition. But, the 32-year-old singer has never let that hold him back — he went to college, got married, and has a steady job. Next, Blind Joe should win The Voice Season 9, because it's obvious that he's got talent. The North Dakota native was born blind, plays guitar, and has a YouTube channel filled with videos of his performances, including unsuccessful Voice audition videos from 2013.
But, hey, now Blind Joe is on the show — and Blake Shelton's team — and that's all that matters now. Bommersbach received a four-chair turn from coaches during his Blind Audition performance of "If It Hadn't Been For Love," a song originally by the SteelDrivers. "Blind Joe is one of the most special singers I've had on my team," Shelton said on the show. "He's coming from a place that's hard to conquer in country music." I would like to note that another blind guitarist and singer has had success — back in the 80s and 90s, the late Jeff Healey and his band hit it big with the songs "Angel Eyes" and a cover of the Beatles' "While My Guitar Gently Weeps."
It's just one of the many reasons why Blind Joe should go on to win The Voice.
1. He's Got An Experienced Coach
Bommersbach is in good hands with Shelton, who is an experienced musician and coach who has guided four artists to win The Voice in Seasons 2-4 and Season 7. Blind Joe could be Shelton's lucky winner No. 5.
2. He Can Play Guitar & Piano, Too
During his Blind Audition, Bommersbach said he also plays paino as well. How awesome is that?
3. He Has A Cool Personal Logo
Blind Joe has a personal brand established already and it's awesome. Bommersbach uses it all over his BandCamp website.
4. Even The SteelDrivers Enjoyed His Cover
The bluegrass band showed their support for the singer by tweeting — what else? — a Bustle article about Blind Joe's Blind Audition.
5. He Has A Lot Of Performance Experience
Bommersbach has been performing on what's known as the honky-tonk circuit, and has opened for artists like David Allen Coe, Craig Morgan, the Kentucky headhunters, Bret Michaels of Poison, Joe Diffie, John Hiatt, Buddy Guy, and James Otto, according to his BandCamp website.
6. He's Inspirational
Blind Joe has never let his lack of sight stop him from living his life and achieving his dreams. In addition to all of that, he has several YouTube videos titled "The Voice audition 2013," which means he may not have gotten through the first time around, but if that's the case, it didn't deter Joe at all. No matter what obstacles he faces, Bommersbach is all about perseverance and that's so inspiring.
Blind Joe has already come so far and I'm looking forward to him continuing his journey into the Battle Rounds. I know he'll do great.
Images: Tyler Golden, Trae Patton/NBC