Dove's #NoLikesNeeded Campaign Takes On Selfies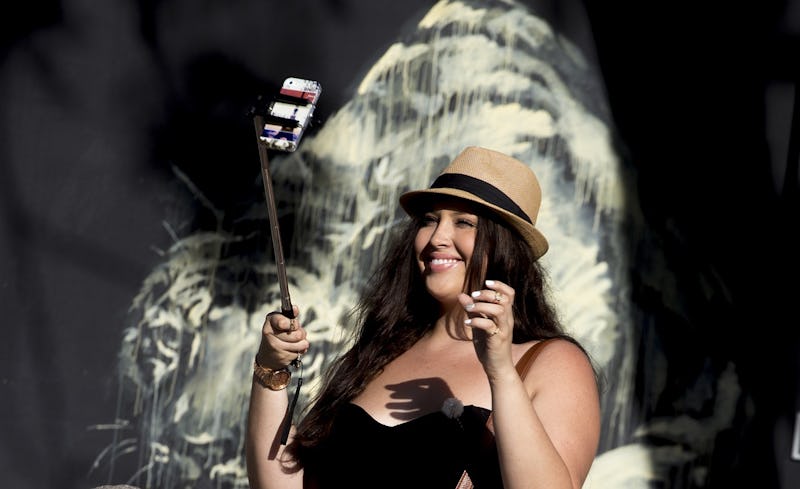 This personal care and beauty brand is at it again: Dove launched the #NoLikesCampaign to help girls find and preserve their self-esteem, reminding women everywhere that they're beautiful just as they are along the way. This time, however, Dove is honing in on a generation's need for social media validation via the "like" button. With the hashtag #NoLikesNeeded, however, the brand is trying to teach girls that they don't need a little red heart to prove that they're beautiful.
According to Dove's research, this is a campaign that's incredibly needed. Katy Young of The Telegraph reported, "Dove discovered that girls with low body confidence are twice as likely to feel bad about themselves if they don't get 'likes.' 18 to 23-year-olds already suffering with a bad body image are twice as likely to crave 'likes' than their peers with high body confidence."
Unfortunately, this phenomenon is something that only gets worse with age as individuals become even more aware of their self-image. Dove's research has found that women in the 18 to 23-year-old bracket "want three times more 'likes' on social media than girls aged between 13 and 17 years old," according to The Telegraph . When you consider that Dove's statistics reveal that it takes most girls 12 minutes to perfect a selfie, it seems that this campaign couldn't have come at a better time. So how does it work?
Dove wants to teach girls that the amount of likes they get doesn't correlate to how much they're worth. Just because a certain selfie gets five likes instead of 37 doesn't mean someone is less beautiful. By encouraging girls to add the #NoLikesNeeded hashtag to their captions, Dove is actually suggesting that viewers of the image don't press "like." On the one hand, visitors will see a confident girl who doesn't need the validation of social media to feel beautiful. On the other hand, the person sharing the photo will hopefully still feel like a hot tamale even if her news feed doesn't blow up with notifications. It's a win, win, mainly because, as Dove put it in the video, "The only 'like' that counts is your own."
While you're feeling inspired by the body positive messages that Dove is helping spread, here are five other times the brand promoted confidence in women everywhere.
1. The Time Dove Made You Choose Beautiful
Dove's Choose Beautiful campaign set up two doorways side by side. One read "Average," the other read "Beautiful." It was up to the individual to decide which one she felt she belonged to. The reaction (and regret) of the women who chose to go through the Average doorway was beautiful to see.
2. When Dove Asked You To Change One Thing
Dove's Change One Thing campaign showed a series of girls, one after the other, listing things they wish they could change about themselves... followed by a girl wishing she had that same feature that the girl behind her wished she could get rid of. The short girl wishes she was tall, the tall girl wishes she was short; the girl with straight hair wishes she had curly locks, while the girl with corkscrew curls thinks straight hair is prettier. The message of the campaign was, simply, that our perceived flaws are marks of beauty in other people's eyes.
3. When Dove Reminded Us That Our Self Worth Echoes To Our Daughters
Dove's Legacy campaign asked mothers to write down all the things they hate about themselves... and then asked their young daughters do the same. When they saw that their daughters hated the same body parts as the mothers did, a realization hit participants: The way you feel about yourself affects how she will feel about herself.
4. When Dove Called You Out For How You See Yourself
Dove's Real Beauty Sketches campaign saw women describe themselves to a forensic artist as he sketched them on the spot, with a curtain dividing them. Things like "big chin," "wide forehead," and "too many freckles" got tossed around as he quickly moved his pencil across paper. Then the sketch artist asked a stranger that met that same woman in the waiting room to describe her. The differences between the two drawings were astounding. This campaign highlighted just how mean we are to ourselves, and how unable we are to see our own beauty.
5. When Dove Made You Love Your Curls
Dove's Love Your Curls campaign asked a group of little girls whether they liked their curly hair. All of them responded with a resounding and heartbreaking "no." Then they asked grown women to show them how much they loved their own bouncy locks. When the girls walked into a room full of women singing, "We all love our curls, we all love our hair," that opinion got turned right around. This shows how much influence we have over each other when it comes to self love and self acceptance.
Images: Pixabay