A Burger King Black Bun & Green Poop Costume Exist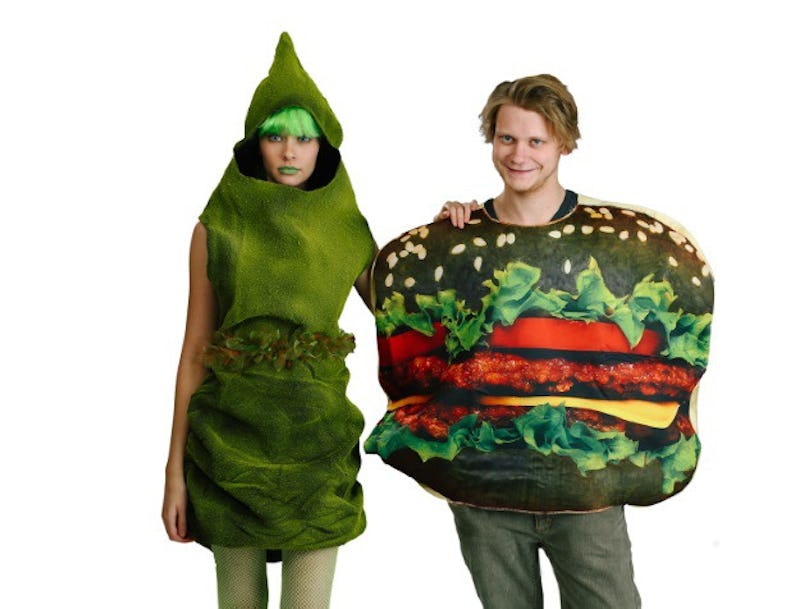 One of the reasons why I don't want to be single this Halloween is this black Burger King bun and green poop couple costume from a recent DIY blog post from HalloweenCostumes.com. It is the right amount of "too much information" and topicality that I am all about these days. Just imagine walking into a party with your significant other. Everyone will be looking at you like you are a costume god ready to guide them to Olympus, aka the Halloween Costume Hall of Fame. I think that this idea is clever enough to try out, especially if you are like me and have NO IDEA what you are going to be for Halloween this year. Make it easier for yourself and enlist a significant other or a friend to make this idea a reality.
Ever since the internet found out that the Halloween A1 Black Whopper was coming to the United States for a spooky surprise, everyone has been waiting to try out this treat. I will admit that even I showed curiosity. I mean, just look at it! It's so different from any food you've seen before! I personally think it resembles coal with some delicious meat in the middle. It's been awhile since the world reacted so strongly to a fast food item, but as it turns out, people have been claiming that the Black Burger allegedly turns their poop green. Bustle has reached out to Burger King for comment, but has not yet heard back.
And no, for the record, you didn't read that wrong. Diners are saying their poop was green — bright green, in fact — after eating one of these bad boys. (It should be noted that Burger King's website says its uses of dyes are "within the safe and Acceptable Daily Intake (ADI) approved by the Food and Drug Administration (FDA).")
But in case this happens to you, or if you are wondering what the color of your poop means, we got you covered. And if you end up Googling the phrase "burger king black burger green poop" to see firsthand accounts, I would also suggest turning on your safe search. I speak from experience! In the meantime, below is a comprehensive list of how to recreate the phenomenon yourself:
1. The Original
It looks pretty safe in this photo.
2. What You Will Need
Lucky for us, the people over at Halloween Costumes have been able to compile a list of products you can buy and turn yourself into a Halloween superstar. The products used are easy to find! (Tough S#!t Costume, Green Seaweed Boa, Green Wig, Green Fishnet Tights, Green Glitter Heels, and Realistic Burger Costume). You will need to spray paint the poop costume green, use a black sharpie to turn your burger the appropriate color and buy your own green lipstick. If one of your friends has no idea what they want to be this Halloween, I suggest turning this into a group costume by having them dress up as the Burger King King! This will save you time trying to explain what you are to those few who don't get it.
3. The Take Away
Do not be afraid to partner up this Halloween. Be the best green poop and black burger couple the world has ever seen. Make me proud! Also, you can bring the real thing with you and have something to munch on if the Halloween party you are attending has terrible food. This is a win/win!
Read the full DIY at Halloween Costume's blog.
Images: HalloweenCostume.com (2), Giphy (1)