Brie Larson Deserves The Oscar For 'Room'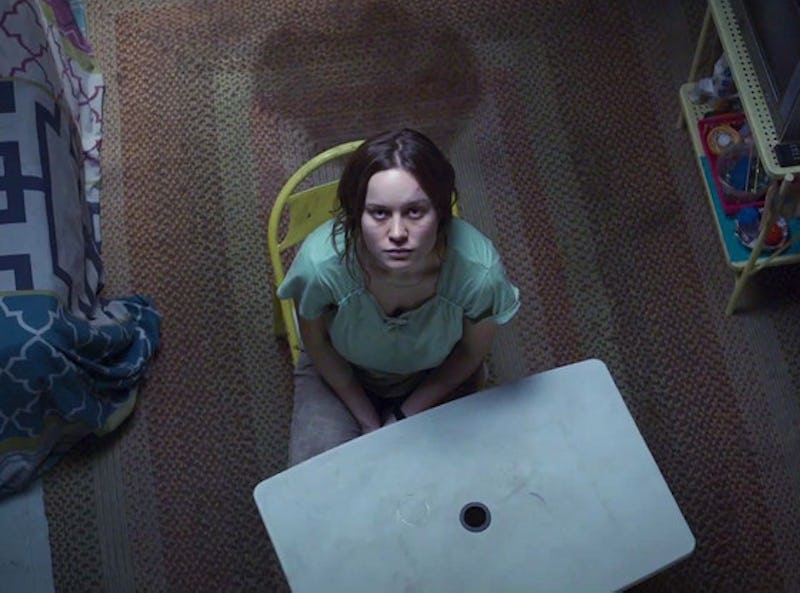 Talking about the Oscars might seem premature considering that it's only October, but it's hard to keep quiet when there are award-worthy film performances happening left and right. From Cate Blanchett in Carol to Matt Damon in The Martian, plenty of actors have already proven that they're serious contenders for movies' biggest honor. And of all those potentials, there's one leading the pack: Brie Larson, who could win an Oscar, and certainly should, for her work in Room. Sure, it's early, but if you've seen Room, it's impossible to deny the fact that she gives one of the best performances of the year, one that undoubtedly should earn her major acclaim, and, yes, perhaps an Oscar.
If you're familiar at all with Larson, this shouldn't come as a surprise. The actress is one of the most underrated performers working today, responsible for some of the most affecting, memorable work on-screen in recent years. From her years stealing scenes on United States of Tara to her time wowing audiences in 2013's Short Term 12, Larson has proven over and over that she's a force not to miss. Her performance in Room is just the culmination of a career full of hugely impressive, albeit sadly overlooked, work in film and TV.
Because as good as Larson is, she surprisingly hasn't risen to the top ranks of popular, talented Hollywood actresses. Judging by the rave reviews she's gotten for Room, Short Term 12, and other projects, her name should be in the same category as Jennifer Lawrence, Shailene Woodley, etc. — and yet unless you're a film critic or a pop culture connoisseur, you probably have trouble even remembering who she is. Unlike her peers, Larson isn't a familiar face in the tabloids or the star of a franchise (yet — there is Skull Island in the works), whose face is everywhere and whose personal life is dissected in magazines. She's simply a gifted actor who's given a range of great performances, in movies both big (Trainwreck) and small (Short Term 12).
This isn't a bad thing, of course — there's a lot to be said for an actor being able to disappear into a role, rather than having their celebrity be the first thing that comes to mind when they appear on-screen. Larson's relative anonymity has given her the tools to give performances, like in Room, that are wholly of the character, not the person playing the part. Still, as someone who's championed her career since the very beginning (yes, I loved her as a Six Chick in 13 Going on 30 ), I do wish that more people knew who she was and appreciated her talent. Someone as skilled as she is deserves to be celebrated, or at the very least, have their name known and their work supported by more than just a handful of critics.
Which is why I'd be so happy to see Larson get nominated for, and possibly win, an Oscar for her performance in Room. It's her best work to date, and it deserves every bit of acclaim it's currently getting. Praise doesn't always equal awards, of course — just ask Cake's Jennifer Aniston or Selma's David Oyelowo or, for that matter, Larson, who was notably overlooked for Short Term 12 — so it's no guarantee that the actress will get honored for Room. Still, there's no question that her work in the film warrants a nod, and if justice prevails, Larson will receive one come 2016.
That is, if she can find a spot among the competition. Despite nominations still being months away, the Best Actress race is already crowded, with Cate Blanchett, Carey Mulligan, Jennifer Lawrence and more all looking like serious contenders. It's certainly not out of the question for Larson to make it in, but many of her competitors will likely be better-known, older actresses long familiar to both the Academy and audiences. For Larson to snag a nod and potentially beat out someone like Blanchett or Meryl Streep will be tough, to say the least. Still, it's not impossible, not by a longshot. Critics are raving about Larson's work in Room , and those who, like myself, felt she was snubbed for Short Term 12 might be inclined to give her a nod this time.
So while Larson getting an Oscar nod isn't a definite, by any means, it's also not unthinkable. It'd be wonderful to see and highly deserved, and here's hoping that come nomination time, her name is on the list. And sure, her career would no doubt be just fine without the nod; she's only 26, and has plenty of time for more great and potentially-awards worthy performances. But if Larson were nominated for an Oscar, it'd be validation that people are finally paying attention to her work — maybe, now, more people than just film obsessives know her name and root for her career.
Image: A24