The Forgotten Movies Of Steven Spielberg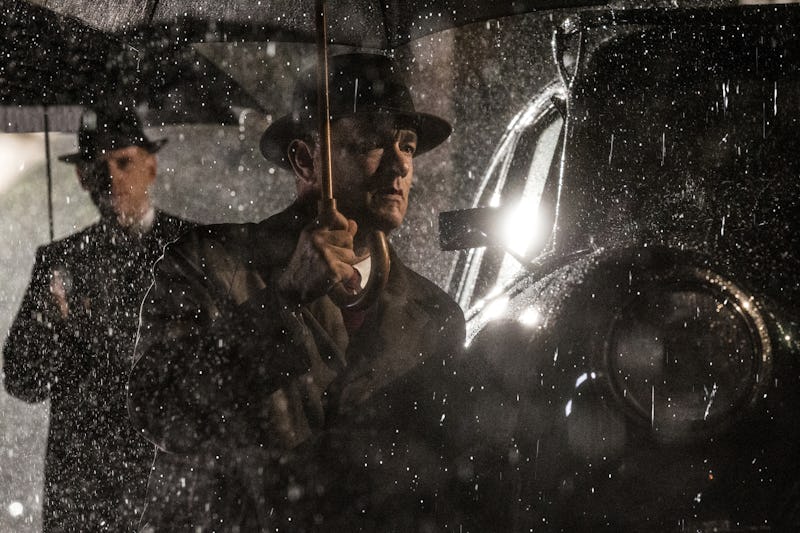 After effectively inventing the summer blockbuster, developing the most recognizable cinematic incarnations of aliens and dinosaurs, and directing the one Best Picture winner in the past 25 years that pretty much everybody agrees deserved to win, Steven Spielberg has earned the label of "institution." As such, it's vexing whenever a new Spielberg film fails to garner the world's interest. Like Bridge of Spies , for example.
Present is the question of why, four days from national release, the director's period thriller lies in wanting of public attention. A New York Film Festival debut afforded the film mostly positive reviews; star Tom Hanks and writers Joel and Ethan Coen surely don't hurt its reputation. But the "event film" aura so common throughout Spielberg's filmography evades Bridge of Spies nonetheless.
Naturally, you couldn't expect a movie like Bridge of Spies to be as pronounced a cinematic benchmark as any of Spielberg's bigger ventures. Jaws, Close Encounters of the Third Kind, E.T., Raiders of the Lost Ark, and Jurassic Park did not seize the summits of their respective cinematic calendar years by virtue of quality alone. They were designed to evoke the loudest and longest standing conversations. To dazzle the brightest and burn the longest.
However, Spielberg knows this kind of grandeur outside of his blockbuster work. The director's last feat was Lincoln: Not only a box office smash but a viable Academy Awards contender (Lincoln lost to Argo for Best Picture, but won its star Daniel Day-Lewis his third Best Actor Oscar), and a holiday season conversation piece to boot. Lincoln kept in step with predecessors like The Color Purple, Schindler's List, and Catch Me If You Can: A species of human dramas that commanded attention not through spectacle, but through empathetic power.
Bridge of Spies' positive reviews do not disqualify it from joining this community, but the absence of anticipation for the picture calls into question what kind of legacy it will have. Certainly, the notion of a "forgotten Spielberg movie" has precedent.
We've seen plenty of Spielberg films that translated to disappointment. Despite promising headliners John Belushi and Dan Aykroyd, the director's comedy film 1941 ranks among his most maligned endeavors. While Spielberg's knack for whimsy should have made him the perfect filmmaker to handle material like the story of Peter Pan, Hook stands as his worst reviewed movie to date. And after the wonder that was Jurassic Park, the Spielberg-directed 1997 sequel The Lost World: Jurassic Park is still hotly detested by Dino D.N.A. devotees.
Somewhere between the splendors of Jaws, Close Encounters, Schindler's List, and Jurassic Park and the flops so regrettable we can't shut up about them are entries that have fallen from the zeitgeist altogether. Moderately well received films like Empire of the Sun and Amistad and the more harshly reviewed Always never attracted much of an audience during their theatrical runs, and haven't done much to accrue a cult fandom in the years since. More recent examples of this misfortune are The Adventures of Tintin, Spielberg's only animated film to date (and a great go at the form) and War Horse: Each forgotten as soon as it was released, even in spite of the latter's Best Picture nod.
We look at Bridge of Spies, armed with promise but absent of excitement, and wonder if it'll join the ranks of fellow forgotten Spielberg films. Or, just maybe, it'll become a Sugarland Express: a surprise wonder that the director's biggest fans talk about as long as they celebrate his work. Surely one film falling to oblivion won't halt the filmmaker's perpetually expanding career. But when you're dealing with an institution like Spielberg, even one hiccup can feel like a quake.
Images: Disney; Columbia Pictures; Universal Pictures