'Manhattan's Cast Has Spoilers For Fans To Decode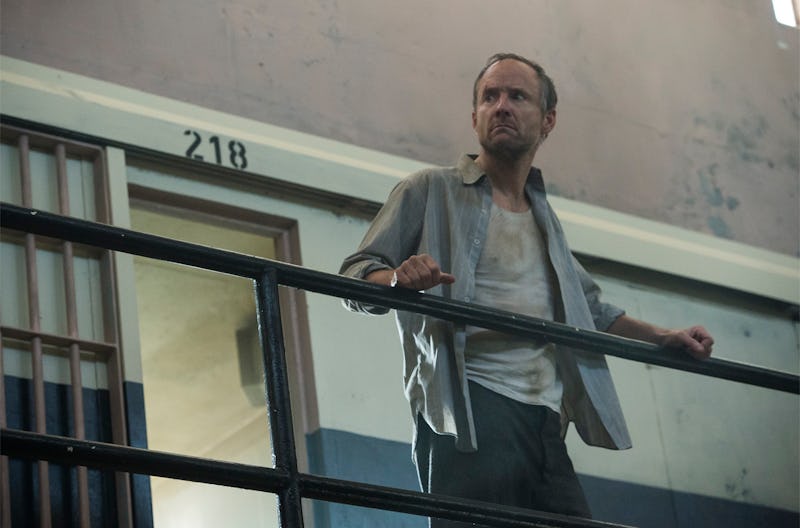 When the first season of WGN America's Manhattan came to an end, it seemed that every character was in an even bleaker situation than the last. From Abby's betrayal of Elodie, to Frank's apparent kidnapping, to that shocking Jim Meeks reveal, the finale left fans desperate to know where the residents of Los Alamos could possibly go from here. Based on the Manhattan Season 2 spoilers the cast shared with Bustle on the series' Santa Fe set, it seems the answer may be somewhere even darker. Sure, the spoilers were divulged in emoji form, but you don't have to be a Frank Winter-level genius to crack the stars' code and see that Manhattan will maintain its paranoid, secretive tone when Season 2 premieres on Oct. 13.
Luckily, the cast is much more open than their characters and willing to spill enough secrets to get them kicked off the Hill, no matter how hard they try to mask the information with emojis. We already know that the 10-episode second season will follow the scientists as they continue to work on building the atomic bomb — even after Frank was taken away in the thrilling Season 1 finale — all building towards the Trinity Test, aka the real first detonation of an atomic bomb in 1945. With that and the current state of everyone's increasingly complex relationships in mind, here's what the cast had to say (or rather, type) about Manhattan Season 2, and what that they may have been really trying to say.
Katja Hebers (Helen Prins)
If there's any character who deserves to see her life become the embodiment of the 100 emoji, it's Helen. After seeing her struggle to find her place on the Hill last season, I'm glad that the 100, OK, and party horn emojis combined suggest she'll have serious celebrating to do. Maybe Helen will make a huge breakthrough on the project, leading to those happy tears, but become conflicted when she realizes just what their new creation is capable of — like fiery destruction that will leave everyone praying.
Harry Lloyd (Paul Crosley)
While Hebers' fire emoji seemed related to the bomb, Lloyd's may be used in a less literal sense. After all, what could take his character from sobbing to sticking his tongue out and winking besides some romance? Things may not have worked out between Paul and Helen, but maybe he'll meet someone new in Season 2, who makes him feel as cool as that sunglasses emoji.
John Benjamin Hickey (Frank Winter) & Olivia Williams (Liza Winter)
Both of the Winters were in pretty perilous condition at the end of Season 1, so I'm not surprised that they'll apparently be all over the place emotionally when Manhattan returns. What is interesting, however, is the amount of happy emotions featured here. Does that mean Frank will make his way back to the Hill soon? Or will Liza find herself enjoying life without him? The devil could represent whoever took Frank, and the following smile may symbolize his return.
Then there's the sly grin, immediately followed by anger. Perhaps Liza will have an affair of her own this season, or Frank will begin another. Either way, the goofy emoji suggests everything will work out in the end — until the bomb goes off, of course.
Michael Chernus (Fritz) & Christopher Denham (Jim Meeks)
This is both the shortest and most intriguing emoji chain. I'm just going to assume the engagement ring is in reference to Fritz, which has me thrilled for his storyline this season. Hopefully, that means the cop is for Jim, because while Fritz deserves all of the happiness in the world, Meeks is owed the complete opposite. It's time someone catches on to his double-crossing ways. That just leaves the ominous skull. Does it mean only one of these two characters will survive the season or are they referencing someone else's death? Either way, I'm terrified.
Ashley Zukerman (Charlie Isaacs) & Rachel Brosnahan (Abby Isaacs)
The Isaacs aren't exactly a big, happy family right now, even if they try to pretend otherwise, so what these emojis mean really depends on the couple's status in Season 2. The devils could represent Charlie and Abby fighting with each other, or an outside force antagonizing both of them. The flames, heart, and party horn suggests that either the Isaacs will rekindle their romance, or one of them will find love somewhere else. The only emojis that are easy to decode are the final four. Two explosions, applause, and a skull? It seems the bomb explosion may not go as well as everyone initially thinks.
Translating emojis into full-fledged spoilers isn't an exact science, but at least we have an idea of what to expect when Manhattan Season 2 premieres on Tuesday night at 9 p.m. — plenty more personal drama and a big bang.
Images: WGN America; Samantha Rullo/Bustle (5)