8 Last Minute Disney Princess Halloween Costumes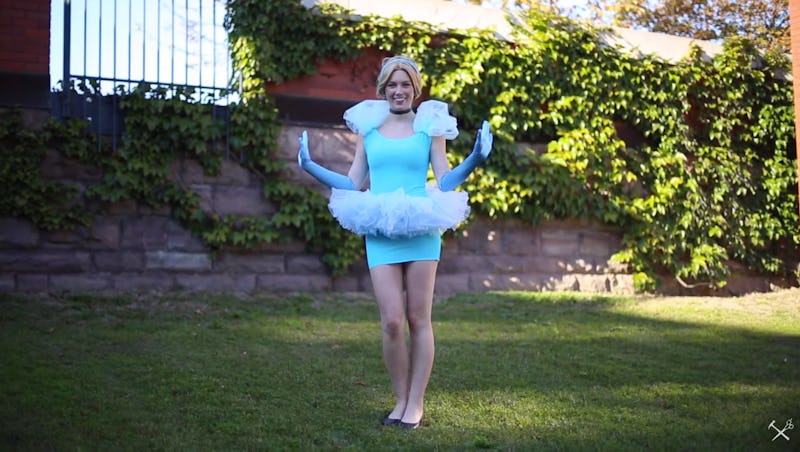 There's nothing more classic than a Disney princess, and dressing up as one is pretty much the perfect Halloween costume. You should know by now that they're not just for little kids. These last-minute Disney princess Halloween costumes are quick and easy, and the best part is you probably already have the items you need in your closet.
Yes, you could go out and buy a grown-up Disney princess costume. But where's the fun in that? You'll be spending a minimum of $50 (or um, $200), on a costume you're probably never going to wear again. The best thing about Disney princesses is that they're pretty recognizable on their own. As long as you wear the right colors, choose some strategic accessories, and recreate their hair and makeup, people will probably be able to recognize you.
Planning a costume for Halloween far in advance is great for some people, but I've never been the type to pick out my outfit earlier than the night before. Part of the thrill of dressing for Halloween is the last-minute visits to costume shops and craft stores to pick a perfect costume.
Luckily, Disney princess costumes don't have to be complicated. These eight quick tutorials will tell you the essentials you need to emulate your favorite princess.
1. Belle
Look great in yellow? This costume is for you. This video will show you a quick DIY for creating the perfect Belle costume, yellow gloves and all. Add in Belle's signature half-up and half-down hairstyle, and you'll be golden.
2. Cinderella
This costume is actually fairly simple. All you need to succeed are a light blue bodycon dress, some blue tulle, and a black choker. Throw in some elbow-length gloves if you really want to look the part.
3. Tinker Bell
This tutorial is technically a 3-in-1 with Tinker Bell, Ariel, and Jasmine, but the first costume is my favorite. Tink is one of the cutest Disney characters, and you probably won't see too many people wearing the same costume. This tutorial requires a little sewing, but if you're good with that, go for it.
4. Classic Ariel
This no-sew costume will have you looking like Ariel in no time. Embellish a purple bra (or bralet or bandeau) and use sequined green fabric for your tail. If you have natural red hair, you can totally rock this look. Otherwise, consider picking up an inexpensive red wig or opting for temporary hair dye.
5. Hipster Ariel
If the previous Ariel costume isn't your thing, consider trying out this hipster Ariel tutorial. This vlogger recreates Ariel's classic shell bra by drawing it onto a plain white T-shirt. This look is perfect if you want to cover up a little bit, or if it's freezing where you live by Halloween. As cute as it is, the shell bra is not worth getting frostbite.
6. Princess Anna
This is another slightly more covered up look, and it's no-sew as an added bonus. Using puffy paint, a black tank and some blue fabric, this vlogger recreated Anna's look in a way that's totally doable. If it's Frozen (ha!) where you are by Halloween, this long-sleeved costume will be your best friend.
7. Jasmine
This awesome tutorial also includes a belly dancing routine, so it's definitely worth a watch. The costume is created entirely from clothes you probably have in your closet already or could easily find at a secondhand store.
8. Snow White
Another easy DIY that requires nothing more than tulle and a few strategic accessories, this Snow White costume is totally easy. If you have a blue T-shirt in your closet, add a few embellishments (like puffy sleeves and a cape). Above all, don't forget Snow White's bright red lipstick.
Image: YouTube