10 Style Tips To Steal From D.J. Tanner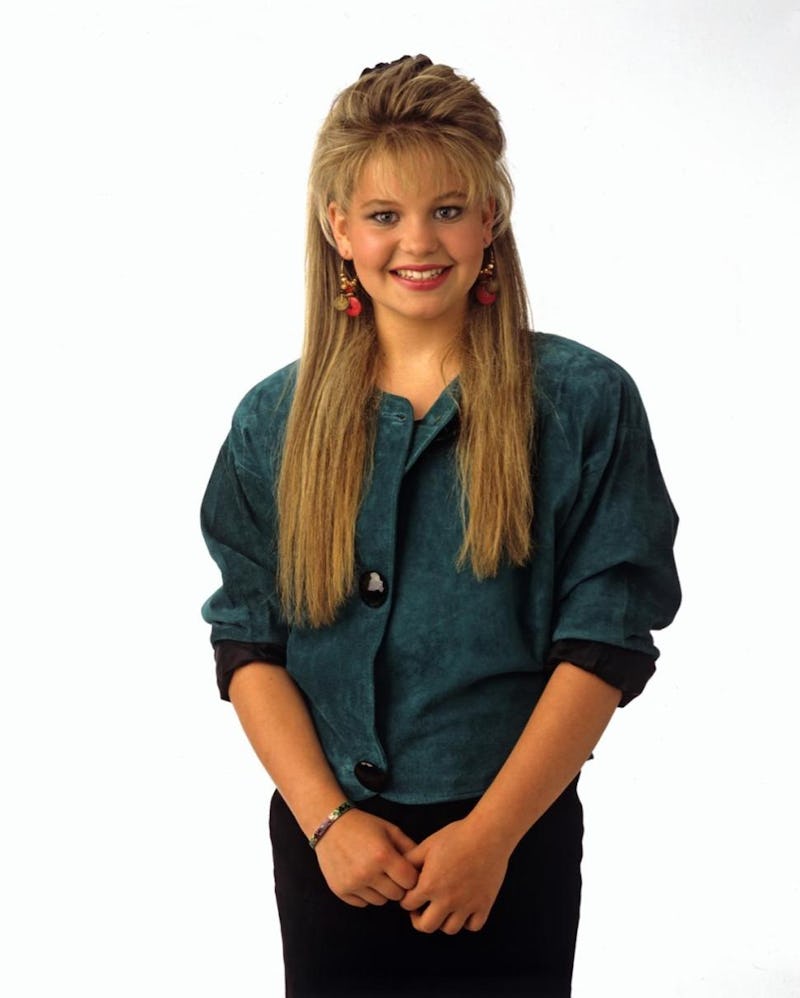 Full House fans have been well aware of next year's hotly anticipated Fuller House on Netflix for a while, and considering that it's really, truly happening now (eeep!), 2015 is the perfect year to throw it back and dress up as your favorite character from the show for Halloween. But even if you're celebrating by channeling your favorite Tanner for the holiday, let's not forget that we can learn some real lessons about style from the show, too (plus, y'know, those other life lessons.) One of the best parts of every episode was the '90s-tastic outfits, notably when it came to DJ Tanner's style.
Actress Candace Cameron-Bure is sure to have some killer looks on the spin-off, too, but I'm just not sure how they'll top the memorable D.J. Tanner looks we all know and love — colorful menswear, cozy oversized sweaters, that voluminous hair... she was certainly a fashion icon for "good girls" everywhere, for better or for worse. (And in the '80s and '90s, the worst was, um, pretty regrettable.)
But let's be real, I can't be too quick to knock it — scrunchies are the best way to avoid creased hair, and who wouldn't love for patterned leggings to be totally socially appropriate at all times?
D.J.'s style was unique, fun, and sassy, and the best part is that we got to see her fictional style evolution throughout the show's eight seasons from 1987 to 1995. And even almost 20 years later, we can still learn from the trends she loved on camera way back when, from the beginning to the end.
Here are 10 D.J. Tanner-approved style tips you can totally copy:
1. Graphic Sweaters
Is that pizza on her chunky knit?! She always had the best pullovers. Where you at, sweater weather.
2. Double Denim
As The Gloss points out, "Is it safe to say that DJ Tanner invented the Canadian tuxedo?" The look may have evolved into a more chambray shirt and skinny jeans take, but as a Canadian, I can dig it.
3. Oversized Flannel
Is there any better fall outfit than a pair of boots, stretchy jeans, and a perfectly vintage undone flannel button-up?
4. Colorful Blazer
D.J. was the master of girly-meets-menswear — shoulder pads, loafers, and, yes, colored blazers. Style challenge accepted.
5. Off-The-Shoulder Top
As much as I would like to focus on those sick shortalls, that floral off-the-shoulder top has me inspired to show a touch of skin.
6. Denim Vest
This confirms it: D.J. is the denim queen (see: Canadian tuxedo, shortalls.) Paired with a long sleeve shirt and patterned pants, it's clear D.J. had the fall look down. Side note: Kimmy is owning that middle part.
7. The Perfect Blowout
She may have suffered through a few bouts of unfortunate bangs and out-of-control curls, but towards the end of the show, D.J. had her blowout game on lock, and it's a hairstyle that can up the level of any look. Seriously, people pay a lotta cash for that, Deej.
8. Pajama Game Strong
Athletic shorts and a college t-shirt? Puh-lease. Because many of the important life lessons we learned on the show happened to be during evening pajama chats, we know D.J. was serious about having the best PJs. The top and the bottom usually even matched.
9. Black On Black
I can't say I'd go for the Western-themed getup, but I can totally get on board with the black-on-black-on-black vibe.
10. Crop Top Set
D.J. was working the matching skirt and crop top set way before it was cool. Also, shout out to Uncle Jesse. Have mercy.
Images: Full House/ABC