What's Up With Gigi On 'Scream Queens'?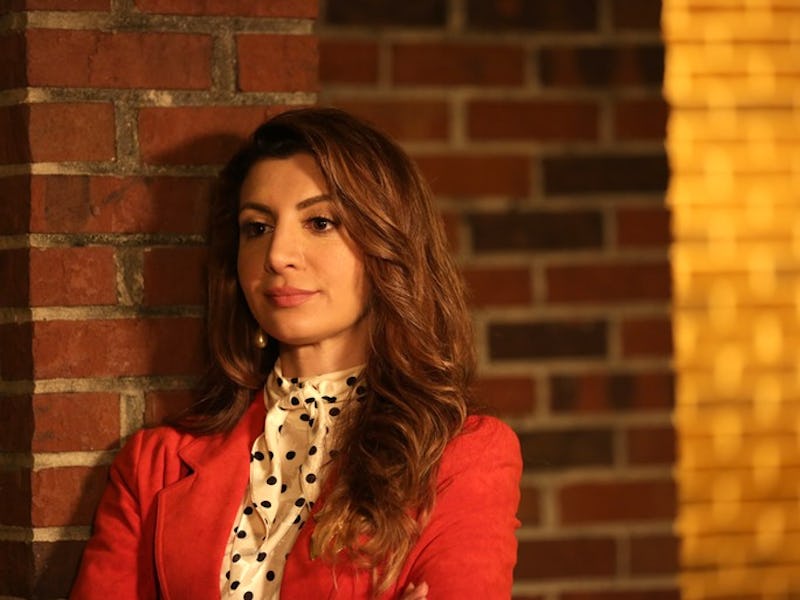 Sorry, every other show that has premiered in the Fall 2015 season so far: Scream Queens has you beat. Only a few episodes in and I'm already completely obsessed, partially because I love dark humor and partially because the show has already introduced a (literally) killer cast of characters. It's obvious that finding out everybody's backstories and how they play into the fact that this sorority is clearly cursed will be a huge part of the plot this season, and one of the most fascinating characters is Gigi. Obviously, the biggest question here is this: What is Gigi's role in the Scream Queens craziness?
At first, she seemed harmless, if not a little... off. All of the Kappas are a little insane, so it's not surprising that their president has a huge personality. And under her huge personality? She's obviously hiding something. Last week, we found out that she's the one who cared for Kappa member Sophia's baby after she died after giving childbirth, and she's also the Hag of Shady Lane — aka the creepy lady known for cutting up baby dolls. Totally normal, NBD.
Clearly, there's more to Gigi than her sunny personality — there's already plenty of evidence of that. So what's her deal? These are my theories.
She Had Something To Do With The Baby Mama's Death
Gigi was traumatized in the '90s, and that's why she's stuck dressing and behaving like she's still in that decade. Could she have been there that night? Maybe she was one of the sorority girls in the bathroom after the baby was born, or simply at the party? Either way, I think we'll find out that she was definitely part of what happened, especially since we know she felt responsible for taking care of the baby.
She Might Have A Connection With The Red Devil
I know the Red Devil tried to attack Gigi while she was sleeping on the couch, but that doesn't mean they're not in cahoots. Working with a killer? Yeah, that would make you a little nuts... and it could help explain some of her behavior.
Maybe She's Back To Get Revenge On The Sorority That Scarred Her For Life
This could work with the Red Devil theory or by itself. Maybe she's upset that the trauma that clearly comes with watching her friend die in front of her after giving birth and then caring for her baby has ruined her ability to be "normal" for the rest of her life, so she's back to take down the sorority (probably in a very bloody way, obvs) and get revenge? She's definitely up to something, and it has to do with Kappa.
Whoever Gigi really is, there's plenty that the show hasn't revealed yet. We might not get answers anytime soon, but I'm definitely looking forward to finding out more.
And for more Scream Queens, check out star Abigail Breslin in this Pumpkin Spice overload PSA:
Images: Patti Perret/FOX, Giphy (3)