You Know Your Squad Wants To Be 'Fantastic Four'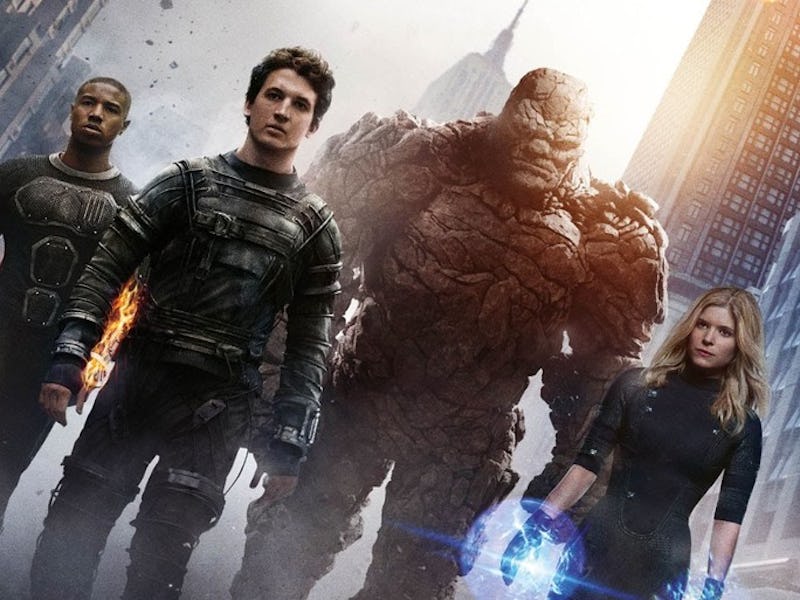 I do not appreciate Halloween slackers. Halloween is the one night of the year where you get to dress up in something really sexy/hilarious/terrifying, get a little drunk, and then blame your actions on your costumed alter-ego. Or maybe that's just me. Either way, when it comes to Halloween, it's a go big or go home type of situation. And what way to go bigger for Halloween than a group costume? A Fantastic Four group Halloween costume is certainly no subtle group costume.
As far as group costumes go, no one is going to question what you are if you're walking around town with The Thing. A Fantastic Four group costume will be easily recognizable and, as far as costume preparation goes, a Fantastic Four group costume is a breeze as well. The great thing (no pun intended) about these characters is that everyone knows them and everyone enjoys them, so you won't find many people going, "Who are you supposed to be?"
So you have recognizability, ease of preparation, and it's something the whole squad can partake. So put your orders in for mass quantities of foam and get your Fantastic Four group costumes prepped for this Halloween. Prepare to have lots of people tell you your group costume is fantastic because, hey, who doesn't love an easy pun?
The Thing
The Thing will be the most difficult, and therefore the most epic, Fanastic Four costume to wear. No store-bought costume will do The Thing justice, so let's put our thinking caps on and get ready to craft.
Things you will need: foam, blue shorts or boxer briefs, acrylic paint, hot glue, and a ski mask. And football pads if you can find them. The most obvious mountain to climb here is how to make the 'rocks.'
High Density Polyurethane Foam, $32, JoAnn
You can find affordable foam at most craft stores, like this High Density Polyurethane Foam from Jo Ann Fabric and Craft Store. Use your hands to tear the foam pieces into an assortment of shapes. Take some yellow, orange, and brown acrylic paint (easily found at craft stores like Michael's), and jazz the foam up to look like rocks. Glue the foam pieces to a shirt (or football pads if you've got 'em), as well as over the ski mask. Let your foam creation dry, don your monstrous creation, put on your shorts, and get your thing on.
Sue Storm
All right, things are gonna get a little risque with Sue Storm so get ready. You can't really Sue Storm it up without a bodysuit and, obviously, a bodysuit is a pretty spicy choice.
You can find a blue body suit on the cheap for $29.99. Once you've accomplished that, you're almost all the way there.
Next, throw on some chic black leather gloves, like the ones above from HalloweenCostumes.com that cost a mere $10. If you're feeling extra crafty, a Fantastic Four logo can easily be constructed from felt to complete the look.
Human Torch
Another perfect costume for the DIY-er.
All you need is a red bodysuit, like the one pictured above which can be purchased for $20 at HalloweenCostumes.com. Or, if you want to make things even easier on yourself, you can just use a red long-sleeve shirt and pair of leggings you already own. The next step is to purchase some felt from your local craft store in the black, white, and orange.
Use the felt to create a Fantastic Four logo and some killer flames.
If you don't trust yourself to freehand the logo and flames, simply print off the Fantastic Four logo and some flames printables and use them as a stencil. Attach them to your bodysuit with hot glue, put on your creation (after the glue has dried, of course), and hit the Halloween road.
Mr. Fantastic
There are probably some of you out there who fall outside the "DIY" category and would be a hot mess with a glue gun. For those of you, I give you: the magic of store-bought costumes.
A store-bought Mr. Fantastic costume won't break the bank, and it's perfect for a last-minute situation.
No matter which member of the Fantastic Four you are aspiring to be, I can guarantee you this: regardless of your skill level, budget, or crafting expertise, there is a way to pull off a Fantastic Four group costume that is still pretty epic or... dare I say... even fantastic?
Images: Giphy (5); Jo Ann Fabric and Crafts; Ebay; HalloweenCostumes.com (2); Anything Costumes