Women Lead 2015 National Book Award Finalists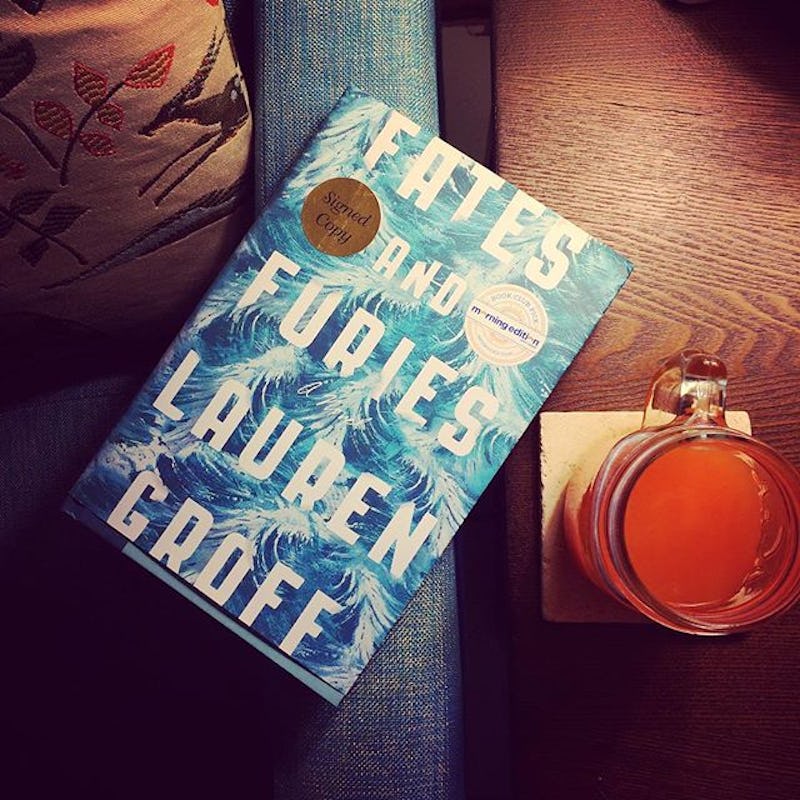 Wednesday morning NPR's Morning Edition announced the 2015 National Book Award Finalists Shortlist, and get excited, because women writers are getting the attention they deserve this year. The National Book Award for Fiction, Nonfiction, Poetry, and Young People's Literature categories were narrowed down from 10 finalists each to five standout books. Out of the 20 total books on the shortlist, 13 titles are by women writers, with fiction and nonfiction leading the charge with four women authors each. And just like with the longlists, this year's National Book Award is celebrating a mix of all kinds of stories and several new names to the book awards circuit. Every single writer on the fiction shortlist is a first-time finalist for the National Book Award. Of the five young people's literature finalists, four are newbies to the list. These subplots only make the awards even more exciting.
But let's get to it. Here are the finalists of the 2015 National Book Awards:
Fiction
Karen E. Bender, Refund (Soft Skull)
Angela Flournoy, The Turner House (Houghton Mifflin Harcourt)
Lauren Groff, Fates and Furies (Riverhead Books)
Adam Johnson, Fortune Smiles (Random House)
Hanya Yanagihara, A Little Life (Doubleday)
It's hard to compete with the major buzz around Lauren Groff's Fates and Furies, but Hanya Yanagihara might be the one to give Groff a run for her money with her A Little Life, which is made it to the shortlist for the Man Booker and Kirkus prizes.
Nonfiction
Ta-Nehisi Coates, Between the World and Me (Spiegel & Grau/Penguin Random House)
Sally Mann, Hold Still (Little, Brown/Hachette Book Group)
Sy Montgomery, The Soul of an Octopus (Atria/Simon & Schuster)
Carla Power, If the Oceans Were Ink: An Unlikely Friendship and a Journey to the Heart of the Quran (Henry Holt and Company)
Tracy K. Smith, Ordinary Light (Alfred A. Knopf)
As much as I love to cheer for the ladies on this list, it would be hard to argue against Ta-Nehisi Coates's Between the World and Me , which is (deservedly) having an incredible year and is definitely a crowd favorite.
Young People's Literature
Ali Benjamin, The Thing About Jellyfish (Little, Brown Books for Young Readers)
Laura Ruby, Bone Gap (Balzer + Bray/HarperCollins Children's Books)
Steve Sheinkin, Most Dangerous: Daniel Ellsberg and the Secret History of the Vietnam War (Roaring Brook Press/Macmillan Children's Publishing Group)
Neal Shusterman, Challenger Deep (HarperCollins Children's Books)
Noelle Stevenson, Nimona (HarperTeen/HarperCollins Children's Books)
Noelle Stevenson is the youngest person on this entire list of finalists, and her graphic novel Nimona definitely puts her as a front-runner in my book. But it's tough competition. Neal Shusterman's Challenger Deep is both incredibly moving and incredibly unique, and Steve Sheinkin is no stranger to the National Book Award attention — not to mention Laura Ruby and Ali Benjamin's novels having plenty of fans themselves.
Poetry
Ross Gay, Catalog of Unabashed Gratitude (University of Pittsburgh Press)
Terrance Hayes, How to Be Drawn (Penguin/Penguin Random House)
Robin Coste Lewis, Voyage of the Sable Venus (Alfred A. Knopf)
Ada Limón, Bright Dead Things (Milkweed Editions)
Patrick Phillips, Elegy for a Broken Machine (Alfred A. Knopf)
While many believe Terrance Hayes is the front-runner here, you have to give immense credit to Robin Coste Lewis, who published Voyage of the Sable Venus when she was still a student.
The winners of the 2015 National Book Award will be announced during a ceremony in New York City on November 18.
Image: mmkaufman/Instagram