These Wedding Photos Will Make You Want To Travel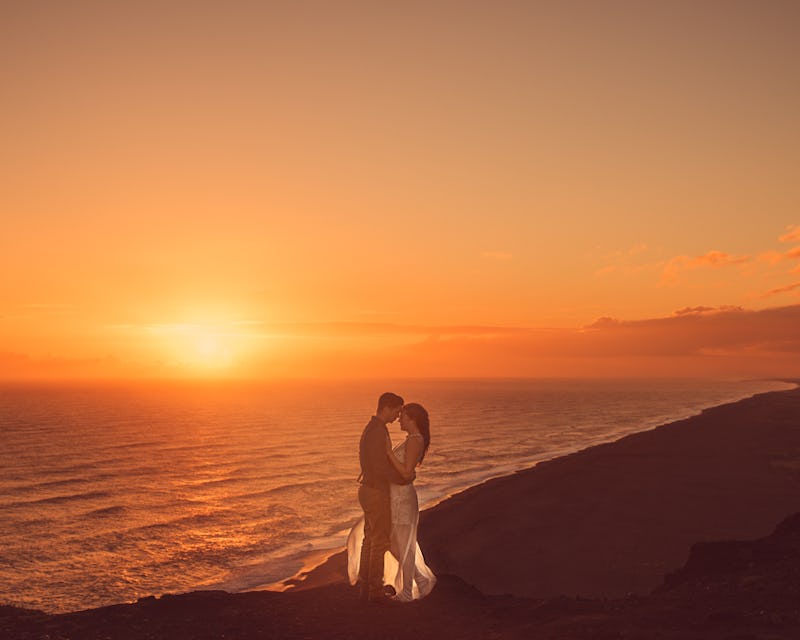 Warning: The following story about a couple that traveled to Iceland for their wedding that will make you want to pack your bags and visit the Arctic, even if you hate the cold more than a New England-born retiree living in Florida.
Now that you've been properly warned, let's begin.
During wedding planning, every couple comes to a point when they look at each other and wonder whether it would be easier to just have a ceremony thousands of miles away, where nobody can bother them about place settings, bouquet colors, or the likelihood of someone's uncle getting drunk at the reception and giving a hideously awkward speech about his ongoing divorce. For Rachelle and Jeremy, that point came early on in the planning stage — so early, in fact, that they decided to scrap the idea of a traditional wedding entirely.
Instead, they joined the growing number of couples who choose to spend their money on travel rather than a regular ceremony. Within weeks, Rachelle and Jeremy hopped on a plane to Iceland, where they lived out of a van as they hiked the country in search of the perfect spot for their private, two-person ceremony. Eventually, they found it in the ruins of an ancient church, surrounded on all sides by the remains of a volcanic eruption.
Near the end of their trip in late September, the couple flew out fine arts photographer Troy Moth, who writes that he takes on a few such projects every year.
"I got in on the end of Sept. 22, we had dinner together at a campsite, then we took off on the 23rd, we drove about 400km and shot almost all of the photos in the 15 image series," Moth explains to Bustle via email. In a little over a day, Moth shot images of the couple hiking glaciers, enjoying hot springs, and much more.
"As crazy as it is, basically all of those photographs came from just over a day of shooting, albeit a very, very intense day of shooting!" he adds.
Between the alien landscapes and Moth's fine arts background, the images have an almost surreal quality — talk about fairy tale weddings.
Check out a few more images below, and head over to Bored Panda to see the whole collection.
Images: Courtesy of Troy Moth