Kat Graham Teases A Bonnie Flash Forward On 'TVD'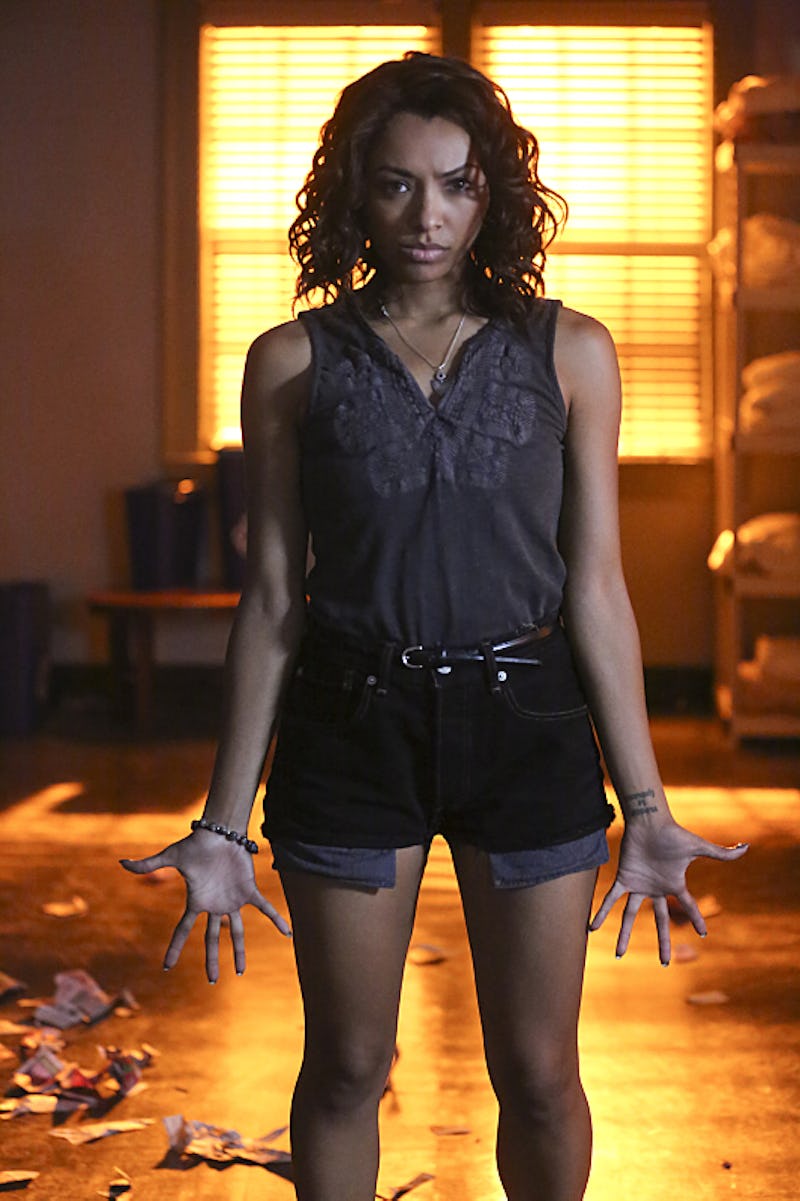 Elena Gilbert may be resting peacefully for the next 60-plus years, but the rest of our beloved Mystic Falls characters are gearing up to face what could very well be The Vampire Diaries' darkest season yet. And, at the center of it all is our favorite go-to witch, Bonnie Bennett, played by Kat Graham, who is just as busy off-screen as she is on-screen these days. When she's not battling Heretics or being Damon's BFF, Graham also serves as one of the Global Beauty Ambassadors for Wet n Wild, which just recently unveiled its upcoming holiday collection and 2016 launches. In an interview, Graham told Bustle about her partnership with the famous beauty line, along with any Vampire Diaries Season 7 spoilers she was able to dish out, including details about that three-year flash forward.
As you can imagine, being a beauty ambassador can prove to be extremely useful with Graham's line of work since she knows just the right products to use that keep her looking flawless on set no matter what crazy antics Bonnie & co. get up to on TVD. "I cannot stop talking about their H2O eyeliner because it really does stay," Graham explains. "With me, I travel so much and I'm shooting so much… I need to know that my eyeliner has not left the building." And given that Graham considers this to be the most action-packed season yet, I'd say these products are making their debut just in time.
"You're going to see [Bonnie and Damon] team up. You're going to see them fight. You're going to see a lot of stuff. It's a really intense season, especially with Elena being gone there's just so much action," she says. How much action, you may ask? Well, taking into account that Graham is preparing to film getting tossed against a wall this week, it might be safe to assume that there are some very dark days ahead for her character. "We're dealing with a Bonnie that had to fight for her own existence in a lot of ways," says Graham. "So when her character comes back, she's a badass but she does things because she wants to, not because she feels indebted to anyone. She's very much her own girl, her own person."
But, aside from Bonnie-Damon team ups and action-packed sequences, there is one other thing that fans are dying to know more about — the flash forward scenes that take place three years into the future. So far, we've only seen what Stefan and Damon are up to (like being chased by an arrow-wielding assassin), but Graham assures viewers that they'll also be getting a glimpse into what Future Bonnie's life is like as well. "Episode 5 is, I think, my flash forward and they're very cool and you get to really see where the characters end up, which I think the fans really, really want to see."
She couldn't go into any further detail about it, of course, but really, I'll just take any piece of intel I can get at this point. This whole future timeline concept is extremely intriguing and I, for one, can't wait to see what the time jump has in store for our beloved Miss Bennett.
Images: Quantrell Colbert/The CW (2); Wifflegif