11 Halloween Costumes Inspired By Children's Books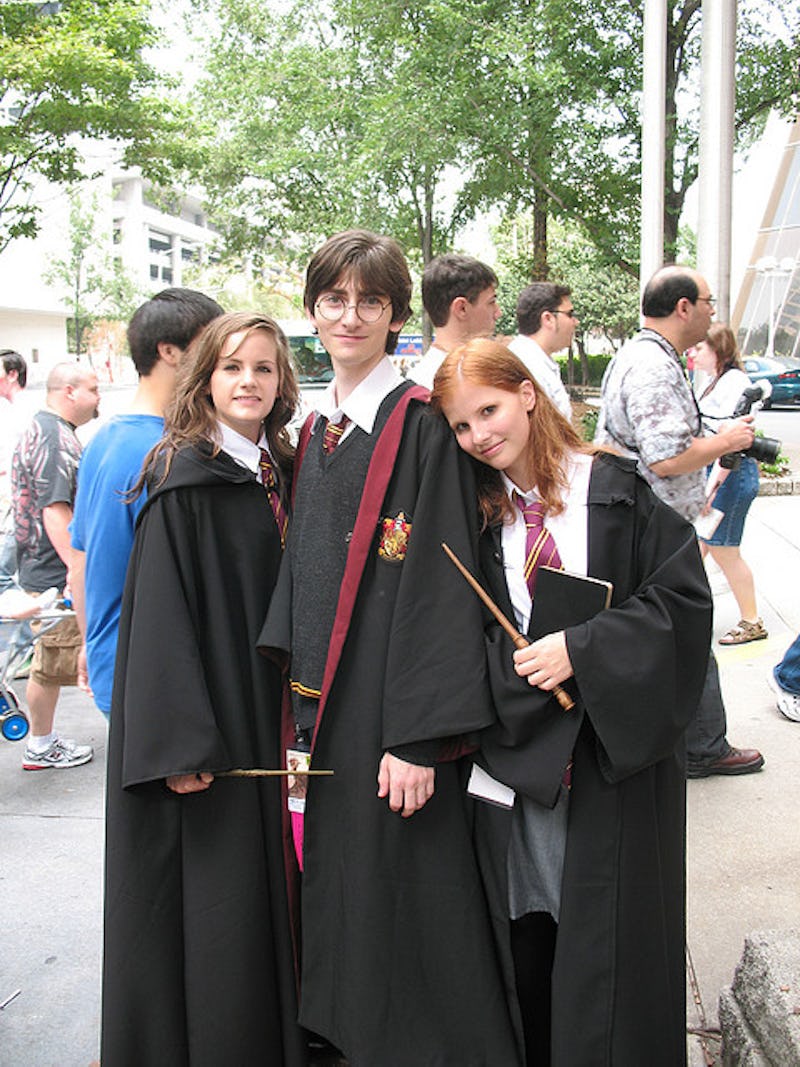 We all know Halloween isn't just for children, but who says you can't act like a kid — or dress like one, at least, by choosing a halloween costume inspired a children's book? Sure, grown-up costumes can be fun, but for women, they're usually just a sexy spin on an occupation or animal, like sexy kitten or fireman, and I'm going to go ahead and speak for everyone when I say... NO. Books are a great source of inspiration for costumes, from literary couples costumes to a punny Fifty Shades of Grey getup. But when it comes to children's books, that fact is especially true.
Children's books are full of imagination, wonder, and magic, just like your Halloween costume should be. Not to mention, they have some of the most unforgettable (and stylish) characters. If you walk into any Halloween store, you're bound to find plenty of costumes inspired by children's books, from Alice's Adventures in Wonderland to Peter Pan, but if you like to make your own costumes, there are plenty of them you can put together on your own.
From your most frequently read bedtime story to your favorite YA series, here are 11 costumes inspired by children's books. And yes, you really can make all of these at home.
Madeline
I remember reading Madeline and wishing I could be just like her, living in Paris and walking by the Eiffel tower every morning. Though I still haven't been to the City of Lights, my love for Ludwig Bemelmans' classic is still there.
To dress like Madeline — or any of her friends for that matter — you're going to need a yellow hat with a black bow, a yellow coat, white tights and gloves, and black penny loafers. If you can't find a hat just like Madeline's, you can always use a staw hat, yellow spray paint, and a black ribbon to get the look.
Harry Potter
Who hasn't dreamed of wearing a Hogwarts robe and learning to fly a broomstick? Just because you never got your Hogwarts letter in the mail doesn't mean you can't dress the part — on Halloween, at least.
To look like Harry, or Hermoine if you prefer, you'll need some serious Hogwarts gear, including a robe, tie, scarf, and sweater. If you don't have and don't want to buy official Hogwarts clothing, you can dress in gold and maroon — as long as you have a wand, you're a wizard.
Image: Polyvore
Paper Bag Princess
Every year, you see a Cinderella, a Snow White, and a Belle, but the dirty and daring heroine from The Paper Bag Princess could kick all of their asses.
This costume couldn't be easier. All you need is a few paper bags, tape, and string to make your own dress and a crown to top it off. Rub some dirt (or brown make up) on your face and tease your hair so it looks wild and you have just become the coolest princess to grace the pages of a picture book.
Image: Polyvore
Corduroy
You could be Winnie the Pooh or a Berenstain Bear, but IMO, the most lovable bear in picture books is Corduroy. That, and the fact his outfit is one piece, makes him the perfect and easiest Halloween costume.
Corduroy's outfit is easy — just green overalls with a missing button — but to look like a bear, you'll need some paw-styled gloves, a hat with ears, and some face paint. It's simple, it's cute, and totally original, aka the perfect costume.
Image: Polyvore
Pat the Bunny
The book that's on every preschool's bookshelf and gifted at every baby shower, Pat the Bunny is a cute and comfortable Halloween costume that consists of mostly things found in your closet.
The bunny is all white, so for your costume, you'll need white clothes from head to toe. Add some bunny ears, a pom pom tail, and draw some whiskers on with face paint or eyeliner. Yes, it's that easy.
Image: Polyvore
Alice
There are so many great characters in Alice's Adventures in Wonderland, from the Mad Hatter to the Queen of Hearts, but Alice is the real star.
Though it's a costume you can easily purchase at the store, you can also make your own Alice costume. You will need a light blue dress, a white apron, white tights, and a black headband — oh, and a healthy dose of curiosity.
Image: Polyvore
Harriet
Everyone's favorite sleuth, the heroine from Harriett the Spy has been inspiring young girls for decades. This year, she can inspire your Halloween costume, too.
Another costume that can be put together with things you already own, Harriett's street style is easily replicated. You will need a red hoodie, blue jeans, and black sneakers. Make sure to have a marble composition notebook tucked under your arm, and your costume will be complete.
Image: Polyvore
Mouse
Cute, furry, and hungry, the star of If You Give A Mouse a Cookie is a great choice for a Halloween costume — and it even comes complete with a snack.
The mouse is a simple guy, and so is his outfit. All you will need is jean overalls, mouse ears, and a tail. Stuff your pockets with cookies, accessorize with a milk bottle, but be warned: people will want to eat your costume.
Image: Polyvore
Harold
A costume that lets you wear pajamas out in public? It doesn't get much better than that, and dressing like the small, imaginative hero from Harold and the Purple Crayon lets you do just that.
This costume only requires two things: blue footie pajamas and a purple crayon. Comfortable and super-easy to put together, this is the perfect costume for lazy people.
Image: Polyvore
Rainbow Fish
If you like things that sparkle, then this is the ideal costume for you. It's shiny, pretty, and inspired by one of the best picture books ever.
If you want to be the rainbow fish for Halloween, you're going to have to get a little crafty. Start with a blue dress and add some sequins, sparkles, and shiny stickers to create the scale effect. If you want to go all out, you can paint your face in blues and purples.
Image: Polyvore
The White Witch
Though she may be a villian, the White Witch from The Lion, the Witch and the Wardrobe has some serious style that makes for a great Halloween costume.
It may be obvious, but if you want to dress up as the White Witch, you'll need to dress in all white. Options include a white dress, white fur scarf, and white gloves. You will also need a crown, and for a finishing touch, some white glitter on your face.
Image: Polyvore
Image: rmkoske/flickr