7 '50 Shades Of Grey' Halloween Costume Ideas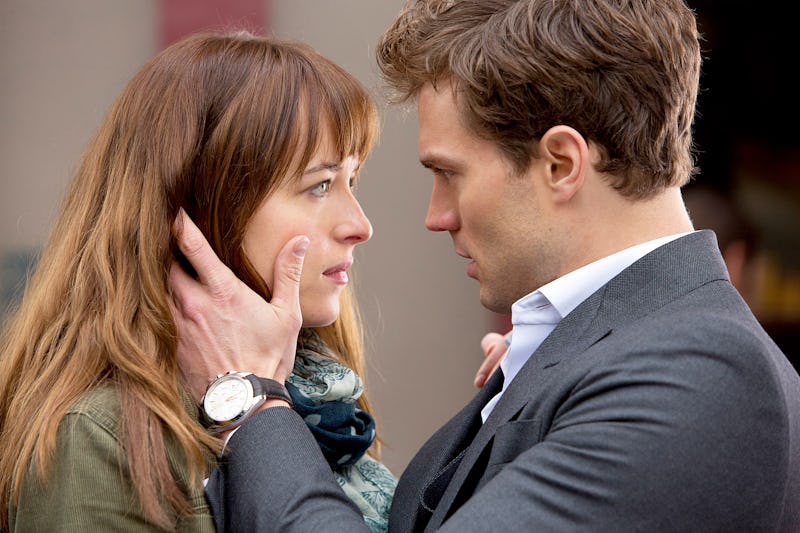 By now, 50 Shades Of Grey might be feeling like a faint memory to most of us: An erotic, entertaining, mysteriously sexy story currently collecting dust on our bookshelves. But a 50 Shades Of Grey Halloween costume idea can turn that faint memory into part of your reality once again. Oct. 31 is quickly approaching, after all, and there's no better way to show your fandom for this sexy, juicy tale than getting dressed up in handcuffs and lingerie on the one night a year when these things are acceptable to sport in public.
Seriously, Halloween is the ideal time to allow ourselves to feel liberated enough to live out our sexy, erotic dreams. That being said, even if 50 Shades is quite graphic, your costume doesn't necessarily have to be that way. Part of the fun of a 50 Shades Halloween costume idea, in fact, is that you don't really have to take it seriously. Sure, you can pretend you're Anastasia and wear some handcuffs, or you can adorn a lamp shade with gray paint swatches and they'll both be just as clever and just as sexy.
My vote is on ditching the PG-13 stuff and sticking to the adult celebrations for Halloween this year, and channeling 50 Shades is one surefire way of feeling bold and free. Here are seven ways to embody Anastasia and Christian this All Hallow's Eve.
1. All Gray Everything
Step 1: Raid your closet for everything that is the color gray.
Step 2: Put together a semi-decent, semi-sexy outfit.
Step 3: Rock it. The more shades of gray, the better (obviously). It's a clever, fun, and witty take on the series' name and one of its main protagonists. For extra fun, you can carry a book or a pair of handcuffs.
Plus Size Jersey Wrap Dress Grey Marl, $67, Miss Guided | Vintage Chelsea Boot, $70, DSW
2. Paint Swatches
Why not wear paint swatches? It's time to raid your local home store for every single gray paint swatch you can find (be sure to grab multiples of each). Next you'll have to cut, tape, and glue them onto your ensemble. That's all you need for another clever spin off the whole "50 shades" thing. Not only does this idea require a super low budget, but it also makes for a great punchline. Especially when someone has no idea who or what you are.
Color Stories Fan Deck, $32, Benjamin Moore | Merona Women's Plus Size Favorite V Neck Tee, $8, Target | Long Leggings, $13, Old Navy
3. Dressed Up
Ahh, the crucial moment when Ana meets Christian's mother. Did you notice how amazing both of the characters looked in these scenes? Thankfully, the style is easy to recreate for Oct. 31. Dress up in a fancy dress and have your S.O. or a friend wear an all-black ensemble (a blazer is a must). Then handcuff yourself to the other person. Voila, it's Halloween costume success.
Side Note: You might want to opt for a red dress rather than a pink one to be more in keeping with the sultry, sexy vibes of the book turned movie.
Skater Dress, $56, ASOS | Lady Love Song Dress In Ruby, $90, M odcloth | Steel Handcuffs, $2, partypalooza
4. Boyfriend Shirt
Not to be confused with Tom Cruise from Risky Business , this idea is by far the easiest to accomplish. All you need is a big white button down shirt to emulate the one Ana stole from Christian. And, well, that's it. My advice is to opt for undies just in case you accidentally flash passerby on the subway, and maybe tights if it's chilly that night. Ideally, though, the whole idea behind this costume is to keep it simple and sexy. Just the way Mr. Grey likes things, amirite?
Tommy Hilfiger Button-Down Shirt, $30, Macy's | Women's Tights, $6, Target
5. Lamp Shade
Yes, you read that correctly. 50 Shades Of Grey doesn't necessarily refer to colors, now does it? This is definitely a wittier take on Grey, and all you have to do is get an old lampshade (be it one from your house or one from a thrift store) and adorn it with all those gray paint swatches I mentioned before. To get a little sexy with the look, you can pair it with some amazing lingerie and over-the-knee boots. People will look at you with a confused face, but they'll likely get it eventually.
JCPenney Home White Accent Drum Shade, $40, JCPenney | Lace Chemise, $29, Torrid | Unisa Gillean Wide Calf Over The Knee Boots, $70, DSW | Dream Angels Lace Trim Slip, $45, V ictoria's Secret | Graziella, $140, Aldo
6. Graduation
Easily one of the tenser scenes in the book is when Anastasia graduates and Christian stops by unexpectedly. Not only does he meet her family, but he also gifts her with a brand new car. Even if you haven't read the books or watched the movie, you can tell that this was something of a stepping stone in their relationship. So why not dress for that wonderfully tense moment this Halloween? Dust off your old graduation cap and wear a floral dress paired with a blazer. Be chic, but don't forget the handcuffs.
Shiny Black High School Cap & Tassel, $16, G radgown | Chic Floral Print Dress, $74, Lulu's | Texture Ruched-Sleeve Blazer, $38, Forever 21 | Floral Textured Skater Dress, $40, Torrid | Plus Size Textured Knit Military Blazer In Black, $49, maurices
7. E.L. James
What's a more 50 Shades ensemble than dressing up like the author herself? E.L. James' look is definitely one of the easier costumes to create. Basically all you need to do is borrow some clothes from the mom or the aunt in your family and carry around the first book. Well, OK, there's a little more to it than that, including the glasses and the bangs. All in all, though, it's an effortless look and one that will be sure to get you lots of questions through the evening.
Wrap Of Luxury Dress in Diamonds, $140, M odcloth.com | Wrap Dress, $253, ASOS | Sweet Short Straight Black Neat Bang Design Synthetic Wig For Women, $8, Sa mmydress | ICU Eyewear Reading Glasses, $10, Target
With that, have a happy Halloween. Laters baby.
Want more Halloween fun? Check out the video below, and be sure to subscribe to Bustle's YouTube page for more inspo!
Images: Universal Pictures; Courtesy Brands; Giphy