Jake From State Farm Halloween Costume Ideas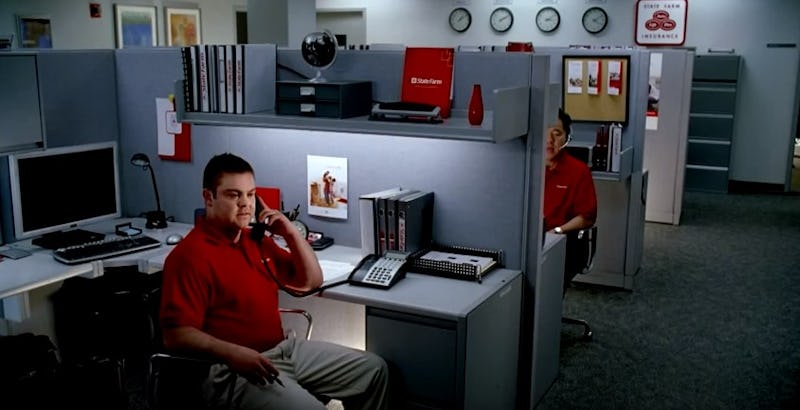 Sorry, witches, vampires, and flappers: you're just not going to make an impression this Halloween. While we're all guilty of slacking in the costume department (do you have any idea how many years I just slapped a pink wig on and called it a day?) let's make a commitment to make this year's costume just a tad more clever. Of course, you don't have to go for a pizza rat costume or a version of "The Dress" in order to show that you're up on your pop culture knowledge: in fact, there's one culturally relevant reference that will make for a seriously comfy costume. Forget Miley Cyrus, Nicki Minaj, or Kylie Jenner: the pop culture icon that you need to be this Halloween is none other than Jake from State Farm.
Jake from State Farm was brought into our lives, of course, by State Farm's brilliant "State Of Unrest" commercial, in which a family man is caught talking on the phone late at night by his wife. The wife grabs the phone in an angry huff, thinking it's another woman — only to realize that it actually is Jake from State Farm. What's he wearing? "Uh, khakis," obviously. It's a great .
So, what do you need to dress up as Jake from State Farm? This costume is super simple. Here's what you need:
A Red Shirt
Polo Shirt, $5, JC Penney
The red polo: Classic. The State Farm-approved t-shirt can be purchased for at JC Penney.
Khakis
Obviously, khakis are a must. (Jake even declares that he's wearing them in the commercial!) Luckily, they're equally as easy to purchase as the red polo: You can get them at Kohl's for $30. Though the pants come in lots of colors, this tan shade is definitely a match for Jake's pants from the commercial.
A Red Folder
Deck this $8 folder from Staples out with the State Farm logo for authenticity.
A Phone
You can totally use your own... as long as you're on it several times over the course of your Halloween night, insisting that you're Jake from State Farm.
Go out and conquer Halloween with this awesome commercial costume. Who knows, maybe you'll find a Flo the Progressive Girl to take pics with!
And for more Halloween, check out Bustle's YouTube channel:
Images: JoanneBryant94583/YouTube; JC Penney; Kohls; Staples; Giphy