17 Lisa Frank Tattoos For the Rainbow-Obsessed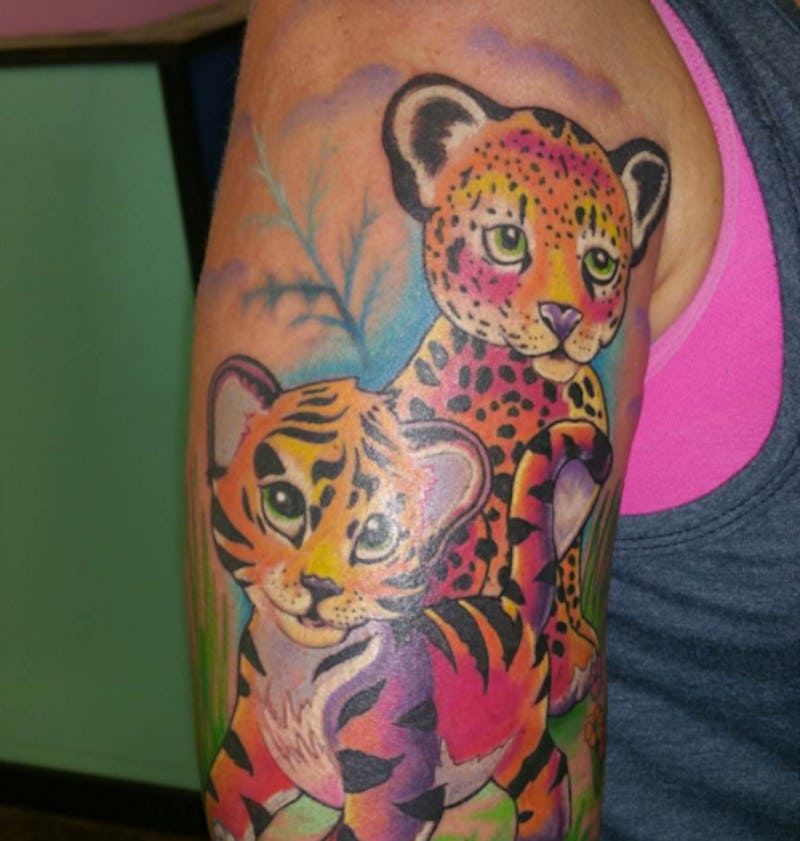 If you're a millennial, you probably couldn't get through a school year without Lisa Frank. I had it all, from an arm full of Lisa frank tattoos (stick on of course!) to notebooks covered in unicorns with rainbows for tails. I'm sure the inside of my backpack looked like a glittery explosion where multicolored galaxies met wide-eyed furry animals — and no I'm not ashamed. Truth is, we could all use a little more Lisa Frank in our lives these days, whether it's enjoying a dose of rainbow kittens dismantling the patriarchy or through an everyday multicolored animal-print mani.
Some of us are so down for the sparkly, rainbow cheetah way of life that the obsession has become a permanent part of our bodies. That's right, full Lisa Frank tattoo sleeves do exist — something I fully support. I guess that Lisa Frank trapper keeper from back in the day was the perfect muse. With these tats, you know I'm not talking your average black ink job here either! Prepare to be transported to another dimension when you get caught up in '90s nostalgia over these 17 Lisa Frank inspired tats.
1. Rainbow Cheetah
The signature rainbow Lisa Frank touch takes a cheetah to a whole new level of fierceness.
2. Lisa Frank Under Water
This sea creature is way to hot to handle with those seductive green eyes.
3. Pretty Pony
You can never, and I mean never, go wrong with a Lisa Franked out unicorn!
4. Extraterrestrial Cutie
Ughh, I desperately want to believe adorable Lisa Frank aliens exist too. Peep the detail in those intergalactic eyes though. Swoon.
5. Alien Pals
Of course, you could only top one cute, little alien with two alien pals!
6. More Unicorns
Long hair don't care with this beautiful creature.
7. Lisa Frank Overload
Rainbow swirl ice cream! Cuddling kittens! Dreamy puppy! My brain almost can't handle the awesomeness.
8. Pretty Kitties Half Sleeve
If you're really feeling the rainbow cat vibes, a Lisa Frank tiger and cheetah pair is the way to go.
9. Colorless
So maybe rainbows galore overwhelms you a bit. A colorless Lisa Frank cheetah is still totes adorable.
10. Sweet Treats
Seriously getting the feels over these rainbow delicacies.
11. Dolphin Party
Ahh, too many precious creatures in one tat! Plus, peep those subtle Lisa Frank butterflies for the tattoo lover who may be afraid to go full on sleeve.
12. Disney Meets Lisa Franks
Perhaps the only way to improve a Lisa Frank design (can't believe I'm even uttering these words) is by adding a Disney princess. Cindarelly, hey girl, heeey!
13. Lisa Frank Gone Bad
And just when you thought Lisa Frank couldn't have a dark side.
14. Ballerina Bunnies
This adorable pair clearly have a serious case of dance fever.
15. Gypsy Pig
Are you seeing a Lisa Frank inspired tat in your near future? I'll answer for you: yes!
16. Unicorn Half Sleeve
That flowing, rainbow unicorn mane is seriously giving me life.
17. Kitty Queen
All hail Lisa Frank everything forever.
Image: xjessica_martinx/Instagram