DNCE's "Cake By The Ocean" Video Is One Big Party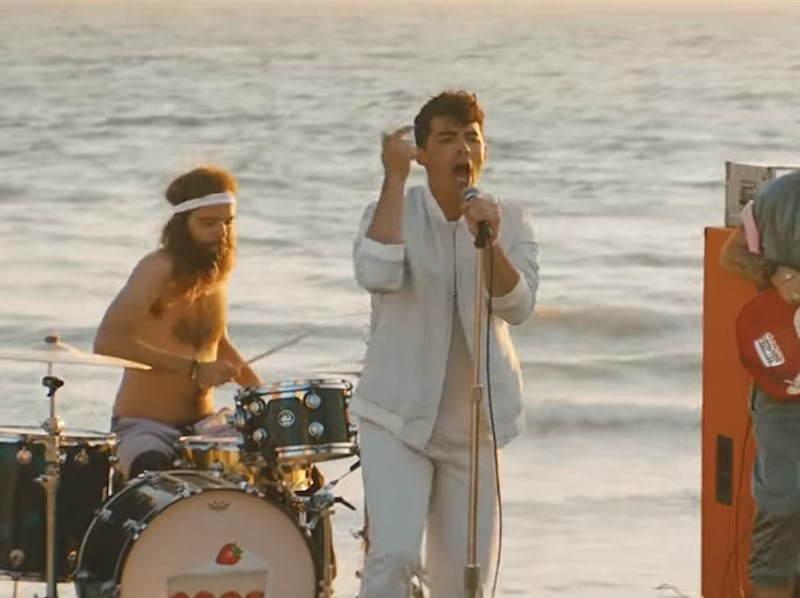 As it turns out, my prediction was spot-on: DNCE's "Cake by the Ocean" music video is a playful, tongue-in-cheek debut for the band. The visual — which incorporates a giant slice of cake and the beach — dropped just one month after Joe Jonas announced DNCE. It's a strong statement for the band, implying that we'll be seeing a lot more of their humor going forward.
"Cake by the Ocean" kicks off with on-air reporters celebrating the first-annual International Cake Fight. (Pay attention to the ticker at the bottom — it notes that Jonas' girlfriend Gigi Hadid directed the video!) Various cake puns ensued, naturally, before DNCE kicked off their song. As they perform, the video captures a team of girls facing off against one man. (The women are clad in GUESS swimwear, appropriate given that Hadid has been a GUESS girl since she was two.) The goal, it appears, is to throw as much cake as possible, and these guys aren't messing around. There's even male cheerleaders rooting from the sidelines.
It's clear that the "Cake by the Ocean" video is all about having fun. Since it is the band's first visual, it sets a tone for what we can expect from the rest of their music. If this is any indication, it's going to be upbeat and cheeky. Want in on the fun? Check out 11 GIFs that tell us more about DNCE's sense of humor.
1. This News Spoof
Totally playing up the cheese-factor from the beginning.
2. This Sly Reference
Who can have their cake and eat it too?
3. This Giant Piece Of Cake
Literally, cake by the ocean.
4. Team DNCE
And they are so ready for this cake fight.
5. DNCE's Demeanor
Super laidback and cool.
6. This Nod To Bumble
I see your product placement.
7. The Challenger
This guy is not messing around.
8. The Cake Fight
So. Much. Cake.
9. The Trophy
Even though they're all winners.
10. This Dance Party
They're having so much fun.
11. This Parting Shot
I have a feeling DNCE will be back with more great music soon.
You can check out DNCE's cheeky "Cake by the Ocean" video above!
Images: Republic Records (screenshot); Republic Records (11)