How To Decorate With Gourds This Autumn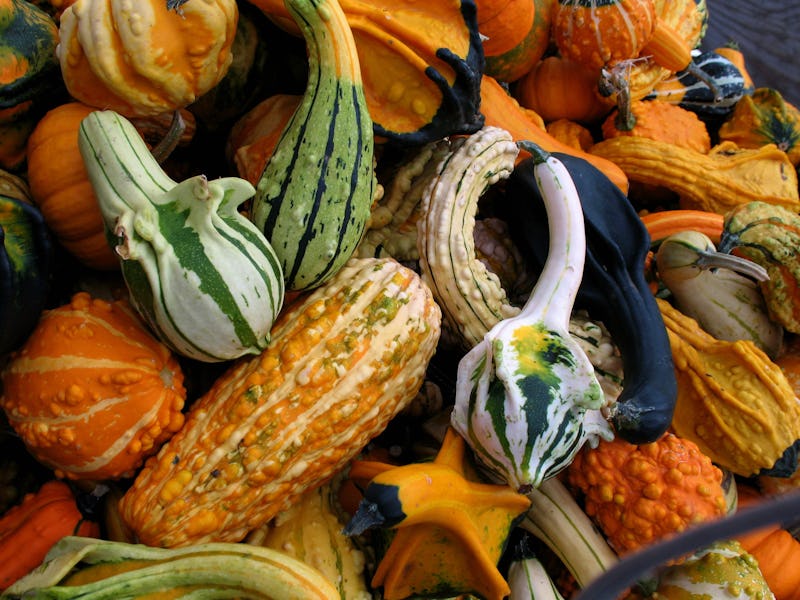 Whether they're positioned outside of our home or delightfully blended into a latte, pumpkins have made their mark as the official squash of fall. But when it comes to decor, we're not about limiting our options — so we're looking into the different ways to decorate with gourds. That Jack-O'-Lantern isn't going anywhere, but isn't it about time you try something new?
If you're looking to get some bang for your buck, gourds are the way to go. They're timeless autumn home decor pieces that you can simply grab at your local farmer's market. And at just a few dollars a piece, you'll want to stock up on plenty. Whether you incorporate them in with your spooky Halloween decorations or you arrange them in a lovely Thanksgiving cornucopia, they'll look festive all season long. Display them alongside some pumpkin decorating ideas, and you're sure to have the most delightfully autumnal home ever.
Instead of just placing your gourds on your coffee table or strewing them about randomly through your apartment, think like a designer and get a little creative. With some thought and purposeful placement, these fall squashes will look totally chic. But if you're not sure where to start, these gourd decorating tips will help you out.
1. Place Them On A Platter
Positioned next to metallic-painted pumpkins, long gourds add a natural accent to this autumnal display. Use a simple white platter to let your seasonal arrangement pop.
2. Arrange Them On A Mantel
Gourds — real or faux — give a homey touch to any mantel display. Use pillars to add dimension and varied height.
3. Put Them In A Sprawling Centerpiece
Nestled alongside bigger pumpkins, gourds prevent a dining room table display from looking like an in-home pumpkin patch.
4. Place Them With Geometric Accents
Arranged alongside minimalist decor, gourds help strike a pretty balance between modern and rustic.
5. Put Them In A Basket
There's something eye-catching about a big basket of gourds. For a farmer's market vibe, pile them high.
6. Get Veggie Crazy
If you want to really play off a farm-style feeling, place your gourds alongside plenty of other seasonal produce. After all, what's better than decor you can actually eat?
For more fall ideas, visit Bustle on YouTube.
Image: mike krzeszak/Flickr