Tracy Morgan Returns To 'SNL' On Top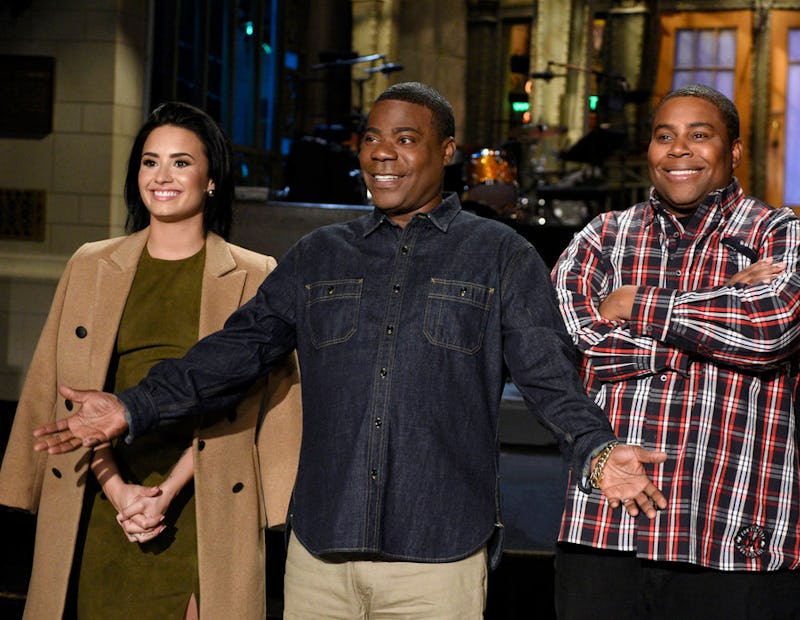 It was an extra-special episode of Saturday Night Live on Oct. 17, as one of the show's own, Tracy Morgan, returned to host SNL after his devastating car accident in June 2014. The comedian started off his monologue by saying that, after the incident, one of his first phone calls was to executive producer Lorne Michaels. "Lorne, when I get back on my feet, I want to come home," he said. Home, of course, meant Saturday Night Live.
Back in 2014, Morgan's limo was hit by a truck. The accident badly injured Morgan and the other passengers in the car, and killed Morgan's friend and fellow comedian James "Jimmy Mack" McNair. Since then, Morgan has been focusing on his recovery, only briefly returning to TV for an appearance at the Emmys. So, there's been a lack of Morgan around, which made it especially great to see him back at comedy on SNL this week. His monologue didn't pull any punches as he immediately joked about his recovery after the accident. "People were asking, 'Does he have 100 percent mental capacity?'" Morgan said. "The truth is, I never did."
After his self-deprecating remarks, the show featured a mini-30 Rock reunion: 30 Rock alums Tina Fey, Jane, Krakowski, Jack McBrayer, and Alec Baldwin — who also showed up in the cold open — "re-enacted" an old episode of 30 Rock (that never really existed). It was just a brief sketch, but, man, did it make 30 Rock feel missed!
The whole thing was pretty heartwarming. Morgan showed that he was grateful to be back and lucky to be surrounded by such supportive friends, family, and coworkers. And, even more importantly, it showed that he's still funny — in his wacky, Tracy Morgan way.
Full video is below:
Image: Dana Edelson/NBC