'SNL' Kicks Off With Alec Baldwin and Larry David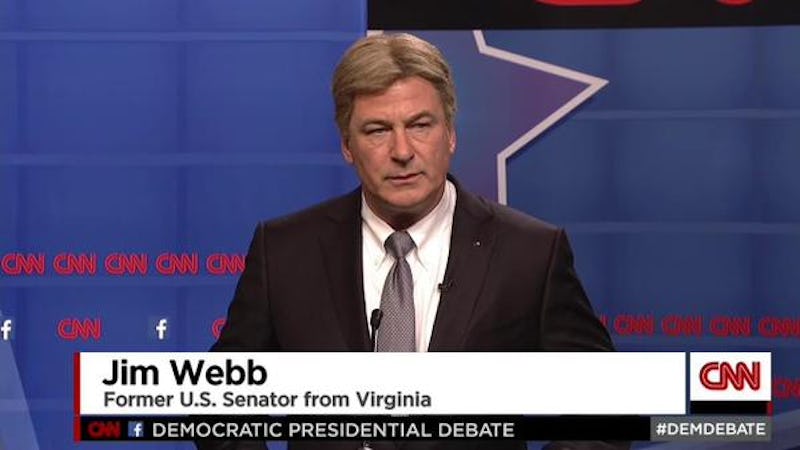 This week, all eyes are on Saturday Night Live, which will host comedian Tracy Morgan for his first SNL appearance since his 2014 accident. But, during the cold open, there were other unexpected SNL comebacks. The sketch focused on the Democratic debate. We all know that Kate McKinnon does the Hillary Clinton impression, but who would take on the other candidates? (First: Can you even name the other candidates?) It turns out, the show brought in some ringers.
Morgan's fellow 30 Rock co-star Alec Baldwin jumped in as Jim Webb (aka the angry one), and Larry David stepped in to play Bernie Sanders (aka the grumpy socialist). And, you know what? They did the best impressions of the bunch.
Larry David seems pre-built to take on Bernie Sanders. They basically have the same voice to begin with — I feel like the comparison between the two had been made a bunch in my Twitter feed during the debates apart from any glimmer that he'd return to SNL to do the impression — so that role wasn't too much of a stretch for the Curb Your Enthusiasm star. But David also has his mannerisms down, and also his general disgruntled attitude (though there was plenty of David's "what's the deal with" jokes, too). Baldwin similarly nailed Webb's anger, even if his voice still sounded like Alec Baldwin.
All in all, they outshined the regular performers. New cast member Jon Rudnitsky played debate moderator Anderson Cooper as too swishy, and I have no idea what Kyle Mooney was doing as Lincoln Chafee. But, next to David and Baldwin, nobody was paying too much attention to them anyway.
Full video is below:
Image: Screengrab/NBC