13 Onesie Costumes To Stay Warm In On Halloween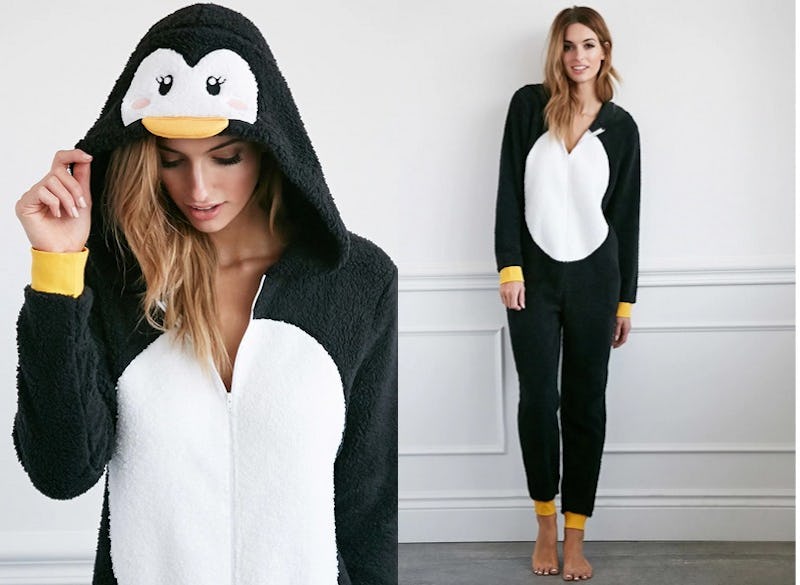 I am simultaneously sad and pleased to announce that this year, I have decided to wear a onesie Halloween costume. The reason I say this is sad is because every September, I start thinking about Halloween. What do I want to be? What should I wear? I scour the Internet for costume ideas, and come up with a bunch that are exciting to me. And then mid-October hits. The temperature cuts in half, and I'm left with nothing. Because naturally, the options I considered when it was 75 degrees outside are no longer suitable options for 40-degree weather. Sigh.
So now that I'm in crunch-mode with Halloween quickly approaching, it's time to consider some of those last minute costume options. But if I'm being honest with myself, now I'm just feeling tired and lazy. And cold. Very cold. So I figure, the best way to essentially wear pajamas on Halloween without it seeming like a total cop-out, is to rock a onesie. Snuggly? Check. Warm? Check. Easy? Check. And because onesies are made in the form of just about any animal imaginable these days, the options are pretty vast. Need some inspo? Here are 13 onesies that you can celebrate Halloween in, and then just fall asleep in (or, you know, live in until the weather starts to warm up again).
Sulley
Women's Disney Sulley PJ Onesies, $39, Kohls
You'll be the cutest, coziest monster on Halloween.
Penguin
Plush Penguin Jumpsuit, $20, Forever 21
After all, penguins are built to withstand the cold, right?
Unicorn
Golden Unicorn Onesie, $33, Pajamas Buy
Need I say more?
Bat Girl
Bat Girl Adult Onesie, $36, Macys
And you can totally carry around a black blanket as a "cape."
Panda
Panda Graphic PJ Jumpsuit, $25, Forever 21
Does it get more snuggly than a panda bear?
Care Bear
Care Bear Adult Hooded Onesie, $36, Macys
OK, Care Bear is actually as snuggly as a panda bear.
Dinosaur
Grey Dinosaur Onesie, $33, Pajamas Buy
Rawr.
Ariel
Ariel Adult Hooded Onesie, $36, Macys
So much more comfortable than a real shell-bra, right?
Kangaroo
Kangaroo Plush PJ Jumpsuit, $30, Forever 21
I mean, it even has a baby in the pocket. So cute.
Mickey Mouse
Mickey Mouse onesie, $30, Pajamas Buy
I'm all over this.
Cat
Cat Graphic PJ Jumpsuit, $25, Forever 21
So much easier than doing the painted nose and whisker thing.
Shark
Shark Onesie, $29, Pajamas Buy
In case you're a shark-week-every-week kinda gal.
TMNT
Ninja Turtle Adult Hooded Onesie, $36, Macys
Katana not included.
Regardless of the weather, this will be the warmest — and most comfortable — Halloween yet.
Images: Courtesy of Brands