Diane & Alicia Are Back At Odds On 'The Good Wife'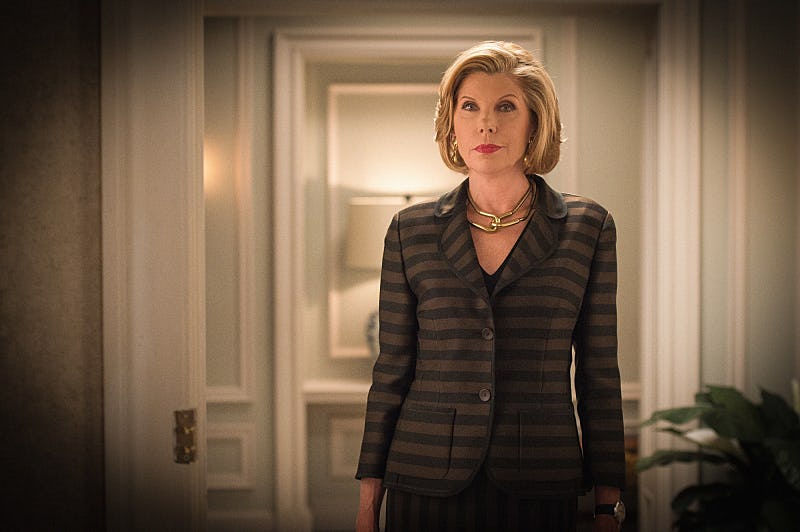 When Diane floated the idea of sending her firm's overflow to her former partner on The Good Wife, Alicia and Diane reunited, but all too briefly. After all, previously a name partner and Diane Lockhart's personal mentee, Alicia has proven her worth over and over again. Alas, while it seemed like the respectful friendship of Lockhart/Florrick was going to be revived, things took an unexpected turn. Will there ever be hope for Diane and Alicia?
Diane, unsettled by the unwillingness of young associates to commit themselves completely to work, began to miss having someone fully focused around in "Cooked." So she decided to reach out to Alicia and send some of Lockhart, Agos and Lee's extra cases her way. They can't bring Alicia back, but this way Alicia and Diane can still work together. If, like me, you were looking forward to more power friendship scenes, then your hope was short-lived. When David Lee overheard Howard Lyman talking about bringing an ageism suit against the firm with Alicia's help, Diane immediately went over to Alicia's apartment to declare war. Alicia tried to deny her involvement, but, even though she told Howard that he had no case, she did advise him on what he would need should he decide to sue for ageism, so she couldn't defend herself against Diane's allegations without violating attorney-client privilege.
Diane walked away from Alicia's apartment like a woman on a mission — to protect her firm from Howard's absurdities and to end their friendship. But is there hope for the two to reconcile in the future? As we've seen before, anything is possible on The Good Wife. And, it's only a matter of time before Alicia and Diane find themselves on opposite sides in a courtroom. That said, there's only so much a friendship can take, and with Alicia coming into her own as an independent lawyer, not to mention enjoying a budding friendship with Lucca Quinn, she just might not go running back to Diane anytime soon.
Images: JOJO WHILDEN/CBS; Giphy