Oh, Canada? John Oliver & Mike Myers Need A Moment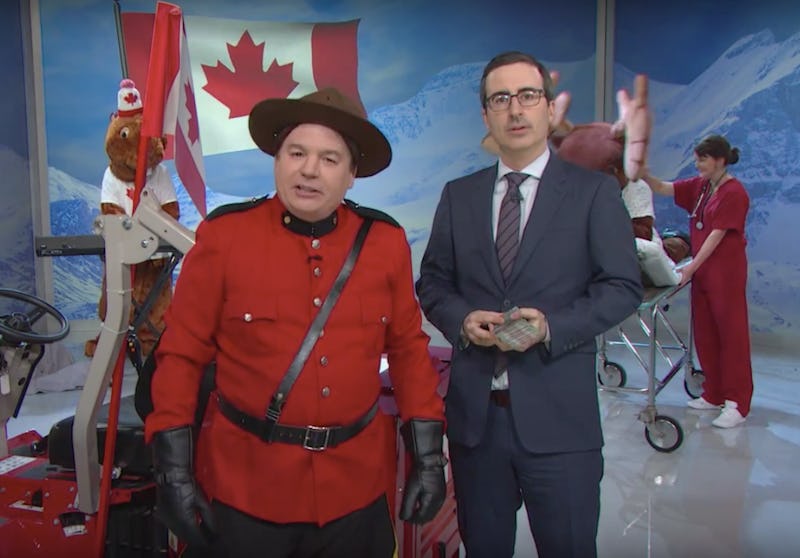 Even though the actual vote is more than a year away, Americans have been wrapped up in Election 2016, but the United States' great neighbor to the north is actually having its leader showdown right now. On Monday, Canada is holding its election for prime minister, and you can bet who won't be endorsing incumbent Stephen Harper. On Sunday's episode of Last Week Tonight, John Oliver and Mike Myers dove into Canada's election to give voters some tips and blast Harper for seeking a fourth term as prime minister. And yes, a moose and a Zamboni were on set.
It's a shame that Canada tends to become the butt of many American jokes, when the country is actually our largest trading partner and the U.S.-Canadian border is the longest in the world. (Who knew!) Turns out, Canadian candidates have been in a "grueling" 78-day campaign, which culminates on its Election Day, Oct. 19. But it also turns out that their election race has had its own share of comical characters and scandalicious gaffes that would make Donald Trump look like Lincoln Chafee and Emailgate sound like a chain mail party.
There's Jerry Bance, a service technician who was caught via hidden camera peeing into the cup of a client during a house call in 2012. According to CBC News, Bance is no longer a candidate. But the whole incident does give new meaning to pissing your chances away.
Then there's Alex Johnstone, who claimed she didn't know what Auschwitz was after she was criticized for commenting on a friend's Facebook picture of the Nazi concentration camp's fence post in 2008 and joking it looked "phallic." To Oliver, that can only mean two things:
That is parading two kinds of ignorance: not knowing what Auschwitz is, and if she thinks that's phallic, not knowing what a penis looks like.
By the way, Johnstone works in education and is vice chair of the Hamilton-Wentworth District School Board as well as regional vice chair to the Ontario Public School Board Association.
The race for prime minister is between the leaders of three of Canada's biggest parties, which includes Liberal party head Justin Trudeau, son of past PM and renowned intellectual Pierre Trudeau. Justin Trudeau, who instead apparently has high "emotional intelligence," has questionable fashion choices and is also apparently an expert of making people think he fell down some stairs.
Yet Trudeau is still leading incumbent Harper, who has served nearly 10 years as prime minister, since Canada doesn't set term limits for its head of government. Missing the charisma of a falling Trudeau, Harper has said that marijuana is worse than tobacco, and attempted to keep Muslim women from wearing the face-covering niqab. He also has what Oliver considers a terrible band called the Van Cats, a word play on the French "vingt-quatre," which represents the PM's residence at 24 Sussex Drive in Ottawa.
Harper's band's name is not just a shitty pun, it's a shitty French pun on the fact that he is prime minister of Canada. That is the least rock 'n roll thing imaginable.
Apparently, it's illegal for anyone who isn't Canadian to try and sway voters on the country's elections or else they could face six months in jail or a $5,000 fine. Of course, that prompts Oliver to ask Canada, "You want to dance?" (It seems Oliver is out to make himself the enemy of every geographical location possible.)
Challenge accepted, Canada. Oliver finds out what $5,000 Canadian dollars can buy him: a beaver on a keyboard, a moose getting a colonoscopy, and Canadian actor Mike Myers dressed as a Mountie and riding a maple leafed-out snow plow. What does Myers have to say?
I love Canada, but the fact that it has a law banning outsiders from telling Canadians how to vote is one of the least Canadian things possible. Oh, and, don't vote for Stephen Harper.
And Oliver adds, "Stephen Harper doesn't care about Muslim people." (Ah, what a great Myers throwback.) Check out the full segment below.
Images: Last Week Tonight With John Oliver/HBO