'Heroine Chic' Intersects Fashion With Superheroes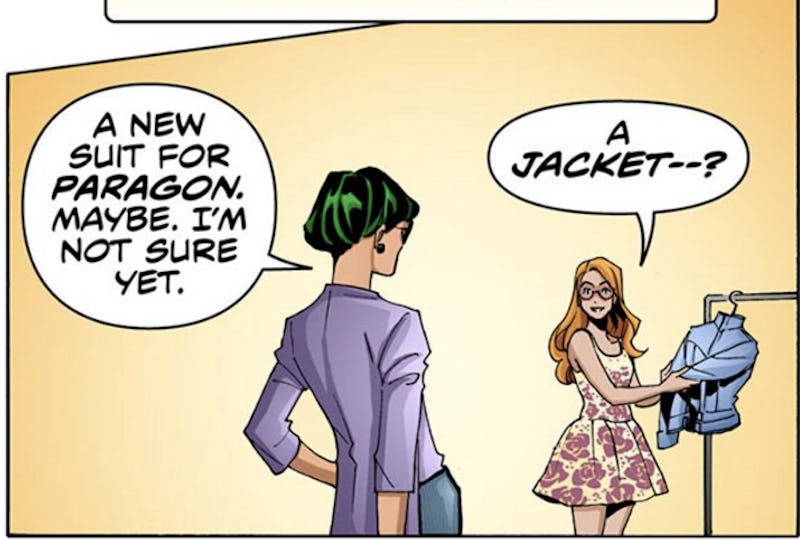 What do you get when you combine two of pop culture's well-loved concepts? Well, you get Heroine Chic , a fashion meets superhero story of a young, aspiring fashion designer who — plot twist — dreams to design pieces for the world's top superheroes. Sounds pretty fantastic to me.
The Edith Head-inspired character Edna Mode from The Incredibles was most of our first introduction into the concept of superhero fashion design: Her super suits skillfully married form to function for some kickass, on-trend ensembles that were capable of everything from accommodating Elastigirl's trademark elasticity to withstanding fiery missiles. Everything was designed perfectly — and of course, there was Mode's trademark no capes allowed rule, after a few very unfortunate incidents. Well, now it looks like Edna might have to relinquish her monopoly on the superhero fashion industry — because Heroine Chic debuted for free on Line Webtoon today.
Written by David Tischman and illustrated by the Hong Kong-based Audrey Mok, Heroine Chic follows 23-year-old designer Zoe Porter, a recent Parsons School of Design graduate and an aspiring super suit fashion designer (her dream is to show at NYFW). The start of the series finds her embarking on a new job working for brilliant (yet notoriously eccentric and difficult) top superhero designer, Dyna Cuff. Along with the aforementioned Project Runway, there are also definitely shades of The Devil Wears Prada and Ugly Betty included in the new series.
Tischman, who's penned comics for Star Trek and Teen Wolf among others, told Women's Wear Daily that he was inspired to create the series whilst observing some street style in NYC, "I saw this woman walking down Broadway wearing these shiny coral leggings and a sports bra ... And I thought to myself, 'That's a superhero costume.'"
Tischman also revealed that we can expect some of the very latest trends in the pages of Heroine Chic — as he put it, "Our villain's boots are inspired by something I saw on the Hood by Air runway. He also cited Stella McCartney, Bottega Veneta, and Budapest-based brand Back to the Fox as inspirations.
Following graphic novels like Girl In Dior by Annie Goetzinger, it seems there is a rather large (and awesome) space for fashion comic book series' to occupy and continue to expand. And I mean, really — who wouldn't want to read about a superhero fashion designer?
Sounds like a fun way to keep up on the latest fashions, plus it's a rather a gleeful intersection of two of pop culture's favorite topics — will you be following Heroine Chic's Zoe's quest to become the next Edna Mode? You can read the whole series here, where new episodes will be published each Monday.
Images: Heroine Chic/Audrey Mok