You Know What's Spooky? Claire Underwood's Glare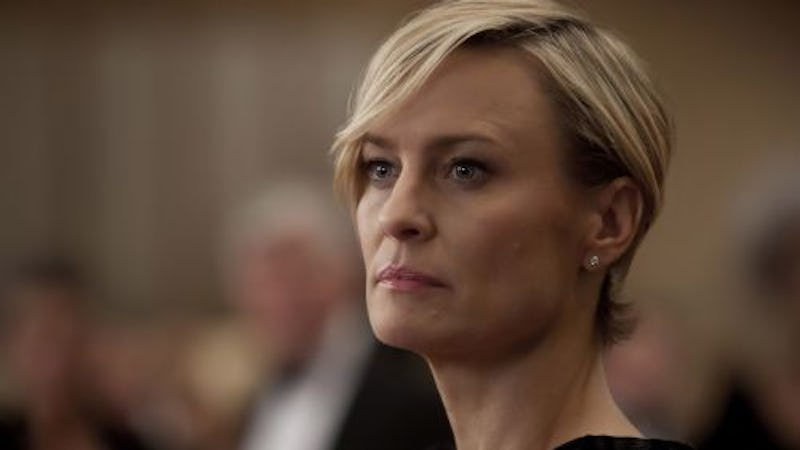 I spent a lot of time this year trying to come up with a costume that's both sexy and warm, and I think I finally solved it: finding myself a House of Cards Claire Underwood costume for Halloween! She's the formidable First Lady of the United States, married to Frank Underwood and played by the impeccable Robin Wright, and she's the perfect choice for all your Halloween-y needs this year. Because think about it! Where else are you going to find a character who's political without making you choose a side, sexy without making you show a bunch of skin, and so badass that everyone at the Halloween party will be forced to take you seriously? Nowhere.
Bustle included an option for a couples outfit in our Netflix and chill costumes post, but don't let going solo stop you from shimmying into a pencil skirt and taking on the town. If there's one thing we learned from the most recent season of House of Cards to hit Netflix, it's that you don't need a Frank to be a Claire. With all her deviousness and manipulation, Claire may not be your typical feminist icon, but that's what makes her perfect as a Halloween costume. This is the one day a year (well, besides your birthday) when you don't have to be polite and apologize for hurting people's feelings. You can just stride into a room, assess the situation, and dismantle someone in three sentences.
You'll have to provide the withering stare yourself, but here's where to get everything else.
A Classic Oxford Button-Up
Claire Underwood's style is all about clean lines and simplicity, so everything on this list is very straightforward, starting with the shirt. The First Lady tends to steer clear of patterns in favor of solids, so try a Uniqlo rayon long sleeved blouse in a neutral like this dove gray.
Long Sleeve Blouse, $20, Uniqlo
Tuck in the bottom, roll the sleeves to your elbows, and leave the first several buttons undone. We're not aiming for cleavage, here, just a subtle hint of sexiness. This striped knit oxford from L.L. Bean would also do the trick.
Knit Oxford, $30, LL Bean
But that's seriously the most amount of color I can give you.
A Sleek Pencil Skirt
For the bottom half, we're looking for a high-waisted skirt that goes up above your bellybutton — the higher the better, honestly — and extends just below your knee. It should be close to the body, but not so tight that you can't walk in it. Where would Claire Underwood be without her power strides? I like this light grey skirt from ModCloth:
Light Gray Skirt, $20, ModCloth
And you can class it up even further with a skinny leather belt that really pulls the look together. J.Crew has some great options in that department, and they're pretty good to have on hand in your wardrobe.
Timeless, no?
A Classy Trench Coat
If you're in the layering mood, or want a piece that will work year round and not just Halloween, add a double-breasted trench coat in a dark color like blue or black. I'm a big fan of this one from JollyChic, because the metallic buttons spice it up a little bit.
Trench Coat, $18, Jolly Chic
Or, if what you had in mind is a little less structured, to contrast with the very tailored look underneath, look no further than H&M and this wide-lapel bouclé coat. It's a little spendy, but you'll definitely wear it again.
Even in the lighter color, it's still very Claire. Just don't forget to pop that collar!
Black Heels
I don't think we're Louboutin folks around here, so I'm gonna set you up with a simple black suede heel that's within a more reasonable price range on ASOS, that I think Claire would still love.
They're not too high to walk in, not too showy. Also, you're going bare legs, no pantyhose for this look, because CDGAF. (You get it.)
Understated Jewelry
Claire will sport pearls around her neck on occasion, but the real place you'll see them is in her earlobes, so pick up a pair to match. As a bonus, this pair from Kate Spade is reversible.
Dainty Reversible Earrings, $38, Kate Spade
Of course, if you're on a budget, you can rock a simple pearl strand for under 20 bucks from Amazon:
Pearl Strand, $20, Amazon
You can decide whether you wear a wedding ring or not, based on how you're feeling about Frank Underwood on that particular day, but you'll definitely need something shiny on your wrist. If you have a metal band watch, you're set, but if not, mimic the look with a structured metal bracelet, like this one from Amazon for 8 bucks:
Chevron Bracelet, $8, Amazon
A Blond Pixie
If you aren't already rocking the Claire Underwood haircut, you're gonna need a wig, and this blond pixie cut wig is high quality, albeit a little spendy.
Cute in a "take me extremely seriously way," no?
If that's too pricey, Amazon has a few wigs aimed at cosplayers that will get you close enough to Claire's look without breaking the bank.
Nerdy Glasses
Claire is ruthlessly intelligent, and one of the ways she brings that across is with ultra nerdy, thick-rimmed glasses. I like this simple pair from Readers.com, and I think the First Lady would agree with me.
Very smart.
And there you have it! Everything you need to exude the confidence that comes with being Claire Underwood, in all her ruthless glory.
Images: ASOS; ebay; H&M; J.Crew; JollyChic; Kate Spade; Amazon (2); L.L. Bean; ModCloth; Netflix; Readers.com; Sears; Uniqlo; Wig World