Jordan Smith Needs To Win 'The Voice'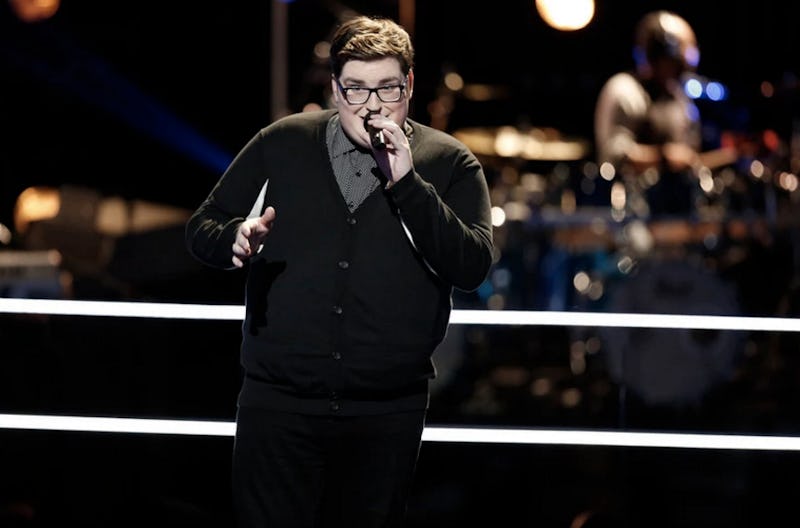 There is no doubt that The Voice is full of talent, but Jordan Smith is in another category. Smith participated in one of the first "Real Blind Audition" for The Voice, when fans were allowed to listen to Smith blindly, just like the judges. And even though I didn't have a button to turn my chair around, I was just as enthusiastic about Smith's future on The Voice as all four judges were (yes, he turned around all four judges). Now on Team Adam, Jordan Smith continues to prove he should win The Voice . Don't believe me? I'll let Smith speak — or sing — for himself.
Ever since the beginning notes of "Chandelier," it was obvious that Smith was a star. He's grown a following of fans who are rooting for him to win the entire show already. And while that may seem a little premature, there's no telling how far Smith can go. The following videos prove just that. If Smith keeps up with the amount of star-quality that he's started this season with, then he is a contender to win this season of The Voice.
Here are six videos that prove this is Smith's season to win.
1. The Audition Song
In case you need to relive that first moment you heard Smith's take on Sia's "Chandelier."
2. The Battle Round Song
Although it wasn't an easy decision for Adam Levine, Smith blew the competition out of the water.
3. An Throwback Song From 2010
In 2010, I was just learning how to properly style my hair... Jordan Smith, on the other hand, was getting standing ovations.
4. These Six Seconds Of Heaven
Sometimes, all you need is six seconds to realize that someone is crazy talented.
5. An A Capella Group Song
Smith doesn't even need music to show off his range. He's aca-awesome (sorry, that was so cheesy).
6. These High Notes
Even though it is obvious that Smith has an incredible voice from these few notes, I wish this video was longer... just so I could hear more of it.
Image: Tyler Golden/NBC