These '90s Songs Would Have Horrified Your Parents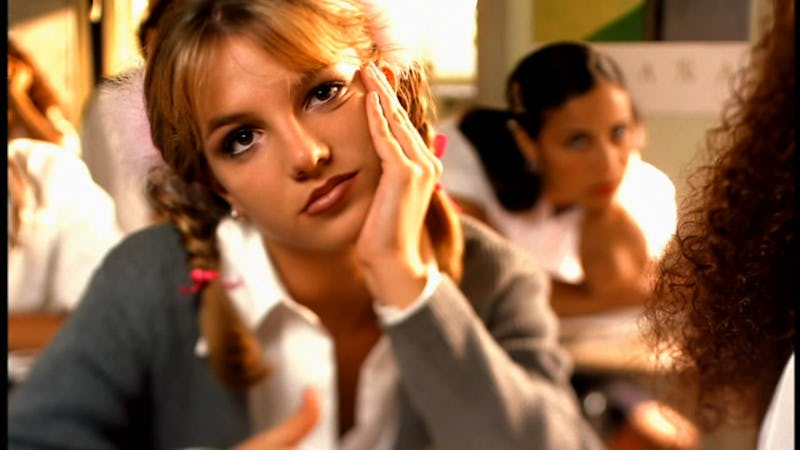 There are a lot of things from my childhood that I think back on and wonder, "Why in the world did my parents let me do that?" watching Candyman when I was six years old, or letting me read Bridget Jones Diary when I was 12... my parents were great parents, but the trend of censoring what your children watch or listen to was only just beginning in the '90s, and my parents were definitely on the tail end of pretty much every child-rearing philosophy that came out. Which is why, when it came to the music I listened to in the '90s, there wasn't much censorship.
What my parents didn't know was that, just because a song didn't have swears in it or was allowed to be played regularly on MTV, didn't mean that it wasn't really inappropriate for my innocent ears. Little did they realize, these '90s songs were wrestling with some pretty heavy topics — things like sex, suicide, drugs, and rape. You know, every parent's worst nightmare, basically.
I'm honestly not entirely sure what my parents were thinking letting me listen to some of these classic '90s songs, but at least I got a pretty great musical education at a very young age.
1. "Smells Like Teen Spirit" (Nirvana)
The undertones of violence in this song were probably overlooked by most parents, but with a first line like "load up on guns," this is definitely not the best song to be listening to when you're 12.
2. "Under The Bridge" (Red Hot Chili Peppers)
This is about drugs, guys. Not some nice magical bridge where everyone's pain is erased. Hate to break it to you.
3. "Jeremy" (Pearl Jam)
This song was inspired by a newspaper article about a kid who shot himself in front of his English class. This is probably something many parents wouldn't have wanted their kids to think about back in the '90s, had they figured out what the song was really about.
4. "You Outta Know" (Alanis Morrissette)
I'm going to go out on a limb and say that parents probably would have never wanted kids knowing that you could perform oral sex in the back of a theater.
5. "Baby Got Back" (Sir Mix-A-Lot)
The ultimate in female objectification songs, this catchy tune probably gave many young listeners body image issues for the rest of their lives.
6. "Black Hole Sun" (Soundgarten)
For the creepy music video alone.
7. "Baby One More Time" (Britney Spears)
With its abusive undertones, I'm surprised parents didn't go on strike and shut down radio stations everywhere when this song came out.
8. "Waterfalls" (TLC)
Drugs, sex, money. This song was about all of the things '90s parents were hoping their kids would never have to deal with.
9. "All That She Wants" (Ace Of Base)
A song about a woman who only wants a baby and tricks men into getting her pregnant? If only parents had listened to this song kids were playing on repeat on their Discmans.
10. "I'll Make Love To You" (Boyz II Men)
The title speaks for itself.
11. "Brick" (Ben Folds Five)
This song about abortion was probably a little too mature for some '90s kids. I kind of wish my parents had at least explained what an abortion was to me so that I would know that singing this song at the top of my lungs during play practice was probably not the best idea.
12. "Pony" (Ginuwine)
I know I'm not the only one who had no idea what this song meant until about 10 years after it came out.
13. "Crash Into Me" (Dave Matthews Band)
The lyrics are pretty ambiguous, true, but one listen to this tune as an adult and you'll realize it's one of the most erotic songs of the decade.
So, because your parents might not have had the sense to do it back then, let me tell you that your favorite songs from the '90s were probably a lot more R-rated than you realized. If you still listen to them today and you sing along to them while listening, make sure you wash your mouth out with soap. Immediately.
Image: YouTube/BritneySpearsVEVO