17 Creepy Yet Creative Halloween Food Ideas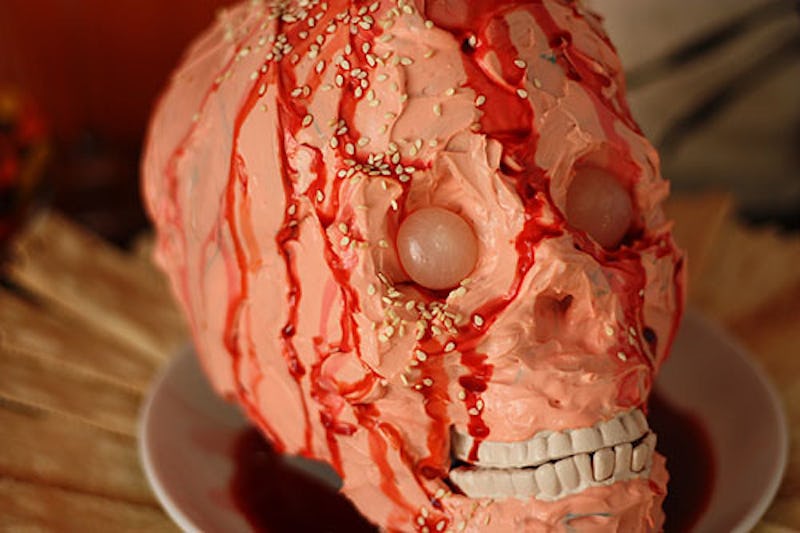 By the pricking of my thumbs, it's just about time to brew up something wickedly delicious. Halloween will be here before we know it, and if you're having a party, you're gonna have to feed the ghouls that show up looking for tricks and treats. Inspire your inner witch with these gross Halloween food ideas that are creepy, yet still totally creative. Your guests may be taken aback as they consume the spread with their eyes, and the spread stares right back at them.
From the creeping and crawling to the disembodied and appalling, your Halloween feast will be one to remember, if you dare. We're serving up appetizers and finger foods (so very literally), spooktacular main dishes, desserts, and even a few scary cocktails. And this recipe roundup goes so much deeper than candy corn and licorice spiders. So, after you finish carving your pumpkins and hanging up all those spider webs around your house, get out your cauldrons, because things are about to get Weird, sisters (...see what I did there?).
At any rate, witches and muggles alike should give this list a good scrolling, as these creepy Halloween treats are totally inspiring, if a little bit on the spooky side.
1. Vampire Apple Teeth
These gooey snacks by Half Baked Harvest are made from apple slices, peanut butter, slivered almonds, and cranberries. They sort of look like a set of teeth that you'd find on the shelf of a vampire dentist.
2. Witch Finger Breadsticks
These breadsticks, each garnished with a raw almond fingernail, are devilishly realistic. Check out the easy step-by-step recipe at Cookie Monster Cooking.
3. Zombie Head Cheese Plate
Dip your witch fingers into this decaying zombie skull made of cheese dip. Garnish his eye sockets with pearl onions for the perfect dead-eyed expression. Find out how to pull off this creepy cheese man over at Not Martha.
4. Spidered Eggs
Deviled eggs topped with creepy-crawly spiders made from black olives? Yes, please. These are the perfect Halloween appetizer to make at home, or bring to a large party. Head over to She Knows to find the recipe used here.
5. Homemade Jello Worms
From spiders to worms, these little guys are made by dumping Jell-O mix into straws. You can find the instructions on how to make these incredibly lifelike worms at Mel's Kitchen Cafe. These are a great fruity snack to serve before your main course!
6. Shockingly Dead Meat Hand
This... this is creepy, y'all. Made from a meatloaf covered in cheese sitting in a pool of mashed potatoes, this hand looks like it's on a mission to find the arm of the zombie it belongs to. Not Martha has you covered with instructions on how to make this macabre main course masterpiece.
7. Squid Ink Pasta With Shrimp
Squid ink pasta is actually supposed to be super delicious foodie-food, and I'm sure it's just that, but these jet black noodles peppered with pink shrimp and gooey cheese (excuse my inner four-year-old here) look like a family of worms eating tiny infected brains. I Am a Food Blog has the recipe.
8. Frog Eggs & Eyeballs Pudding
This excellent gross-out dish is actually coconut green tea chia pudding topped with lychees stuffed with olives. Not only is this pudding a treat for the eyes, it sounds absolutely delicious — a perfect dish to follow the meat hand and squid ink pasta! Check it out at The Kitchn.
9. Millipede Cake
This millipede really (literally) is icing on the cake of a creeptastic meal. Serve this as the final course of your sit-down dinner, if anyone still has an appetite (or room for dessert). I Am Baker shows you how.
10. Yum! Spider Nests With Worms
Jell-O, tapioca balls, and gummy worms create a pretty convincing (not to mention icky) spider nest with the obligatory earth worms crawling all through them. If you want these creepy treats available for the inevitable after dinner sugar-gorging, head on over to A Spicy Perspective.
11. Poison Toffee Apples
Toffee apples are a Halloween staple in a lot of houses, but these cleverly dressed up "poison" apples add an extra layer of spooky to this October tradition. Find out how to make these for your party at Simply Delicious.
12. Brain Cupcakes
It wouldn't be a Halloween feast without at least one brain-related item. Here are some awesome and Instagram-worthy cupcakes topped with brain frosting by The Simple Sweet Life.
13. Peanut Butter And Chocolate Spider Cookies
Just another pair of eyes staring back at you from your plate. This time, the spider is made from a Buckeye and chocolate frosting, and he's carefully guarding a peanut butter cookie. This is another great one from A Spicy Perspective.
14. Spider Cakes With Raspberry And Vanilla Guts
These enormous spider cakes are a chocoholic's dream dessert. Filled with raspberry and vanilla chocolate guts, these dudes are ready to crawl away with the rest of the desserts. This is another one from Not Martha.
15. La Llorona Dry Ice Cocktails
According to legend, La Llorona is the ghost of a woman who drowned her children in an attempt to win the attentions of some guy who obviously had some commitment issues. It is said that she wanders, crying next to bodies of water in search of her children. She also apparently wears a long white dress, the essence of which we're totally channeling here with the dry ice on top of the cocktails. Find the recipe over at Muy Bueno Cookbook.
16. Vampire Blood Martini
The Kitchn describes this gory cocktail as "the evil stepsister of a classic Cosmopolitan," which is reason enough to serve it at your Halloween party, if you ask me.
17. Wet Match Lollipop To-Go Gifts
If this doesn't look like a match that's been rained on, then nothing does. In reality, these are lollipops made from homemade caramel and decorated with pecans or dried cranberries, which is a lot more appetizing than a soggy match. Check out the recipe at The Kitchn.
For more creative ideas for spicing up your Halloween party, check out this video from the Bustle YouTube channel.
Images: Half Baked Harvest; Cookie Monster Cooking; Not Martha (3); She Knows; Mel's Kitchen Cafe; I Am A Food Blog; The Kitchn (3); I Am Baker; A Spicy Perspective (2); Simply Delicious; The Simple Sweet Life; Muy Bueno Cookbook