Petra's Life Just Got More Complicated On 'JTV'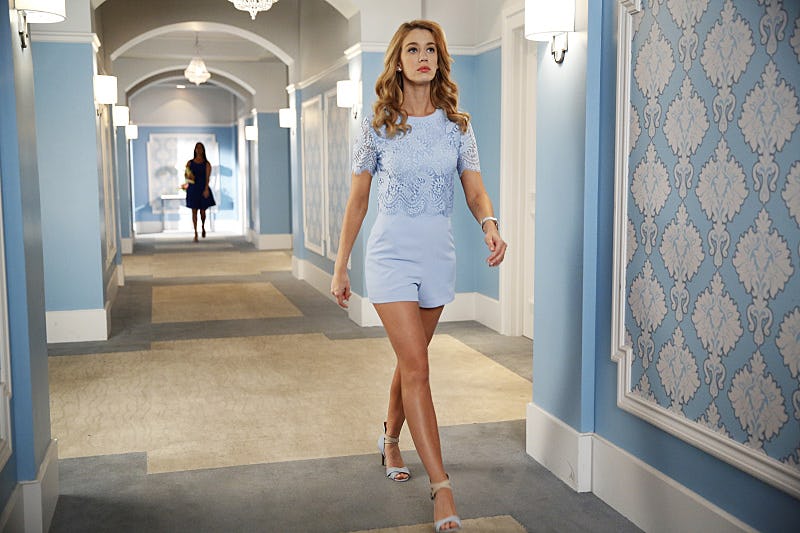 Jane may have been busy dealing with her complicated love life on Monday night's latest Jane the Virgin episode, but Petra also faced her fair share of struggles throughout the hour as well. In fact, her life will never be the same ever again. Why, you may ask? Because the thing we all knew was coming has now finally been confirmed. Petra is pregnant with Rafael's baby on Jane the Virgin and this new revelation is bound to come with tons of delicious drama. As you recall, last week Petra inseminated herself with Rafael's sperm without his knowledge. But thanks to a recent call from the sperm bank, Rafael now knows what Petra did and is now in the middle of a very sticky situation.
On the one hand, he loves Jane and wants to start a family with her. But now that another woman's child is in the picture, that future is starting to look fuzzier and fuzzier. He may no longer be in love with Petra, but there's no way he's going to reject his own child. His ex is now a permanent fixture in his life, whether he wants her to be or not, which is bound to mess with his already fragile relationship with Jane. (Yet another reason to be Team Michael. Just saying!)
Granted, he doesn't officially know yet that Petra is definitely pregnant, but he knows that she basically hijacked his sperm. And given how successful the last artificial insemination went involving his swimmers, I'd say he wont' be surprised to discover that she's with child. So will this bundle of joy bring the two of them closer together once more? It certainly happened when Jane was pregnant. And now that Rafael is going to have to split his focus between work, Jane, and Petra, odds are one of those things is going to have to suffer. But hey, Rafael said he wanted kids right? Be careful what you wish for, I guess!
Image: Greg Gayne/The CW