Rebecca Befriends Valencia On 'CEG'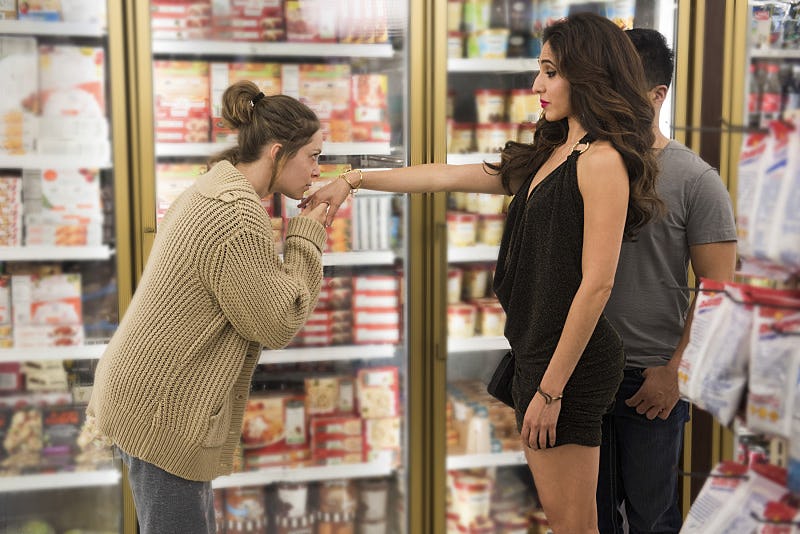 Rebecca has been working real hard to prove to herself and to everyone else that she left New York for herself and not to (lightly) stalk Josh Chan. She's already besties with Paula (who I am really trying my best to like) and is working on befriending Josh, super-casual style. Which means getting in good with his girlfriend, the beautiful Valencia who is crazy good at yoga. Luckily Rebecca is actually excellent at her job (she went to Harvard) and when she realizes that Valencia is trying to save enough to buy her own yoga studio she steps in to help her, and get to know her a little better. While Rebecca's reasons for moving out to West Covina are fuzzy (at best) when she says she wants to help grow the local economy by supporting small businesses I actually believe her. It's part of what grounds Rebecca and it goes a long way to keep her anchored and avoid becoming just another crazy stereotype. So Rebecca and Valencia become best friends on Crazy Ex Girlfriend and it goes about as well as you'd expect.
She ditches Paula for her, dressing like her twin and hitting the club even after Josh begs her not to hang out with her (suspicious) or tell her about their romantic past (shady). A couple of shots, some sexy dancing, and one aggressive kiss later Rebecca spills their whole backstory to Valencia and Greg. After, she and Paula make up but now Josh is forbidden from seeing Rebecca. The chase seems to be on but while Rebecca pines for Josh, Greg seems to be intent on making a movie for Rebecca — he wasn't kidding when he said he was into emotionally unavailable women. Love triangle, here we come.
In other not-Josh-Chan-related developments Rebecca won a long pending case that allowed a client to begin construction on a new building site. This businessman had some seriously bad vibes and I'm guessing Rebecca is going to regret the big promises Paula made on her behalf soon enough.
Images: Eddy Chen/The CW